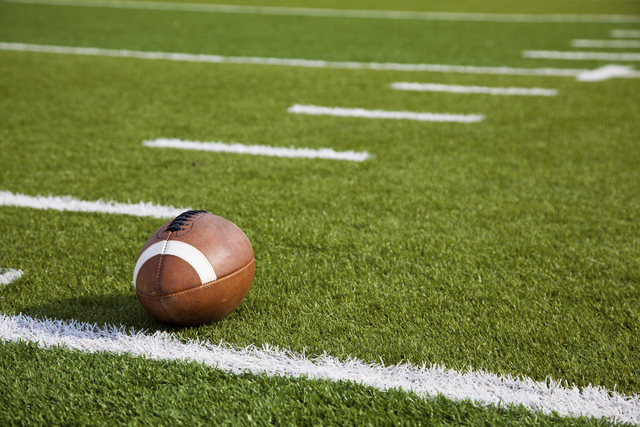 Once again, Virgin Valley turned to its strong running game to close out another victory.
Jayden Perkins rushed for 122 yards and three touchdowns Friday as the Bulldogs beat host Del Sol 34-20 to earn a sixth straight win.
Hogan Fowles threw for 129 yards and a score and ran for 102 yards and a touchdown for Virgin Valley (6-1, 2-0 Sunrise League), which likely set up a showdown with Chaparral for the league title. The Bulldogs host the Cowboys next week as both teams enter with 2-0 league marks.
"It will likely be the biggest game of the season for us," Bulldogs coach Yori Ludvigson said.
To get there, Virgin Valley had to pull away from the Dragons (4-3, 1-1) in the second half. The Bulldogs built a 20-0 lead late in the second quarter only to see Del Sol tie the game at 20-20 midway through the third quarter.
However, Perkins scored his third touchdown of the night on a 17-yard scamper with 1:30 left in the third quarter to build a lead that would not be relinquished. Perkins initially took a toss play right, but cut back left and weaved his way through for the score.
"He is a good power back," Ludvigson said. "He has good speed, but he also has some moves to get by people."
Bulldogs quarterback Hogan Fowles added a 34-yard touchdown run off a quarterback draw with 8:15 remaining in the game to build a two-score gap over the Dragons.
The lead would be too much for a banged up Del Sol to overcome. The Dragons ended the game without a number of key players, including the versatile Titan Williams and running back Taariq Flowers.
Flowers, who ran 18 times for 103 yards and a touchdown, tied the game with 6:27 left in the third quarter on a 2-yard run but exited late in the third quarter because of cramps following a kickoff return.
Quarterback Maalik Flowers was 11-for-20 passing for 126 yards and a TD for Del Sol.
Del Sol, which played in its final home game of the season Friday, has a crucial road date at Moapa Valley next week in a matchup that should determine playoff seeding.
"We just need to get healthy more than anything," Del Sol coach Gary Maki said. "Our skill-position guys are good, but we are still young."
Box score: