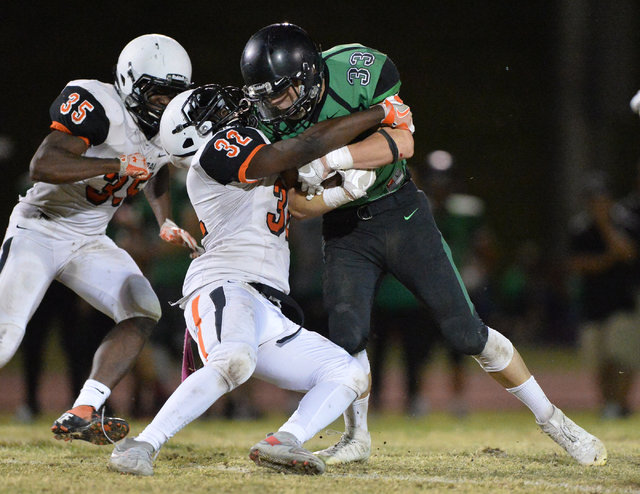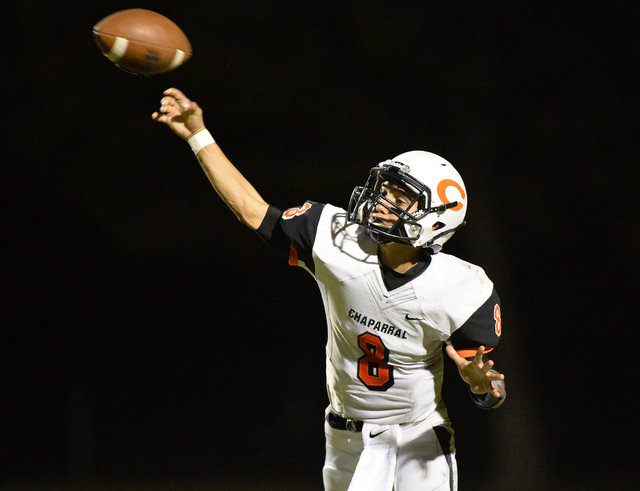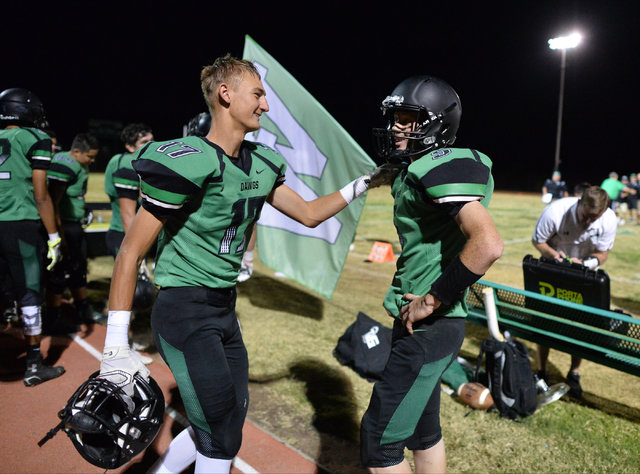 MESQUITE — The bus carrying the cheerleaders for Chaparral's football team arrived near the end of the first quarter Friday.
The school's pep band showed up a few minutes later and didn't wait long to entertain the crowd.
But even with the visiting stands rocking and rolling, it wasn't enough to spark the Cowboys' dormant offense.
Host Virgin Valley held Chaparral's potent passing attack in check, and the Bulldogs gutted out a 13-7 victory that locked up the Class 3A Sunrise League title.
"We just found a way to win in all three phases," Virgin Valley coach Yori Ludvigson said. "This is what we've worked all year for. Obviously, great defense, and the offense did enough and burned the clock and wore them out a little bit."
Jayden Perkins gained 167 yards on 37 bruising carries, and backup quarterback Cade Anderson threw a touchdown in his first start of the season for the Bulldogs (7-1, 3-0 Sunrise League), who won their first league title since 2007.
Chaparral (4-4, 2-1) was held to a season-low 184 yards on offense and also committed three costly turnovers. Santiago Vialpando, the area's third-leading passer, was 7-for-17 for 67 yards with two interceptions as Virgin Valley double-teamed receivers Kentrell Petite and Devin Gaddy and forced the Cowboys to turn to their running game.
"They were well disciplined. They bracketed our receivers and played us hard on the edge," Chaparral coach Paul Nihipali said. "We started slow, got back into it, and shot ourselves in the foot again. Against a team like that, you can't do that because they got the ball in position and working the clock."
Virgin Valley controlled the ball for nearly 16 minutes in the second half and took a 13-0 lead on Cesar Zarate's 31-yard field goal with 3:51 left in the third quarter.
Chaparral answered with its only scoring drive, going 58 yards in 10 plays. Vialpando connected with Gaddy for a 15-yard gain on fourth-and-8 from Virgin Valley's 20-yard line — it was Gaddy's lone catch of the game — and three plays later, Petite hauled in a 4-yard TD pass on the final play of the third quarter to close to within 13-7.
Gaddy's second interception of the game gave Chaparral the ball at its own 31 with 7:11 to play in the fourth quarter, but the Cowboys fumbled with 4:55 to go, and Virgin Valley was able to run out all but the final eight seconds.
Virgin Valley was successful on two fake punts in the first half, the latter of which set up Zarate's 21-yard field goal with 2:45 remaining in the second quarter.
Vialpando then was intercepted by Andrew Memmott with two minutes left, and the Bulldogs cashed in when Anderson found tight end Jesus Ruvalcaba on a throwback screen for a 21-yard TD with 46 seconds left until halftime.
"We had opportunities, we just couldn't capitalize on them," Nihipali said. "This is a learning experience for these kids. I'm still proud of them. We've just got to work harder."
Contact reporter David Schoen at dschoen@reviewjournal.com or 702-387-5203. Follow on Twitter: @DavidSchoenLVRJ
Box score: