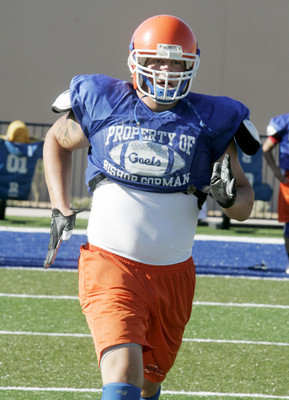 Bishop Gorman's high-octane offense gave scoreboard operators and opposing defenses a tiring workout last football season.
If the Gaels are to put up similar numbers this year, it will be with an entirely new cast of characters finding the end zone.
Gorman, which finished a perfect season by winning the Class 4A state title, lost all of its starting skill-position players to graduation. The Gaels will put a new-look offense on display for the first time at 7 p.m. today when they face Brophy Prep (Ariz.) at University of Phoenix Stadium.
"For losing as many kids as we did, our younger guys have stepped up," said coach Bob Altshuler, who led the Gaels to a 14-0 record last season, including a 34-20 victory over McQueen in the title game. Gorman averaged 41.6 points per game.
The team's top five rushers, top five receivers and starting quarterback are gone, but most of the players who blocked for them return. Gorman's strength on offense is its line, which returns five starters — senior Sam Womack and junior Geoff Gibson at tackle, senior Vince Nicotra and junior Evan Palelei at guard and junior Xavier Grimble at tight end.
"Replacing the skill guys is going to take some time, but we have a lot of quality kids on the line," Altshuler said. "As a quarterback or running back, I'd be a happy guy."
Altshuler said the competition for starting quarterback remains open. Chaisson Sears, a senior who had only a handful of carries last year, should get plenty of action in the backfield.
"We had a lot of talent last year," Sears said. "Our team is usually stacked. A lot of us have to step up and fill in those roles."
Defensively, the Gaels return only four starters, but among those is Oklahoma-bound Justin Chaisson, a 6-foot-4-inch, 275-pound senior defensive lineman, who was second on the squad in tackles last year.
"We all need to get better if we're going to win the state championship again," Chaisson said. "We have to take this a week at a time."
Junior Alex Turner also returns on the line, and Palelei is back at linebacker. Senior Charles Childers is the lone returnee in the secondary.
"We worked really hard in the summer," Chaisson said. "In the last week or so, we've really come together as a team."
The Gaels will need to play together to have a chance to beat Brophy, the defending Class 5A Division I state champion in Arizona. The Broncos have won two state championships in the past three years.
"It's a long season," Altshuler said. "We could end up playing 16 games, which is our goal. Our motto is, 'In it to win it, one play at a time.' We can't look past any play.
"Right now, we're focused on the first game. We're excited."
Contact reporter Bartt Davis at bdavis@reviewjournal.com or 702-387-5230.