Spring Mountain football coach Aaron Masden still reminds his players that a 5-4 record at one point was a successful season for the Golden Eagles.
But not anymore.
Spring Mountain is in prime position to secure its second Class 1A state championship in the past three seasons. The Golden Eagles (9-1) play Tonopah (11-0) at 1 p.m. Saturday in the title game at Beatty.
"The groups the last seven or eight years, they've really developed something, and each group has added something to it," Masden said. "(This year's team) wants a part in doing this, in writing their name on that legacy. … We have those conversations."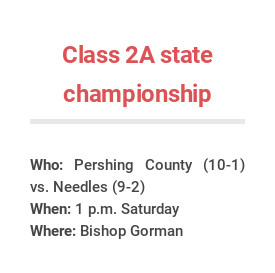 Thus is the reality now for Masden, who, in his 11th season, has transformed the Eagles into a Class 1A juggernaut.
He took over the program in 2008, and the Golden Eagles went 3-6 — their only losing season during his tenure. They have reached the state championship game six times and won their first title in 2016, when they ended Pahranagat Valley's national eight-man record 104-game winning streak.
That kind of success created a culture the players embrace, and Masden said they're well aware of the newfound tradition.
"It wasn't always this way," Masden said. "We expect it, and we set the bar and the expectation there. It's achieved by work, and the guys buy into that."
The Golden Eagles turn over their roster every year, meaning Masden essentially builds a team from scratch each season. But he has a dual-threat quarterback in Da'Jaun Brown, who has 20 touchdown passes and 17 TD runs, and a bevy of talented skill players.
Spring Mountain lost its opener to Bloomington Christian (California), but since has won nine straight games, beat Pahranagat Valley and clinched the Class 1A Southern League championship for the first time.
Masden said the Golden Eagles are eager to pair a state title with the league title.
"They know they have a really big opportunity in front of them to continue that legacy," Masden said. "They can be the first Spring Mountain team to not only win a league championship but a state championship. And they'd like to be the first. They're excited but poised."
Contact reporter Sam Gordon at sgordon@reviewjournal.com. Follow @BySamGordon on Twitter.