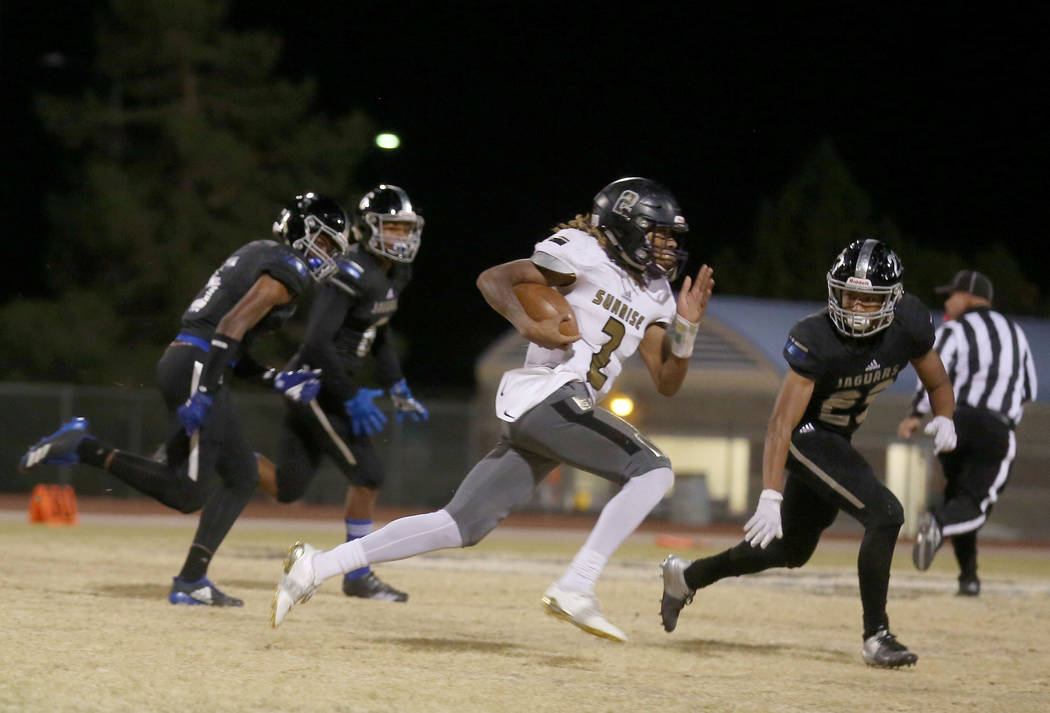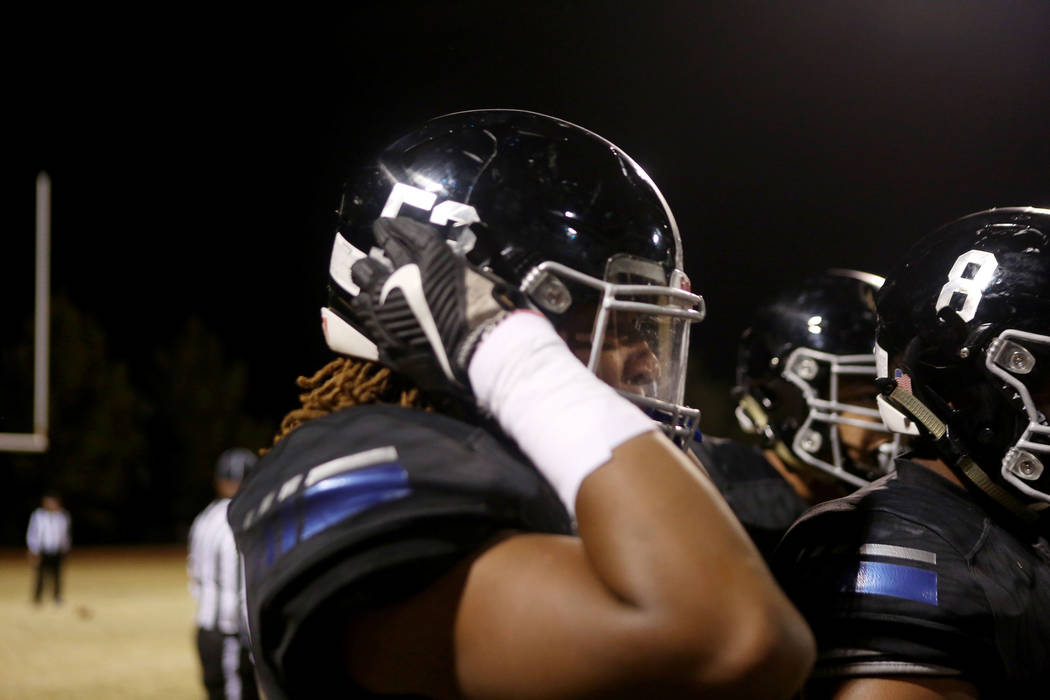 Desert Pines football coach Tico Rodriguez touts 5-foot-8-inch junior speedster Devin McGee as a "jack of all trades."
That label certainly works.
So does playmaker.
McGee ran for touchdowns of 78 and 57 yards to help the Jaguars to a 35-7 home victory over Sunrise Mountain on Friday night in the annual "Pick Game" between the neighborhood counterparts and Class 3A Sunset League rivals.
Desert Pines principal Isaac Stein brandished the trophy — a mining pick encapsulated in a glass box that the schools' former principals found while hiking together — and presented it to the Jaguars, who haven't lost to the Miners since Sunrise Mountain opened in 2011.
"We don't want to lose the pick against a rivalry team," McGee said. "We've never lost to them. We didn't want to lose to them today."
McGee is listed as a wide receiver and started at quarterback last week against Cheyenne. But he played running back against the Miners (4-4, 2-2), scored on his first two carries and propelled Desert Pines to a 28-7 halftime lead.
"He's an explosive player," Rodriguez said. "He can throw it, he can run it. We're really pleased to have him, and he keeps improving every week."
Desert Pines (5-2, 4-0) surrendered an early 4-yard touchdown run to Sunrise Mountain's Trayvon Ward, but the Miners were plagued by ball control issues, fumbling three times in the first half, and never threatened again.
Jaguars wideout Tye Moore returned a kickoff 80 yards for a touchdown, running back Jyden King ran for a 16-yard score and linebacker Dejon Pratt returned a fumble 15 yards for a TD.
McGee spent the evening showcasing his breakaway speed and finished with six carries for 163 yards and two scores. Ward, one of the state's top rushers, struggled to find running room and had 69 yards on 18 carries.
"It was a huge focal point (to stop the running game)," said Jaguars defensive lineman Lorenzo Brown, who announced his commitment to Montana on Thursday night. "I feel like we did a good job. They say it's a rivalry, but they've never beat us. Not to get cocky. I just feel like we played our butts off and did what we had to do."
Desert Pines celebrated senior night, and Rodriguez said the emotion of the regular-season home finale coupled with the friendly rivalry helped pave the way for a dominant performance.
"We had never lost that game. They were aware of the history," Rodriguez said. "They didn't want to be the first team. They wanted to keep the pick home … There was a lot of emotion, and the kids came out and played smart."
Contact reporter Sam Gordon at sgordon@reviewjournal.com. Follow @BySamGordon on Twitter.