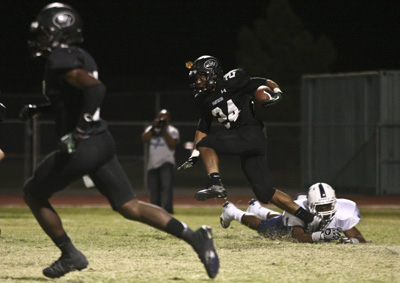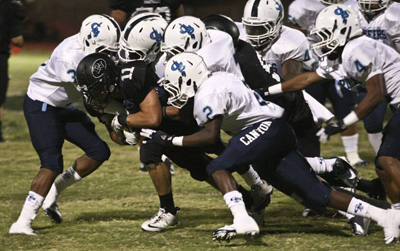 Palo Verde has long been considered a running team, so quarterback Parker Rost figured he wouldn't get many pass attempts this season.
He got one chance Friday, and he made it count.
Rost connected with Ryan Beaulieu for a 96-yard touchdown on his only pass attempt of the game midway through the fourth quarter, and the Panthers' defense survived a last-minute goal-line stand to upset fifth-ranked Canyon Springs, 24-21.
Palo Verde coach Darwin Rost said it came down to determination at the end.
"The kids never quit," Rost said of his seventh-ranked squad. "They believed in themselves."
Though Beaulieu's touchdown gave the Panthers (2-3) a 24-21 lead with 6:03 to play, the Pioneers (2-1) then drove deep into Palo Verde territory. A pass interference call gave Canyon Springs first-and-goal at the Panthers' 9-yard line with just over a minute left.
But Palo Verde stopped three runs, and Joe Jackson's fourth-down pass was tipped and intercepted with 38 seconds remaining.
"I knew they were going to put the ball up," Darwin Rost said of the final play. "Our kids did a good job to knock it down."
Canyon Springs got on the board first, capitalizing on a Panthers fumble and scoring on a 1-yard plunge by Rayshawn Henderson.
Palo Verde answered in the second, capping a 97-yard drive with Lee Griggs' 1-yard TD up the middle.
But the Pioneers responded with an eight-minute, 14-play drive and regained the lead at 14-7 when Eric Williams scored on a 3-yard run with 2:23 left in the half.
The Panthers needed just one play to get it back, as Griggs ran 80 yards up the middle to make it 14-13. An interception gave Palo Verde another chance in the last minute, resulting in a 25-yard field goal by Tom Randall that made it 16-14 at halftime.
Donnel Pumphrey, who finished with 191 yards on 26 carries, put the Pioneers ahead 21-16 with a 55-yard scoring run late in the third, but their long drive in the fourth fizzled at the Panthers' 4-yard line to set up Rost's winning pass.
"We ran the ball all night," Parker Rost said. "Every once in a while, there's going to be a pass. As soon as I saw Ryan catch it, I knew he was gone."
Griggs rushed 19 times for 161 yards to lead the Panthers.
Canyon Springs quarterback Stevie Farmer completed 10 of 15 passes for 126 yards.
Foothill 40, Desert Oasis 31 — At Foothill, Drew Doxtator passed for 417 yards and five touchdowns to help rally the Falcons (1-2) over the Diamondbacks (1-3).
Rickey Dixon rushed for 116 yards on 24 carries and made six receptions for 163 yards, including touchdowns of 67, 5 and 51 yards.
Desert Oasis led 18-14 before Doxtator connected with Dixon on a 5-yard TD pass with 6:08 left in the third quarter that put Foothill ahead to stay.
Dixon caught a 51-yard screen-pass TD from Doxtator early in the fourth quarter, but Desert Oasis answered with a 70-yard kickoff return by Marvin Duty.
Doxtator threw his fifth TD pass, a 26-yarder to Jordan Primo, with 6:10 to play, and Dixon added a 5-yard touchdown run.
Kurtis Brooks rushed for 105 yards and two scores on 15 carries for Desert Oasis.
— Tim Guesman
Basic 59, Bonanza 14 — At Bonanza, Jaylen Rose passed for 354 yards and five touchdowns on 12 completions, leading the No. 6 Wolves (3-0) over the Bengals (1-3).
Devonte Boyd compiled 257 yards on seven catches, including TDs of 7, 80 and 46 yards, and Anthony Owens supplied two scoring catches. Basic outgained Bonanza, 508-207.
The Bengals took a 7-6 lead on a two-yard run by QB Brett Doyle with 6:48 left in the first quarter.
Basic scored 39 unanswered points for a 45-7 halftime lead, powered by Mike Roberts' 23-yard run and Antraye Johnson's 45-yard punt return for a score.
Johnson threw third-quarter TD passes of 33 yards to Blake Schackel and 46 to Chandler Kamai.
Doyle passed for 77 yards for Bonanza, and backup quarterback Tyresse Martin scored on a 55-yard run.
— Brennan Karle
Silverado 37, Eldorado 13 — At Eldorado, Alex Cater rushed for 366 yards and three touchdowns on 32 carries, helping the Skyhawks (2-1) compile 470 yards on the ground against the Sundevils (1-2).
Marquise Edward threw a 14-yard touchdown pass to Austin Hunt for Silverado.
Justin Brown scored both Eldorado touchdowns, including an 80-yard kickoff return in the third quarter, and supplied 78 yards on 20 carries. Marvin Williams caught four passes from Joshua Brown for 33 yards.
— Adam Eslinger
Boulder City 25, Desert Pines 16 — At Desert Pines, the Eagles (5-0, 1-0 I-A Sunrise) rushed for 303 yards to run past the Jaguars (2-3, 0-1).
Xavier Steel returned the opening kickoff 80 yards for a touchdown and Billy Viera scored on a 95-yard run in the first half. Viera finished with 151 yards and two scores on eight carries.
Eric Wilkes scored on a 92-yard run for Desert Pines, which pulled to within 17-16 on Iquan Corsey's 16-yard TD pass to Donavan Wright in the fourth quarter before the Eagles put the game away.
— Stephen Weeks
Virgin Valley 28, Chaparral 25 — At Chaparral, the Bulldogs (4-1, 1-0 I-A Sunrise) capitalized on five turnovers by the Cowboys (3-2, 0-1) and scored a touchdown with a minute left to seal the win.
Dee Bowler rushed for 120 yards and two touchdowns and scored on a 1-yard interception return.
Garrett Leavitt also ran for a touchdown and threw for 104 yards.
Chaparral's Antonio Thomas rushed for 228 yards and three TDs.
— Mike Sloan
Pahrump Valley 16, Clark 14 — At Clark, the Trojans (1-4, 1-0 I-A Sunset) stopped the Chargers (0-5, 0-1) on a 2-point conversion attempt with 1:27 remaining to secure their first victory.
Trailing 16-8 with 3:21 to play, Clark drove for the potential tying touchdown on Jordan Jenkins' 12-yard run. Chargers senior QB Anthony Bermudez was stopped short of the goal line on the conversion keeper.
After a scoreless first half, Pahrump Valley took a 16-0 lead in the third quarter on Denzell Holman's 41-yard run and Devontae Brown's fumble return for a touchdown.
Jenkins ran for Clark's first touchdown with 5:47 remaining and finished with 73 yards rushing.
— Jesse Vineyard
Liberty 49, Rancho 3 — At Rancho, Kai Nacua compiled 215 yards and scored three touchdowns for the third-ranked Patriots (2-1) in a rout of the Rams (0-3).
Nacua started at quarterback and linebacker, but scored as a running back, receiver and punt returner.
Niko Kapeli rushed for 35 yards and two TDs and also returned a blocked field goal 84 yards for a score.
Tyler Newman had three completions for 111 yards, including a 75-yard TD to Nacua.
Rancho's Tommy Perkins rushed for 42 yards and made an interception before exiting in third quarter with an undisclosed injury.
— Zac Alexander
Cheyenne 72, Western 47 — At Cheyenne, Myloe Lewis rushed for 316 yards and scored eight touchdowns, powering the Desert Shields (3-2, 1-0 I-A Sunset) past the Warriors (1-4, 0-1).
Lewis scored on runs of 44, 33, 5, 66, 32, 5 and 59 yards and caught a 17-yard TD pass from Darrion Hammond.
Hammond was 5-for-5 for 61 yards and a touchdown for Cheyenne.
Western QB Larry Jennings was 20-for-36 for 395 yards and five touchdowns. Vadell Wilson caught nine passes for 164 yards and three touchdowns. Quayjon Walker had six receptions for 127 yards and two TDs.
— Steven Slivka
Durango 51, Valley 14 — At Valley, Marcus Sanders-Williams returned the opening kickoff 80 yards for the first of his four touchdowns as the Trailblazers (2-2) breezed past the Vikings (0-3).
Sanders-Williams also scored on runs of 15, 2 and 32 yards. Arie McQuaig threw a 65-yard TD pass to Anthony Collins and also returned an interception 7 yards for a score.
Valley quarterback Xavier Thompson passed for 101 yards and two touchdowns.
— Brian Danise
Legacy 68, Spring Valley 19 — At Legacy, the Longhorns (2-2) rushed for 385 yards and the defense scored three times in holding the Grizzlies (2-2) to 135 total yards.
Charles Julian scored on runs of 66 and 43 yards and finished with 190 yards on 16 carries, and LaMarus Williams had seven carries for 103 yards and a score.
Joe Murray caught a 77-yard TD pass from Kashawn Richardson and also recovered a fumble in the end zone for a Legacy touchdown.
Defensively, Casey Hughes returned one of his two interceptions 44 yards for a touchdown and Jake Martin returned a pickoff 44 yards for a score.
Spring Valley's Andre Bartley caught three TD passes from Brant Berglund.
— Adam Berchin
Del Sol 56, Sierra Vista 21 — At Del Sol, Dylan Greer accounted for five touchdowns to lead the Dragons (1-2) past the Mountain Lions (1-3).
Greer passed for 176 yards and three TDs and rushed for 39 yards and two scores. Tyrone Rouse had 85 yards on two catches, both for TDs, and also scored on a 60-yard interception return.
Cameron Lamont rushed for 129 of his 183 yards in the first half and Austin Higgins added 124 on the ground.
Sierra Vista QB Deyon McKinney rushed for 235 yards and two touchdowns, including an 83-yarder. Maliek Broady ran for 72 yards and a TD.
— Jamie Bichelman
Mojave 45, Faith Lutheran 13 — At Faith Lutheran, the Rattlers (3-2, 1-0 I-A Sunset) forced seven turnovers and converted the first six into touchdowns to roll past the Crusaders (2-3, 0-1).
Marcus Hines made two interceptions, returning the first 62 yards for the game's first touchdown and setting up another TD with a 37-yard runback. He also returned a fumble 18 yards for a score.
Ty Flanagan rushed for 183 yards and two touchdowns on 23 carries, and Zack Arave threw for a score and rushed for 58 yards. Mojave's defense recorded seven sacks.
Faith Lutheran's Shawn Balva passed for 139 yards and also made two interceptions as a defensive back.
— Neil Grepke
Bishop Gorman 42, Servite (Calif.) 0 — At Norwalk, Calif., junior running back Nathan Starks rushed for three first-half touchdowns as the top-ranked Gaels (3-1) opened a 35-0 lead and rolled over the Friars (1-3).
Starks scored on runs of 15 and 5 yards, before finding the end zone on an 81-yarder in the second quarter.
Senior quarterback Jarrett Solomon completed passes to nine receivers, including a 4-yard TD to senior Jamir Tillman. Tajon Allen added a 2-yard TD run and Solomon rushed for a 1-yard score.
Isaiah Nacua helped key the shutout with two sacks.
Moapa Valley 54, Sunrise Mountain 0 — At Overton, Conner Mortensen rushed for 112 yards and two touchdowns on nine carries as the Pirates (5-1, 1-0 I-A Sunrise) blanked the Miners (1-4, 0-1).
Mortensen scored on runs of 23 and 3 yards to help Moapa Valley build a 42-0 halftime lead.
Kasen Hughes ran for 93 yards and two TDs on three carries for Moapa Valley, which had 437 rushing yards.
Sean McConnell caught a 60-yard TD pass from Josh Repp and added 93 yards and a TD on two rushes for Moapa Valley, which outgained Sunrise Mountain, 525-109.
Chris Moore completed 5 of 11 passes for 57 yards for the Miners.
Agassi Prep 34, The Meadows 28 — At The Meadows, the Stars (1-3, 1-3 Division III Southern) built a 27-0 lead and held off the Mustangs (0-5, 0-4).
Kobe Williams broke a 55-yard run for a touchdown in the first quarter and caught scoring passes of 15 and 27 yards from Matthew Duty. Williams finished with 118 yards, including a diving grab for his third TD.
Sophomore quarterback Jacob Gleason helped rally The Meadows in the second half, throwing for two touchdowns and running for one. Chase Marrs (109 yards on 14 carries) got the Mustangs within one score with a 5-yard TD run.
— Tim Flanagan
Spring Mountain 72, Tonopah 13 — At Spring Mountain, Marcus Thomas passed for 226 yards and six touchdowns as the Eagles (3-1, 1-1 Division IV Southern) routed the Muckers (3-2, 0-2).
Thomas completed 14 of 22 passes without an interception. The junior added 84 yards on 12 carries, including a 41-yard TD.
Christopher Munro caught five passes for 69 yards and two TDs, and Dwayne James had three catches for 54 yards and two scores.
Bruce Travis-Collins ran nine times for 47 yards and a TD and had three catches for 69 yards and a score for Spring Mountain, which used a 38-point second quarter to build a 44-7 halftime lead.
Tonopah quarterback Seth Littlefield completed 5 of 12 passes for 117 yards, including touchdowns of 33 and 58 to Spencer Littlefield.
— Tristan Aird
Pahranagat Valley 64, Indian Springs 8 — At Indian Springs, Austin Poulsen and Tyler Higbee starred as the Panthers (4-0, 2-0 Division IV Southern) beat the Thunderbirds (1-3, 1-1) to extend their state-record winning streak to 50 games.
Poulsen completed 6 of 7 passes for 96 yards and a touchdown and rushed for 91 yards and a TD on five carries. Higbee rushed for 97 yards and a touchdown on seven carries and returned an interception for a score.
Mountain View 21, Laughlin 8 — At Laughlin, Matt Larson rushed for two touchdowns, and Ian Locke threw a TD pass to Travis Wallace as the Saints (4-1, 4-0 Division III Southern) beat the Cougars (1-3, 1-3).