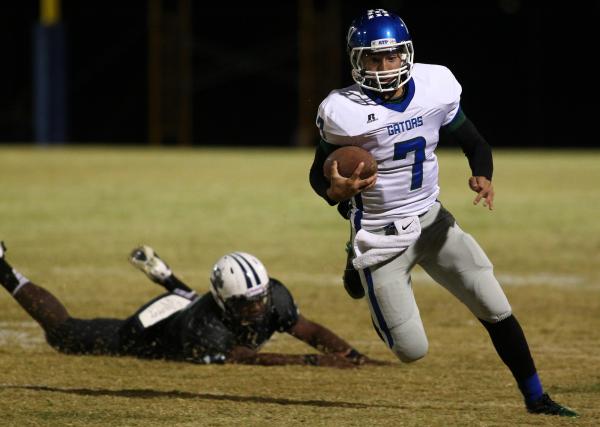 Conor Perkins is becoming as automatic as death and taxes when it comes to game-winning kicks.
The Green Valley senior booted a 39-yard field goal with 2.3 seconds left to give the Gators a 44-43 road victory over third-ranked Canyon Springs on Thursday. It was the first loss of the season for the Pioneers.
It was Perkins' third winning kick this season. He booted a 37-yard field goal with no time left in a 39-38 victory over Las Vegas, and had the winning extra point in overtime in a 42-41 victory over Palo Verde.
"It's great," said Perkins, who also kicked a 37-yard field goal with no time left to give the Gators a 33-32 win over Canyon Springs last season. "Not too many kickers get this, and I'm just glad I can get this many opportunities."
Canyon Springs (7-1, 3-1 Northeast League) scored on a 4-yard pass from Bradley Alexander to Kyhren Howard with 4:07 to go to put the Pioneers up 43-41. But Green Valley's Jacob Tomlin blocked the extra point to leave the lead at two.
"That was huge," Gators coach Brian Castro said. "We talked all week that at some point in the game we're going to have to make a big play that makes a difference, and that was the one tonight."
Neither team punted all night, so 4:07 seemed like more than enough time for the sixth-ranked Gators (6-2, 4-0) to drive down the field.
"I was hoping we'd get in the end zone, but as a kicker you always love to get a field goal right there," said Perkins who had missed an extra point earlier in the game.
The Gators drove to the Pioneers 16, but Christian Lopez was sacked on third-and-9, forcing Green Valley to take its final timeout with 7.6 seconds to go.
Castro didn't hesitate to call on the kicking team, even after the bad snap in the first half.
"Despite that, I really wasn't worried," Castro said. "These kids do this every day in practice and we've done it before. I told them in the timeout, 'We've been here before, it's nothing new. So everybody just relax and we'll kick the field goal and have fun.' "
The Gators scored on six of eight possessions. They fumbled on the kickoff the first time they touched the ball, and their last play of the first half was a bad snap on what would have been a 45-yard field-goal attempt.
Lopez was 17-for-28 passing for 245 yards and two touchdowns. He also gained 84 yards on 15 carries, scoring on runs of 1, 8 and 9 yards.
Larry Norman rushed for 171 yards on 30 carries for Green Valley, which locked up at least a share of the Northeast title.
"We played lights out," Castro said of his offense. "We knew they were good offensively, and we knew we were going to have to score points. We've been doing that all year long, not always out of necessity, but just what we've been doing."
Canyon Springs was just as impressive on offense, scoring on seven of eight possessions. The only time the Pioneers didn't score came at the end of the first half when they got the ball back with 10.8 seconds and threw three incompletions.
Zaviontay Stevenson led the Pioneers, rushing for 122 yards and three touchdowns on 21 carries. Alexander completed 13 of 20 passes for 185 yards.
"They weren't undefeated coming into tonight for no reason," Castro said. "They're a good football program."
Box score:
Green Valley 44, Canyon Springs 43