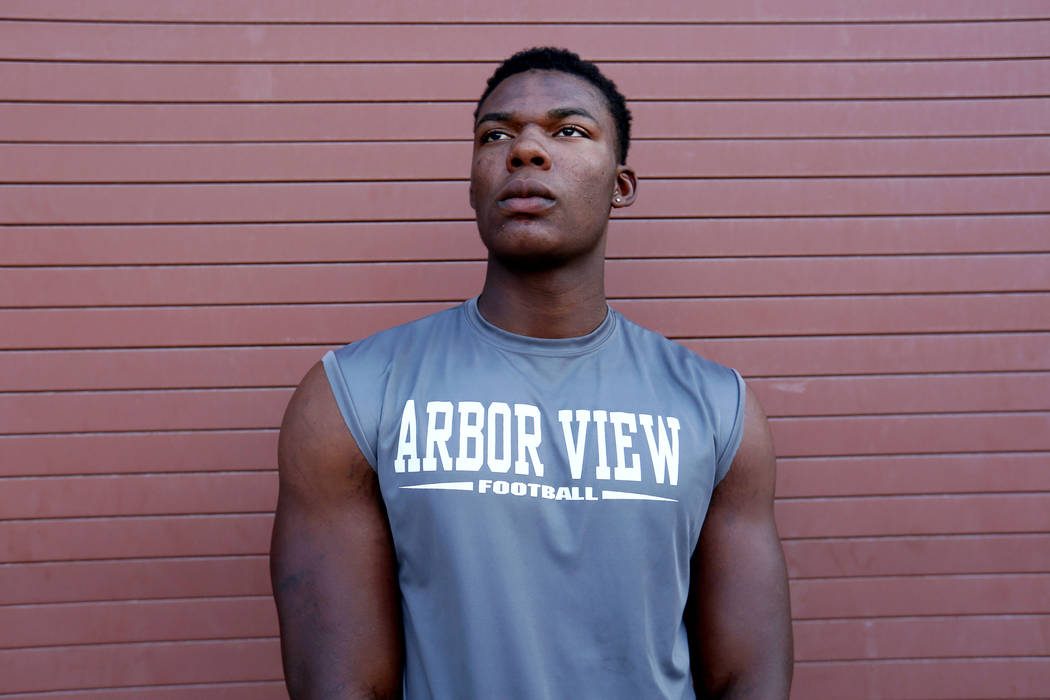 The tall, lanky freshman isn't lanky anymore. And he isn't a freshman anymore, either. He's a 6-foot-5-inch, 255-pound senior built and wired to annihilate quarterbacks.
And believe it or not, Arbor View defensive end Elijah Wade's football career is just getting started.
"There's a lot of things I still have to learn about the game," he says. "I feel like I have a lot of potential."
Wade started playing football as an inexperienced, 160-pound ninth-grader and has grown into one of the top players in Las Vegas and on the West Coast.
Rated as a four-star prospect by all of the major recruiting services, Wade holds offers from powerhouse programs across the country that include USC, Miami, UCLA, California and Alabama.
He'll visit UCLA this weekend in the second of five allotted official visits.
Aggies coach Dan Barnson marveled at Wade's development and pointed to his work ethic.
"He's got what you can't teach," Aggies coach Dan Barnson said. "You can't teach 6-foot-6. You can't teach that mass."
Wade grew up playing basketball and competed year-around before choosing to play football as a rising freshman. He arrived at Arbor View in 2014, tall, thin and talented, and wowed teammates and coaches with a strong performance on the Aggies' freshman team.
"I was really just going out there and playing, didn't really have a lot of technique," Wade said. "The coaches here, they built me up and allowed me to be able to do what I do now."
Wade quit basketball and all of its cardiovascular activity to lift weights at Arbor View in preparation for what he hopes will turn into a long football career.
He followed up his lifting sessions at school with an additional workout at home. Two-a-day workouts, coupled with gargantuan home-cooked meals helped him crack the varsity lineup and add 70 pounds by the end of his sophomore year.
"Once he got in the weight room, that was it," Barnson said. "His body started filling out and he put the hard work in. He listened, he paid attention and he bought into the weight room."
College coaches who visited Arbor View in the spring of 2016 to watch four-star defensive tackle Greg Rogers — now at UCLA — were intrigued by Wade's potential.He received his first scholarship offer from BYU, and picked up the USC offer after excelling at a Trojans' camp last summer.
Wade and Rogers anchored Arbor View's defensive front last season, and Rogers' departure paved the way for Wade to lead this year.
Aggies senior running back Jaquari Hannie said the star defensive lineman sets a standard everyone else on the team strives to meet.
After all, he benches 360 pounds and has the school record for pull-ups in his weight class.
"I've never seen somebody work as hard as him before," Hannie said. "After weight training, goes straight home, works out. Not just two hours. Like four or five hours."
Wade did not reveal a timetable for his college commitment, adding that he's focused on winning games for the Aggies and enjoying what's left of the recruiting process.
Oh, and sacking opposing quarterbacks.
"I love football," Wade said. "That's where my mind is at."
Clark boys basketball dominates in Utah
Clark's boys basketball team posted a 5-0 record in the Halloween Shootout in Bluffdale, Utah. The Chargers, who return the majority of the production from their 2016-17 Class 4A runner-up squad, beat Lone Peak, Bingham, Lehi, Corner Canyon and American Fork.
Gorman boys soccer falls from rankings
Bishop Gorman's boys soccer team dropped out of the USA TODAY/United Soccer Coaches Super 25 poll after a 4-2 loss to Durango on Monday. The Gaels were ranked No. 8 last week and had been ranked in the last four polls.
Contact reporter Sam Gordon at sgordon@reviewjournal.com. Follow @BySamGordon on Twitter.