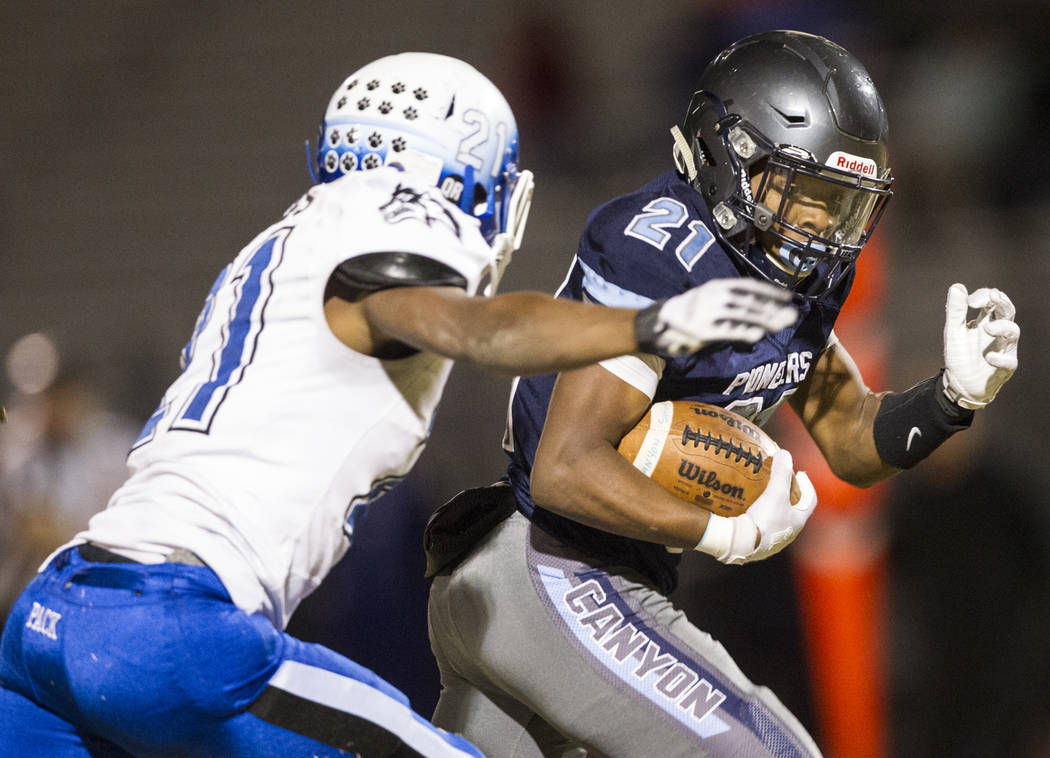 There weren't any gratuitous personal foul penalties at Canyon Springs High School on Friday night. There weren't any ejections, either. And, no, there wasn't any pepper spray.
Just a good, old-fashioned blowout.
Courtesy of the Pioneers.
Canyon Springs cruised to a 41-0 victory over Basic in the first round of the Sunrise Region playoffs — a rematch of the Sept. 15 game at Basic that featured more than 30 penalties, four ejections and a postgame brawl Clark County School District police officers broke up with pepper spray.
The Pioneers (6-4) are unbeaten against local opponents — minus the two forfeits assessed by the NIAA after the fight — and advance to the second round of the tournament for the first time since 2013.
The Wolves finish with a 3-7 record.
Canyon Springs star senior DiaMante Burton was magical in accounting for 186 passing yards, 68 rushing yards and four total touchdowns. He danced around Basic's front seven, effortlessly picked apart its secondary and said he made an effort to legitimize the Pioneers after the disastrous start to their season.
"We always felt like we were cursed, from not making it to the second round of the playoffs. We finally did it," Burton said. "We wanted to show everybody that we are good. We don't have to be 'thugs.' We don't have to be nothing. We are really good on the field."
Both coaches prepared for a clean game, and neither team was flagged for unsportsmanlike conduct or unnecessary roughness.
The postgame handshake line was uneventful, and Pioneers coach Gus McNair and Wolves coach Jeff Cahill exchanged pleasantries, putting the first meeting firmly in the past.
"I'm actually sorry, man, that that's how things went the first time around," McNair said. "There are certain coaches who I watched as I was an assistant coach at other schools, and (Cahill) was one of those guys that just knew how to win. Very classy guy, man."
McNair also said the consequences from the first game against Basic helped Canyon Springs mature, and the Pioneers did, indeed, look like a more developed group on Friday night.
Burton engineered four first-half touchdown drives, and Canyon Springs' defense helped set the tone by forcing a pair of early turnovers.
The Pioneers scored two more touchdowns in the third quarter, ran out the clock and enjoyed a blissful celebration to the Montell Jordan song "This is How We Do It" on the field after the game.
"Coach told us this: 'No matter what, have fun, win the game,'" said Canyon Springs running back Jayvion Pugh, who accounted for 135 yards from scrimmage on 17 touches. "Our defense did a great job. Our offense executed."
The Wolves did not. Quarterback Paul Myro completed 8 of 26 passes for 93 yards. Basic rushed for 43 yards on 16 attempts.
McNair said the Pioneers want to prove to themselves "that they're one of the top teams out here" and are motivated to continue their late-season success.
"It's been a while said Canyon Springs had gotten out of the first round," he said. "We set a goal, and this is the goal … And we want to make a push in November. We really do."
Contact reporter Sam Gordon at sgordon@reviewjournal.com. Follow @BySamGordon on Twitter.