On Thursday, Nevada's best football team got on a plane and traveled more than 300 miles to play for what it has won eight consecutive times.
Bishop Gorman is ranked as Nevada's best team by every major poll and is as high as 12th in USA Today's national rankings. The Gaels did not lose to a Nevada team, outscoring their eight opponents 526-26.
Why then, are they going to Reno for the Class 4A state final to play what is essentially a road game against Reed, a team that lost a league game 39-0 this season?
In short, there isn't a better way to do it.
Since 2004, Class 4A — the top league for Nevada sports — has been split into three regions: Sunset, Sunrise and Northern. Sunset and Sunrise are Las Vegas-based, with 25 teams in the southern part of the state compared with 11 in the north.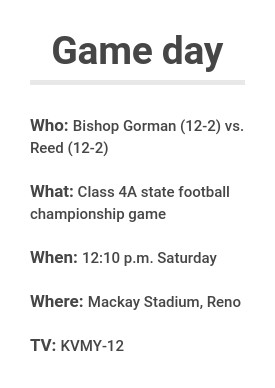 Reed won the Northern Region this season and benefited from the three-year rotation. Gorman won the Sunset and defeated Sunrise champion Liberty in a state semifinal.
The three regions alternate who "hosts" the state title game. The two southern regions play at Sam Boyd Stadium, and the north played its previous two games at Damonte Ranch High School before moving to Mackay Stadium this year.
When the Sunrise or Sunset hosts, there's a chance the two southern champions play for the state title — the last time a northern school traveled to Las Vegas was 2012.
But when the Northern Region hosts, like this year, 2014 and 2011, either the Sunrise or Sunset champion has to travel. The Northern Region never travels for state semifinals, instead hosting either the Sunset or Sunrise champ in the years the state title game is down south.
If it seems odd that a team is guaranteed before the season starts to drive seven hours to get to its state title game, it's because it is. Nevada is set up differently from most states in that it has only two major population centers, on opposite ends of the state.
The closest comparison to Nevada's situation might be Pennsylvania, with Pittsburgh and Philadelphia 300 miles apart. But what Pennsylvania has that Nevada doesn't is cities in between. The state championship game is held in Hershey, two hours from Philadelphia and four hours from Pittsburgh.
That would be the equivalent of Bishop Gorman and Reed meeting in Tonopah, an unincorporated town of fewer than 2,500 people.
Nevada is the sixth-largest state by landmass in the continental United States, and only three of those larger states have a larger population. Texas plays its game most often at AT&T Stadium in Arlington; Arizona typically plays in the Phoenix area in the middle of the state; and California doesn't have a state title game in a traditional sense, instead functioning similarly to the pre-BCS era of college football with multiple bowl games spread throughout the state.
The logistics make it impossible for the best team to host the state title game in Nevada. It's set up on a rotating basis in part to minimize travel. If the NIAA seeded its bracket, it would mean more teams traveling, not less, and could mean teams traveling in multiple weeks.
Not to mention that the NIAA needs to determine its host site with enough time to make sure locker rooms and other accommodations are ready. If there was a seeded bracket, the NIAA would not know the host location until the semifinals are over, which is the week before the state title game.
"We won't change it based on higher seeds or home teams," NIAA assistant director Donnie Nelson said. "It helps us secure facilities now that we have inroads there."
Even in college football and the NFL, the championship is played at a neutral site.
Under coach Kenny Sanchez, Gorman played a road game in California this year, in Texas and California last season and in Utah and Washington in 2015.
So the Gaels don't mind the travel and are excited for their shot at a ninth straight championship.
"We're either there for semifinals or there for state every third year," Sanchez said. "I like the away games, getting out of town and staying in the hotels."
Contact Justin Emerson at jemerson@reviewjournal.com or (702) 387-2944. Follow @J15Emerson on Twitter.