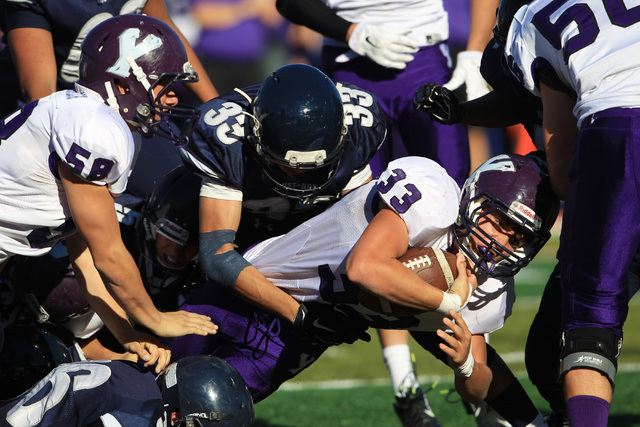 The Meadows football coach Frank DeSantis had no complaints about his team's effort after Saturday's state final at Bishop Gorman High School.
His Mustangs were just overmatched by the speed, depth and experience of Yerington.
Reese Neville's five touchdowns and 219 total yards of offense led the Lions to a 45-14 victory and their second consecutive Division III championship.
"I think we got everything that we could've out of our kids," DeSantis said. "I'm proud of them. I'm proud of the coaching staff. To come this far with the young kids we have and as few as we have … we don't have team speed like they do. And a lot of it was the confidence factor. We had a lot of kids that have never been to a state game. They've been in it and understand what it's all about."
The Meadows (10-3) had jitters early and was forced into a three-and-out after the opening kickoff. The Mustangs had their punt blocked by Harrison Cisneros at the 17-yard line, and the ball flew into the back of the end zone for a safety.
Neville then scored his first touchdown on a 4-yard run to give the Lions (9-2) a 9-0 lead with 3:37 left in the first quarter.
The Meadows finally settled down, and quarterback Jacob Gleason connected with Ethan Fridman on a 45-yard touchdown pass with 44 seconds remaining in the quarter to make the score 9-7.
The Lions pulled away in the third quarter, forcing two turnovers and scoring 21 straight points on three rushing touchdowns by Neville to lead 30-7.
"He was great," DeSantis said. "He's the Player of the Year for me. He's shifty, and he's good defensively, too.
"There's nothing different I would've done. We were just outmanned. There was nothing we could do. They were just better than us. Their front beat ours."
Neville, who also had a 53-yard TD reception on a screen pass from Dakota Aiazzi in the fourth quarter, finished with 125 yards rushing on 14 carries and four touchdowns. The junior also had 73 yards receiving on three catches and a pass completion for 21 yards.
"He's always had a tremendous passion and love for the game, so it doesn't surprise me that he played that way," Yerington coach Cody Neville said of his son. "He was a big-impact player last year in the state championship. He makes me feel pretty good about being a dad."
Cody Neville said the biggest adjustment in the second half was in the team's blocking scheme. The Lions, who had 64 yards rushing in the first half, began running to the opposite side of Mark Woodson, the Division III Southern League Player of the Year. Yerington finished with 196 yards rushing in the half, including 86 from Cisneros.
"We knew what kind of a player he was," Neville said of Woodson. "We knew that we had a better chance if we could manage going away from him. We like running sideline to sideline, and that's very tiring if you're not used to it."
Gleason finished 11 of 24 for 163 yards and a touchdown for the Mustangs, and Fridman caught seven passes for 127 yards and one TD.
Contact reporter Ashton Ferguson at aferguson@reviewjournal.com or 702-383-0430. Follow him on Twitter: @af_ferguson.
Box score:
Replay the game blog: