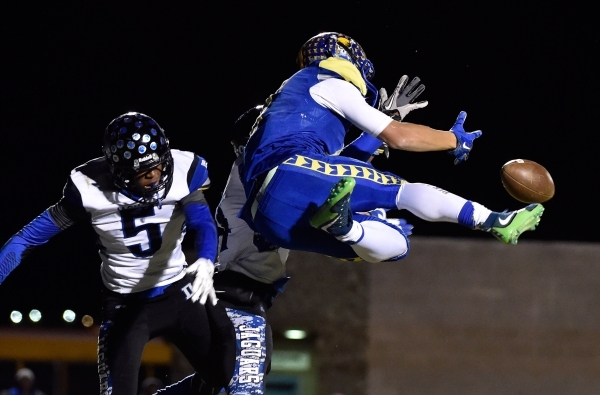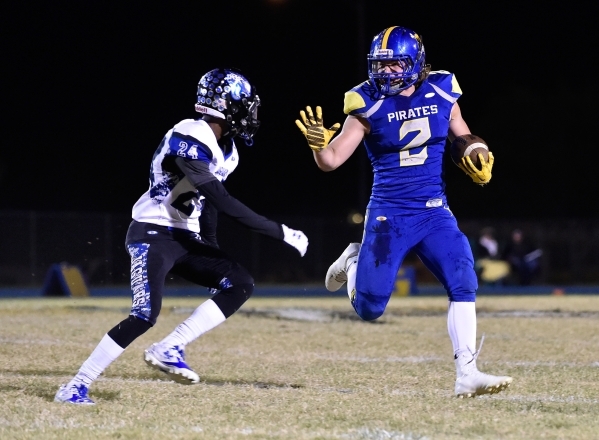 After two weeks of the high school football season, Moapa Valley was struggling to get its offense going.
The Pirates had managed a total of 368 yards of offense and were averaging 3.8 yards per carry.
The following week was slightly better, with the team totaling 256 yards, including 154 on the ground. But the Pirates lost 34-20 to Desert Pines, a game the Jaguars would eventually forfeit for using an ineligible player.
Then something clicked, and Moapa Valley hasn't been the same team since. The Pirates averaged 376.4 yards of offense over their final nine games and topped 200 rushing yards in seven of those nine. The Pirates (11-1) play Churchill County (11-1) for the Division I-A state championship at noon Saturday at Reno High.
"We've had our growing pains," Moapa Valley coach Brent Lewis said. "We've looked awful at times."
The Pirates returned all-state receiver R.J. Hubert from last year's team, but had little else back on offense. All-state quarterback Zach Hymas was gone, along with all-state receiver Cole Mulcock, leading rusher Kaleb Bodily and essentially the entire offensive line.
Without much support, it was becoming increasingly difficult to get the ball to Hubert, one of the most potent weapons in the state at any level.
But Lewis credits improved play from senior running backs Trystin Deal and Sterling Simmons with helping the offense turn the corner and taking some pressure off Hubert.
"We just kept at it, and I think steadily all those guys (improved) — Simmons and Deal — and now we've added a couple other kids into the mix on top of R.J.," Lewis said. "Now we feel like we have way more weapons. We can spread it around and they can't just key on R.J."
Teams aren't going to entirely stop keying on Hubert, who leads the area in scoring with 180 points. But a credible running game has gone a long way in making it easier to get Hubert the ball.
Deal leads the Pirates with 782 rushing yards, and Simmons has run for 742 yards. Lewis said his undersized offensive line also has shown great improvement through the season.
Dennis Whitmore, a 6-foot-3-inch, 195-pound senior, was the most experienced player returning up front for Moapa Valley. The other five linemen that rotate for the Pirates — senior guards Garrett Rose (5-8, 210), Garrett May (5-7, 160) and Talon McClure (6-0, 200), senior tackle Hunter Soderquist (6-3, 230) and junior center Cameron Larsen (6-2, 170) — were essentially "brand new," as Lewis puts it.
"It was a work in progress," Lewis said of the line. "Trust me, in the beginning it was ugly."
Now the linemen have confidence that they can control the line of scrimmage, and the Pirates are able to grind away on the ground if necessary. Moapa Valley completed only four passes in a 17-0 win over Elko in the state semifinals.
"We were confident we could do that," Rose said after the Elko win. "We started out rough at the beginning of the season, but we've really worked to get better at it."
Hubert hasn't quite matched last year's receiving numbers, but he's still a big threat with 39 catches for 760 yards and nine TDs. Hubert also has been getting more touches in the running game. He's rushed for 604 yards and 13 TDs on 64 carries.
"It's been tough getting him the ball, at least through the air," Lewis said. "We've moved him around and handed it to him and tossed it to him."
Lewis said moving the ball against Churchill County could be a challenge. The Greenwave have allowed an average of 9.8 points this season.
"They play a base defense and have athletes at every position, and basically dare you to beat their athletes," Lewis said. "I'm very impressed with what I see."
The Greenwave also is impressive on offense, led by quarterback Connor Richardson, who has passed for 2,479 yards and 32 TDs. He's also rushed for 543 yards and seven scores.
"They remind us a lot of Desert Pines," Lewis said. "They're primarily a spread team, and they run it out of the spread and throw it out of the spread. They make you play the entire field.
"The more I look at them, we know we've got our work cut out for us."
Contact prep sports editor Damon Seiters at 702-380-4587 or dseiters@reviewjournal.com. Follow him on Twitter: @DamonSeiters.