Six postseason meetings with Bishop Gorman, six losses for Liberty's football team.
But Patriots coach Rich Muraco thinks things might be different this season. Then again, he's had that feeling before.
"Some years I really felt like we had a good shot at competing with them, and then we didn't perform when that game came around," Muraco said.
The schools now are in the same region for the first time, and the Desert Region title will be on the line when Liberty (7-4) plays at Gorman (9-3) at 1:10 p.m Saturday. The winner advances to the Class 4A state title game on Dec. 1.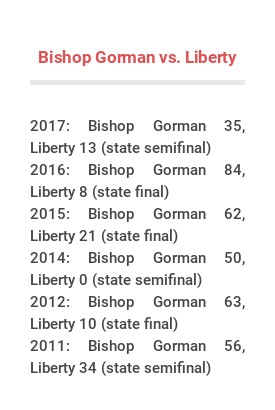 "Finally when you look at the top-end talent of both teams, I think we match up favorably," Murcao said. "In the past when they had Palaie (Gaoteote) or Haskell Garrett or Bubba Bolden, Tate Martell, we looked at those guys and we didn't have that caliber of player to match up with them. With this year's team, we have six or seven seniors that have Division I offers or are going to play Division I football and that kind of matches what they have. That makes it a little more balanced game from a talent perspective."
Liberty features four players who already have committed to play at Division I schools: linebacker Kyle Beaudry (UNLV), offensive linemen Troy Vautanu (Washington) and Brandon Yates (West Virginia) and safety Austin Fiaseu (UNLV). That matches the number of Gorman players who have committed.
In addition to the talent on the field, Muraco said there's been an attitude change, as well. He said that started with the team's senior leaders holding everyone accountable. Sophomore linebacker Zephania Maea can feel the difference.
"Last season, coming in and challenging Gorman was one of the most scariest parts of my life, because they're a top-ranked team and I'm coming in as a freshman," Maea said. "But this year, were coming in with a lot of confidence."
The Patriots won the last eight Sunrise Region titles. Gorman won the last nine Sunset Region titles and large-school state titles. The Gaels, beat Liberty 35-13 in the state semifinals last season, and have defeated the Patriots in three state finals since 2012.
Muraco said this season's realignment, which put Gorman and Liberty in the same region, was just fine with him, because his team's ultimate goal is a state title, not a regional crown.
"Our goal is to get past Bishop Gorman and win a state championship," Muraco said. "And whether you play them in the region championship round or the semifinal round or the state championship round, you've got to beat them. We haven't been able to do that, but we look forward to the challenge of doing it this year."
To do that, Liberty's defense will have to continue to produce. The Patriots have allowed a total of 21 points in their last four games, and had consecutive shutout victories in which they allowed their opponents to gain 75 or fewer yards.
Gorman's offense has been clicking since its 1-3 start that included a season-opening shutout against Mater Dei (California). Quarterback Micah Bowens is 24-for-28 for 623 yards in two postseason wins.
"We're going to play the ballgame we know," said senior defensive end Luke Toomalatai, who leads the Patriots with six sacks. "We play with confidence and head high and get turnovers on these dudes and go for the shutout."
Contact prep sports editor Damon Seiters at dseiters@reviewjournal.com or 702-380-4587. Follow @DamonSeiters on Twitter.