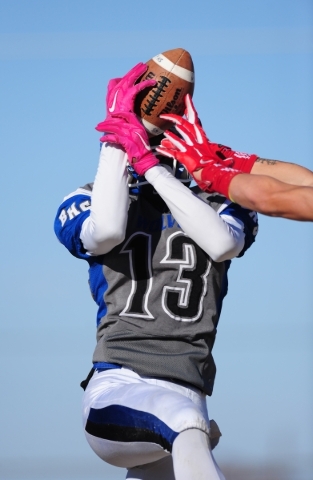 The Sunrise Region football championship game Saturday was pretty much defense optional.
And after a six-minute scoring spree by both teams, Liberty finally decided to do some work on the defensive side of the ball.
After allowing host Basic to score on its first two drives, the Patriots limited the Wolves to 113 yards of offense the rest of the way on the way to a 62-29 victory for their sixth consecutive Sunrise title.
"They caught us with a trick play early, and they emotion of the game, they were flying high," Liberty coach Rich Muraco said. "We didn't really match their intensity on the defensive side of the ball. Once it kind of settled down, we made our adjustments, and I felt like we played great."
Basic moved regular quarterback Aeneas McAllister all over the field, lining him up at receiver and running back as well as quarterback, and letting his younger brother, Aaron McAllister, throw some passes.
That seemed to catch Liberty off guard early, and the Wolves took advantage with Aeneas McAllister hitting Frank Harris with a 5-yard TD pass that tied the game at 14 with 6:37 to go in the first quarter.
But Liberty's defense stiffened after adjusting to the McAllisters trading places.
"It took the better part of the first quarter," Muraco said. "They actually did something similar against Coronado, but we just weren't ready for it. I think once we realized the other kid was more the throwing quarterback and Aeneas was more the running quarterback, it kind of adjusted how we played it."
Liberty adjusted mainly by stuffing the run and putting constant pressure on the quarterbacks. The Patriots stopped 14 of Basic's 36 running plays for a loss. Basic finished with 15 rushing yards.
"Their defensive line is really good," Basic coach Jeff Cahill said. "We had a tough time running the ball and getting Sean (White) involved, because we were having a tough time moving them. That kind of made us into a one-dimensional team, and that's not our strength."
Senior linebacker Mario Garcia led the charge, recording a sack, two tackles for loss and recovering a fumble.
"We just rallied to the ball," Garcia said. "That's what you've got to do, you've got to swarm to the ball."
Once Liberty got some stops, the Patriots offense took over. Stephon Stowers had his second consecutive big game, scoring four touchdowns. He rushed for 107 yards on 11 carries, including TD runs of 6 and 44 yards. He also caught TD passes of 50 and 45 yards from Kenyon Oblad.
"He's a dynamic runner," Muraco said. "He's faster than he looks; he's tough."
After Stowers' 6-yard TD run gave the Patriots a 20-14 lead with 4:34 to go in the first quarter, the defense got into the scoring with Arie McQuaig picking off an Aaron McAllister pass and returning it 44 yards for a touchdown and a 26-14 lead.
"You can't make mistakes against good teams like this, and it ended up snowballing on us a little bit there," Cahill said.
Kenyon Oblad threw a 14-yard TD pass to Darion Acohido and a 7-yarder to Bryan Roland before the half, and the Patriots led 40-22 at the break.
Liberty then put the game away on its first three drives of the second half, which lasted a total of four plays.
Stowers scored on his 44-yard run on the team's second play of the half to make it 48-22. Oblad then lobbed a pass to a wide-open Calvin Tubbs, who caught the ball at the Basic 45 and rumbled down the sideline for a 63-yard catch-and-run touchdown that pushed the lead to 56-22. The next time Liberty touched the ball, Oblad hit Stowers with a screen pass, and the running back went 45 yards to put the game out of reach with 6:47 to go in the third quarter.
"We work hard offensively, and I think we present some problems for people with all the different things and different looks we can give them, and we were able to execute today," Muraco said.
Oblad completed 9 of 13 passes for 283 yards and five TDs for the Patriots, who play Bishop Gorman (14-0) at noon Dec. 5 for the state title.
"I just want people to know we're serious about Gorman this year," Stowers said. "It's not going to be like every year where we get blown out 60-10 and stuff like that. We are working to win this year, we're not working just to be there."
— Contact prep sports editor Damon Seiters at 702-380-4587 or dseiters@reviewjournal.com. Follow him: @DamonSeiters
Box score: