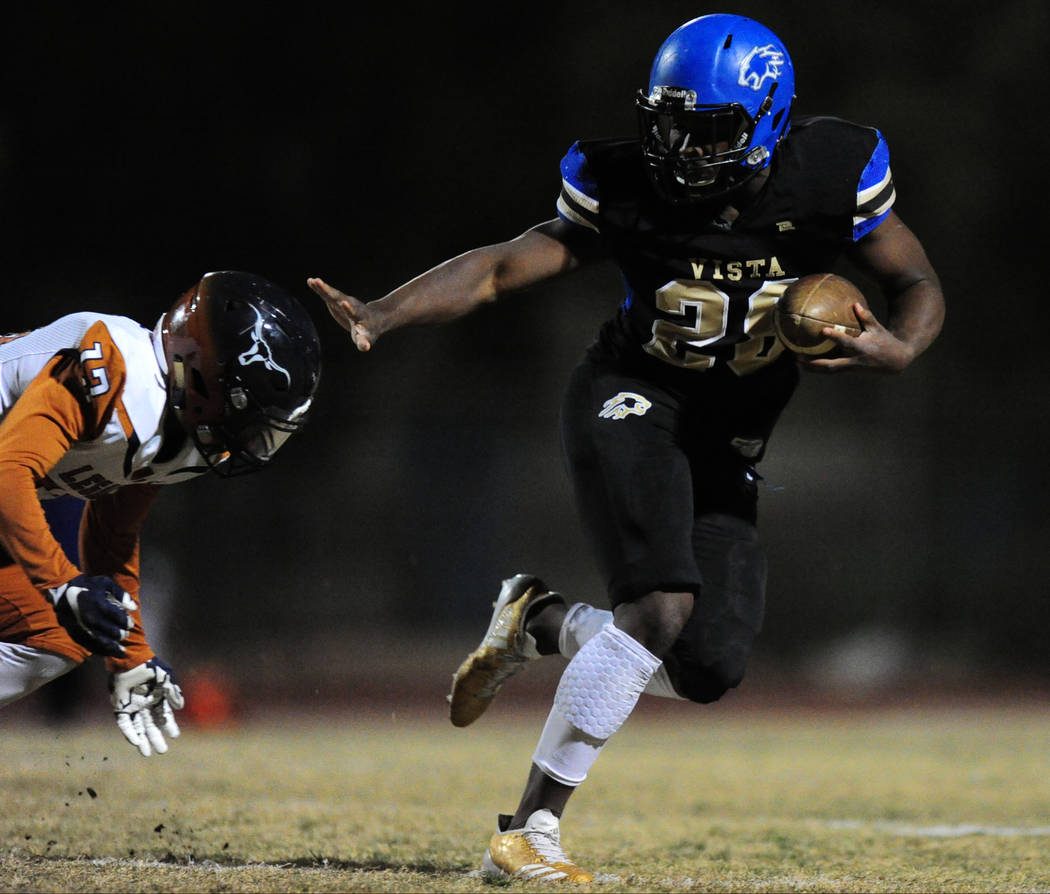 Sierra Vista learned the hard way that it's a bad idea to make Legacy angry.
The Mountain Lions ran through a sign that said "Horns Down" before kickoff of their home 4A Sunset Region quarterfinal game against the Longhorns, and Legacy's players took notice, clapping from the opposite sideline.
Then the Longhorns let their defense do the talking. Legacy forced six turnovers and scored three defensive touchdowns to win 49-21 on Friday and advance to the Sunset Region semifinals for the second straight year.
"(The sign) was funny at first, and then we kind of took it as disrespect," senior linebacker Amere Foster said. "So we were like, 'All right, we're going to have to pound these dudes.' "
The Longhorns (7-3, 4-2 Northwest League) advanced to play Arbor View, who they lost to 28-14 on Oct. 13.
Just like last season's first-round playoff game — when it defeated Sierra Vista on the road — Legacy's defense was the driving force. It turned the game into a blowout, even though the Longhorns had a slight edge in total offense, 323 yards to 243.
"There's all kinds of naysayers, but that doesn't matter because we know what we got and all our defense does is perform," Legacy coach John Isola said.
Isola made sure his offense sent an early message too, calling a deep pass on its first play from scrimmage. Senior wide receiver Davick Clark was able to catch quarterback Roberto Valenzuela's long throw over the helmet of a defensive back and then ran it into the end zone for a 59-yard score to make it 8-0.
"We told (Valenzuela), 'Just give it a shot,' " Isola said. "And Davick did a great job."
The Longhorns' defense took it from there, forcing three fumbles in the first half. One was returned for a touchdown by senior defensive tackle Kenneth Holbert, and another set up a Valenzuela rushing TD seven seconds before the break that made it 21-7.
Sierra Vista (6-3, 5-1 Southwest League) pulled to within 28-14 with a third-quarter touchdown and got the ball back with a chance to make things interesting, but Foster prompty slammed the door on the Mountain Lions. The senior jumped to deflect a pass and ended up with a one-handed interception he returned for a touchdown.
"I got sent on a blitz, but it was too easy so I figured it was a screen, and I was right," Foster said.
Legacy added an offensive and defensive touchdown before the game was over to ensure its season lasts at least one more week. And this week comes with a chance to get revenge on a league opponent.
"My message to them in the locker room was 'I don't want to be done coaching you guys. I want to practice on Monday,' " Isola said. "'I care about you guys too much and I'm not ready to stop coaching you.'"
Contact Ben Gotz at bgotz@reviewjournal.com. Follow@BenSGotz on Twitter.