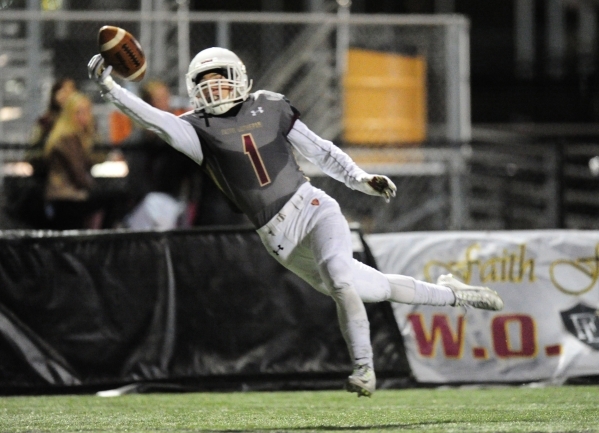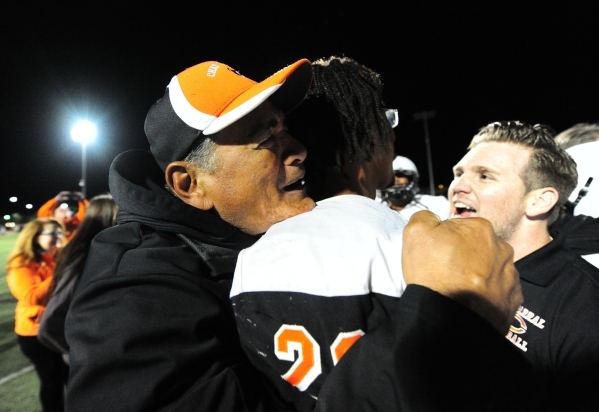 Chaparral's Andrew Solis was staring the end of his high school football career in the face, and he didn't like what he saw.
So the quarterback made two throws in the final minute Friday night to ensure he and his teammates would play at least one more game.
Solis completed a 20-yard touchdown pass to Richard Nelson with 53 seconds to go, then completed a 2-point conversion toss to Jacob Ford to give the Cowboys a 21-20 road victory over Faith Lutheran in the Division I-A state quarterfinals.
"To be honest, I was so disappointed," Solis said of his feelings before the touchdown pass. "I didn't want the season to end. I love this team. I love everybody on this team. The season ending, it's unreal like that."
The Cowboys (9-2) faced fourth-and-10, but Solis made sure it wasn't the last play of the season. Instead, he hit Nelson in the back right corner of the end zone for a touchdown to cut Chaparral's deficit to 20-19.
"When Richard caught it, I ran out of breath," Solis said. "I was speechless. I had nothing to say. My heart stopped."
Instead of going for the extra point to tie, the Cowboys elected to go for 2.
"I liked it," Solis said of the coaches' decision. "They're not OK with going to overtime; they wanted to go for the win. I was with them. And after Jacob caught it, I was excited. We really did it, we pulled it off."
Solis rolled to his right and hit Ford in the front of the end zone to give Chaparral its first lead.
"I rolled out, got my depth and as soon as I turned my eyes, I saw Jacob waving his hands," Solis said. "And I just lobbed it to him, so there was no way he could drop it."
Faith Lutheran (9-2) got the ball back at its 22 with 46 seconds left. But a penalty pushed the ball back to the 8, and Brenden Joyce was unable to complete his final three passes, the last of which was intercepted by Tyler Ford to seal the Chaparral win.
It was Faith Lutheran that was in control early, and the Crusaders led 14-7 at the half. But momentum started to turn on the second-half kickoff which Casey Acosta returned 92 yards for a touchdown. The extra point was no good, and Faith Lutheran held a 14-13 lead.
Chaparral forced two fumbles and intercepted two passes in the second half but didn't take advantage.
Instead, Faith Lutheran's Ryan Callan kicked field goals of 37 and 21 yards to extend the Crusaders' lead to 20-13.
Chaparral's final drive started with 3:09 to go at its 40. A pass interference penalty on fourth-and-2 from the 48 extended the drive, and Solis' arm on the final two plays gave the Cowboys the win.
Solis was just 12-for-27 for 116 yards but completed the passes when it mattered most.
"We just had to have our quarterback get his confidence back," Chaparral coach Paul Nihipali said. "Because he was struggling. But you've just got to push to the end, and that's what they did."
Faith Lutheran had a 3-yard TD pass from Joyce to Elijah Kothe and a 9-yard TD run by Christian Marshall in the first quarter to take a 14-0 lead, but the Crusaders didn't find the end zone again.
Nelson had a 1-yard TD run, also on fourth down, to cut the Cowboys' deficit to 14-7 with 2:24 to go in the half.
Chaparral plays at Churchill County in the state semifinals next weekend.
"We have those kids that can fight to the end," Nihipali said. "And now these kids know how to win. We've still got to get our feet back on the ground tomorrow, but we're going to celebrate right now and enjoy the moment."
Contact prep sports editor Damon Seiters at 702-380-4587 or dseiters@reviewjournal.com. Follow him on Twitter: @DamonSeiters
Box score:
Chaparral 21, Faith Lutheran 20