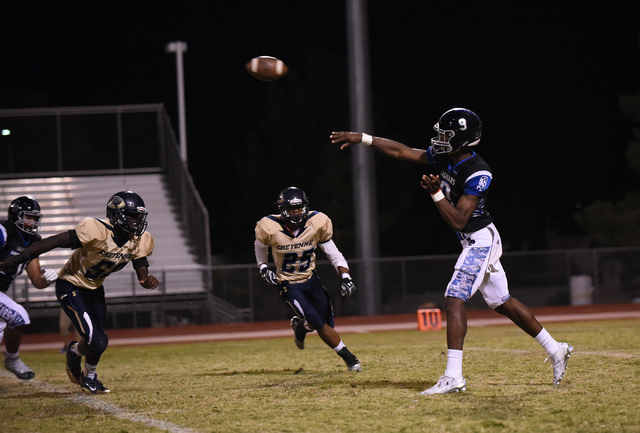 Desert Pines running back Isaiah Morris rushed over to the home sideline after his 82-yard touchdown run against Cheyenne on Friday night and yelled in celebration of the game's first score.
"This is payback," he exclaimed as his teammates roared in approval.
Payback for what?
Well, Morris didn't finish last year's game against the Desert Shields — he sprained his ankle in the third quarter and had to miss the following game as well. But he was plenty healthy for this year's matchup.
And he paid Cheyenne back, rushing for 170 yards and three touchdowns.
Morris danced all over the Desert Shields, and Arizona commit Tony Fields had a long receiving touchdown to go with a key interception as Desert Pines pulled away from Cheyenne for a 31-14 victory.
"This was one of the games I wanted to play," Morris said. "Cheyenne always plays us tough. When we were little in Pop Warner, they use to battle with us, too. Middle-school football."
And Cheyenne played Desert Pines tough on Friday night through three-and-a-half quarters.
But the fifth-ranked Jaguars took care of business on their home field. They built an early, two-touchdown lead and put the Desert Shields away in the fourth quarter on Morris' 13-yard touchdown run.
"Isaiah, I think, is the best player in the city," Desert Pines coach Tico Rodriguez said. "You give him the ball, he's electric. He makes magic happen."
It took Morris just 12 carries to do his damage on Friday night. He kick-started the Jaguars with his first touchdown run — an 82-yard explosion off left tackle — and added a 17-yard touchdown run midway through the second quarter.
The Jaguars kept Cheyenne's offense at bay until midway through the third quarter, when Desert Shields quarterback Matthew LaBonte capped a long drive with a 1-yard touchdown run.
But Desert Pines responded immediately when USC-bound receiver turned quarterback Randal Grimes hit Fields mid-stride on a go-route for a 60-yard scoring strike.
"They answered to our score," Cheyenne coach David Cochran said. "I think that was the biggest impact right there. Just a kid like that who can go both ways, an athletic kid like (Fields), you can only hope to hold him down so he doesn't make those plays."
The Desert Shields came back again, though, and LaBonte threw an 8-yard touchdown pass to Cajuin Jackson to pull Cheyenne within one score midway through the fourth quarter. But Fields squashed the comeback with an interception on the Desert Shields' next drive to set the stage for Morris' third touchdown run.
Grimes finished 192 passing yards and the touchdown pass to Fields, who had 116 receiving yards on four catches. LaBonte accounted for two scores and had 179 passing yards.
Rodriguez was pleased with the victory, but conceded that Desert Pines needs to clean up some of its sloppy play. Penalties negated three Jaguars' touchdowns and a handful of other big plays, and Desert Pines adjusted its offensive line multiple times amid turmoil within the unit.
"We're a work in progress," Rodriguez said. "Very sloppy. We've just got to get back to the basics. Our technique is a little bad. We're going to get back to the fundamentals and clean all that up."
Box score: