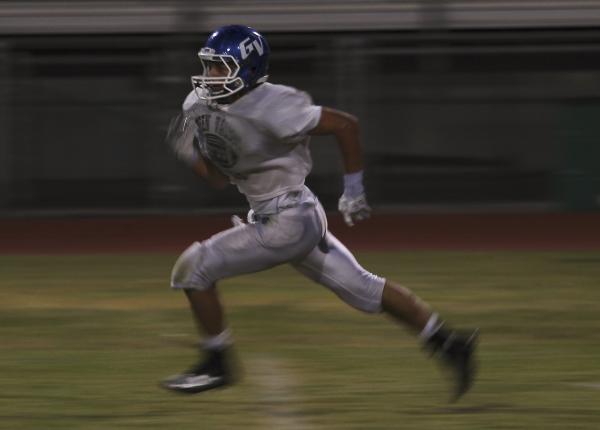 Green Valley was a trendy pick as one of the area's top teams when the high school football season began. After all, the Gators were coming off a 9-2 season and their first league title of the 2000s, with several key players returning.
But ninth-ranked Green Valley has lost two of its first three games, and the Gators will try to avoid falling to 1-3 when they host No. 3 Palo Verde (1-0) at 7 p.m. today.
"We've just got to get our minds right," junior quarterback Christian Lopez said. "A lot of people are expecting us to lose now, but we can't count ourselves out after two performances like that. We've just got to get our heads right."
The Gators led Coronado 21-7 in the second quarter last week before the Cougars rallied for a 25-21 win. Green Valley outgained Coronado 503-302, but couldn't capitalize on the offensive advantage.
Senior safety Giovanni Hernandez said he thinks the team has moved past the tough loss and is prepared to take on Palo Verde.
"We've lost before," Hernandez said. "Everyone loses. We just bounce back, get our heads straight for the next game and don't worry about the week before. Every game is a new game."
Hernandez said the loss to Coronado might have helped the Gators get beyond those lofty preseason expectations.
"It probably got in our head a little bit," Hernandez said of the preseason hype. "But this loss was definitely an eye-opener for us. It got us focused, got us set back on the ground and let us know where we're at. It made us more hungry."
Green Valley coach Brian Castro said the coaching staff knew the nonleague schedule would be a difficult one.
"We knew we were going to be young at some key spots, and guys were going to have to step up and make some plays and it may take some guys some time to get going," Castro said. "That's kind of what happened."
Now the Gators need to try to get rolling against the always-tough Panthers. The game is a contrast of styles, with Green Valley running the modern, up-tempo spread offense. Palo Verde counters with the double wing invented by Pop Warner in 1912.
Because of Palo Verde's run-heavy offense, Castro knows the pressure is on his offense to perform.
"If we just do our job as an offensive unit, we'll score points," Castro said. "And that's taking care of the football, moving the chains and getting first downs. We want to play fast, but we have to move the ball consistently and not go three-and-out and keep our defense on the field."
The Gators have averaged 493.7 yards in their three games led by Lopez, the area's leading passer with 887 yards.
But Palo Verde racked up 636 yards of offense in its opener, and the Panthers have added an air attack to their strong ground game. Quarterback Parker Rost threw for 316 yards and four touchdowns against Legacy last week.
"They've always run the ball pretty well, but last week they threw it with real good consistency," Castro said. "When they needed to, they did, and it seemed like it was always going for a big play. That's definitely something you can't fall asleep on with these guys, because they can throw the football."