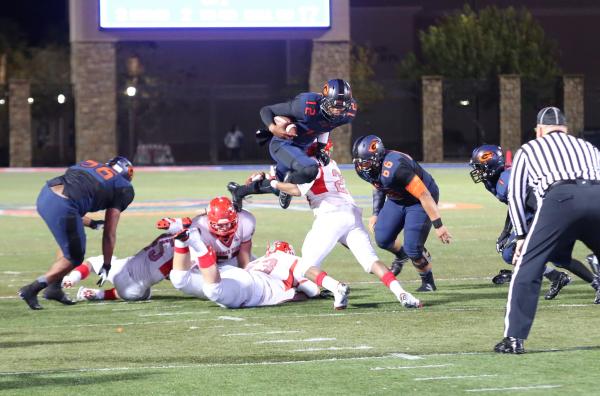 Typically, it's the Arbor View football team that dominates time of possession and wears down teams with its running game.
Bishop Gorman gave the Aggies a taste of their own medicine Friday night.
The host Gaels rushed for 368 yards and scored on their first six possessions to overwhelm Arbor View 52-7 in a Division I Sunset Region semifinal.
Top-ranked Bishop Gorman (11-2) hosts Northwest League champion Palo Verde (10-1) in the region final at 1 p.m. Nov. 30. The winner advances directly to the Division I state championship game.
"We looked as good as we've looked all year," Gorman coach Tony Sanchez said. "We take pride in not being the fanciest team but being the most physical team in town."
Daniel Stewart rushed for 152 yards and four touchdowns on 10 carries to lead the Gaels, who were on pace at halftime to have three 100-yard rushers. Russell Booze finished with 79 yards and one score while carrying the ball only once in the second half, and Randall Cunningham Jr. had 73 yards rushing.
Jonathan Shumaker added 64 yards rushing and a touchdown for the Gaels.
"The offensive line did terrific," Stewart said. "It's nice to have all these weapons. If one person messes up or get tired, we can roll someone else in and they do just as good or better than the last person."
Gorman led 14-0 after the first quarter and then removed all doubt about the outcome during a two-minute stretch midway through the second quarter. Stewart scored his first touchdown on a 14-yard run with 6:27 left before halftime, and the Aggies (8-3) were penalized 15 yards on the play, which was assessed on the ensuing kickoff.
That allowed the Gaels to go for an onside kick, which they recovered at the Arbor View 38-yard line. Six plays later, Stewart scored from 11 yards to give Gorman a 28-0 lead with 4:23 left in the second quarter.
"Coach Sanchez said we were going to go pound the ball because they wouldn't be able to handle it," Stewart said. "Some people think we're more of an elusive team or a speed team, but we can still pound the ball and go back to power."
Arbor View's double-wing offense struggled to sustain drives against the Gaels' aggressive defensive front. The Aggies finished with 175 yards of offense and managed only six first downs, two of which came on the final drive with a running clock.
Jacob Speaks led the Aggies with 96 yards rushing, including a 78-yard burst in the second quarter that set up his 1-yard touchdown run with 2:23 left until halftime to make the score 28-7.
"They were phenomenal. They didn't give up anything," Sanchez said. "The guys stuck in there. It's tough to hold those guys down, and the guys did a good job."
Cunningham completed 6 of 13 passes for 103 yards, including a 6-yard touchdown to Alize Jones on a fade pattern with seven seconds remaining in the first quarter. Stewart tacked on a 15-yard scoring run early in the third quarter, dragging two defenders into the end zone, and Shumaker had a 1-yard touchdown to make the score 45-7.
Stewart capped the scoring with a 54-yard touchdown run for the Gaels, who didn't punt until their first drive of the fourth quarter.
"I feel we're back to where we were when we were playing Santa Margarita (Calif.) and Servite (Calif.)," Sanchez said. "I like where we're at right now."
Box score:
Bishop Gorman 52, Arbor View 7