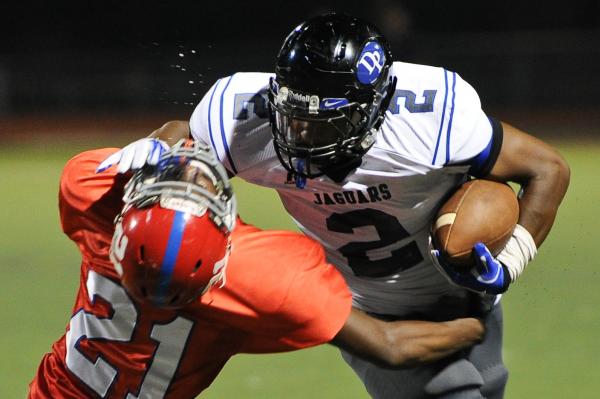 Desert Pines football coach Tico Rodriguez could have been upset Thursday about the fact that his offense was held to 109 yards in the first half.
But the Jaguars were leading 33-7 at the time, so Rodriguez was all smiles.
Desert Pines quarterback Iquan Corsey completed 4 of 6 passes for 64 yards and three touchdowns, and his team capitalized on strong field position throughout the night to roll to a 45-14 victory over host Valley.
Though the Jaguars didn't put up quite the offensive numbers Rodriguez was hoping for, they did take advantage of their many opportunities. They forced five turnovers, scored on an interception return and ran back a kick for a touchdown.
"We got some lucky breaks with all those turnovers," Rodriguez said. "We won the turnover battle, and that made the difference."
Desert Pines wasted no time in taking a 6-0 lead on Corsey's 2-yard TD plunge early in the first quarter, but Valley answered with a 12-play, 75 yard drive capped by an 8-yard scoring pass from Tyrone Prewitt to Malik Batiste to make it 7-6.
Valley's only lead did not last long, however, as Malik Davis returned the ensuing kick 88 yards for a touchdown to give the Jaguars a 12-7 advantage.
Desert Pines' defense went to work from there, forcing turnovers that allowed the offense to score on two passes from Corsey to Tim Hough and a pass from Corsey to Jon McCoy to make it 33-7 just before halftime.
"Overall, our team speed gave them problems," Rodriguez said. "One of the keys was the all-around athleticism of our team."
Valley struggled to overcome that obstacle in the second half as well, thanks in part to Hough, who connected with McCoy for a 35-yard TD pass in the third and later scored another TD on a 44-yard interception return.
The Vikings got back on the board with a 9-yard pass from Prewitt to Noble Hall in the fourth, but the Jaguars' defense squelched two more drives before it was over.
Hough completed both of his passes for 40 yards and a TD and caught three passes for 37 yards and two scores for Desert Pines. Teammate Eric Wilkes finished with 92 yards on 13 carries.
Charlie Winters rushed 19 times for 99 yards to lead Valley.
Coronado 25, Green Valley 21 — Jackson Cofer rushed for two touchdowns, and Spencer Cofer hit two field goals to help the Cougars rally to top the ninth-ranked Gators.
Jackson Cofer rushed for 134 yards on 18 carries, including a pair of 1-yard TD runs for Coronado (1-2), which trailed 14-0 early int he second quarter.
Spencer Cover hit field goals of 48 and 41 yards in the final 13 minutes to give the Cougars the lead.
Jansen Pollins added 105 yards and a TD on 13 carries for Coronado.
Christian Lopez passed for 412 yards and three TDs for Green Valley (1-2). Markus Varner had 11 catches for 159 yards and three TDs for the Gators.
— Sam Leeper
Canyon Springs 36, Cheyenne 0 — At Cheyenne, Bradley Alexander threw three touchdown passes in the second half, and Joe Jackson had three sacks to lead the Pioneers' shutout of the Desert Shields (0-3).
Alexander threw for touchdown passes of 18, 36 and 7 yards. He finished with 280 yards passing, connecting on 14 of 24 attempts.
Canyon Springs (2-0) led 6-0 at the half but mounted a 12-play, 96-yard drive in the third quarter. Alexander scrambled before finding Clayton Jones with an 18-yard pass in the left corner of the end zone to give the Pioneers a 14-0 lead.
Then the Pioneers held Cheyenne's offense to a three-and-out series, and on the first play after the Desert Shields punted, Canyon Springs running back Zaviontay Stevenson ripped off a 45-yard TD run to put his team in control.
Stevenson led all rushers with 104 yards on 12 carries.
The Pioneers defense, led by outside linebacker Jackson, held Cheyenne to just 146 yards of offense for the game, with just 33 of those yards coming the second half.
Casey Alison led Canyon Springs receivers with four receptions for 102 yards.
— Tim Guesman
Bonanza 23, Durango 14 — At Durango, Jayveon Taylor scored two touchdowns to guide the Bengals past the Trailblazers.
Bonanza (2-0) clung to a 16-14 lead before Taylor scrambled for a 17-yard TD to put the Bengals in control with 9:59 left in the fourth quarter.
Durango's Daniel Medina intercepted a pass from Bonanza quarterback Tyler Penkalski on the Bengals' 14-yard line with 4:40 left to play to keep the Trailblazers alive. But after Durango (0-1) earned a first-and-goal at the 8-yard line, Bonanza's Jager Merrell pounced on a fumble to end the threat. Bonanza then ran out the clock, capitalizing on a 52-yard run by Carlos Soto.
Taylor opened the scoring by fielding a punt, eluding several tacklers and racing down the left sideline for a 61-yard touchdown in the first quarter. Penkalski then capped a 62-yard scoring drive with a 9-yard strike to Scott Dore to make it 13-0.
Patrick Outhoummountry connected for a 42-yard field goal to cap a drive highlighted by a 39-yard pass from Penkalski to DeAndre Garcia just before the half for Bonanza.
Josh Johnson scored on a 2-yard run late in the first half and a 3-yard plunge to cap a 71-yard drive, keyed by a 31-yard pass from Ben Hayden to Casey Smith, at the end of the third quarter for Durango.
Penkalski finished with 104 yards passing, and Soto supplied 110 yards rushing on 15 carries for Bonanza.
Hayden was 7-for-14 for 139 yards, with 83 yards going to Smith.
— Brennan Karle
Foothill 48, Silverado 43 — At Foothill, the Falcons held off a late Silverado rally en route to their first win of the season.
Already running away with the game, Nick Gardner connected with David Persi on a 57-yard TD pass to cap a nine-play, 82-yard drive early in the fourth quarter to push the lead to 45-21. The score seemingly put away the game away for the Falcons (1-1), but the Skyhawks (0-2) scored on their next drive with 6:54 left on a 10-yard run by Jarrett Alipio, then put home a 2-point pass from Mitchell Ballard to Alex Aragon to make it 45-29.
On the second play of Foothill's ensuing drive, an errant snap recovered by Silverado gave the Skyhawks life. In only three plays, Alipio scored from 1 yard out, then converted for two points to put the score at 45-37.
Cory Fisher hit a 48-yard field goal for Foothill to make it 48-37, but Silverado drove 72 yards on its next drive, which was helped by a Foothill pass interference call on fourth down deep in Falcons territory. On the next play, Ballard found Austin Hunt from 11 yards out to make it 48-43, with the missed 2-point conversion.
The Skyhawks had one last shot with 11 seconds left as Ballard found Alipio downfield for a 37-yard completion, but he was tackled immediately as the clock ran out.
Nick Gardner led the Falcons' air attack with 244 yards on 21 of 27 passing and four touchdowns.
— Jesse Vineyard
Las Vegas 56, Basic 28 — At Las Vegas, junior quarterback Trevor Swenson threw for 380 yards and four touchdowns to lead the Wildcats (2-0) past the Wolves (0-2).
Swenson's first pass went for a 57-yard score as Aaron Zanin-Banks caught a short pass and outran the Basic secondary. He also connected with Zanin-Banks on a 66-yard touchdown pass and Andrew Moreland on an 80-yard scoring strike.
Despite the offensive fireworks, the Wolves kept the game close through the first three quarters. After the Wildcats' first score, Basic's Antraye Johnson returned the ensuing kickoff 80 yards to cut the Wildcats lead to 7-6. After the Wildcats scored on their following possession on a 1-yard pass from Swenson to Kyle Christenson, the Wolves defense kept Las Vegas out of the end zone the rest of the first half. Basic tied the score at 14-14 on a 3-yard touchdown run by Johnson, who also ran in the 2-point conversion.
In the second half, Las Vegas regained the lead on a 65-yard fumble return by Tristan Gordon. The Wolves took the lead on a 19-yard scoring strike from Johnson to David Garza. Johnson then ran in the 2-point conversion to give Basic a 22-21 lead.
Las Vegas regained the lead for good on its ensuing possession when Moreland scored on a 16-yard run, and Jacob Littlefield returned an interception 30 yards for a score to put the Wildcats up 36-22.
— Robert Horne
Faith Lutheran 27, Chaparral 12 — At Chaparral, Faith Lutheran (2-2) stopped four of five fourth-down attempts by Chaparral and halted a late first-half Cowboy drive at the Crusader 17 on the way to the win.
The Crusaders were led by senior quarterback Jake Deaville, who came off the bench to rush for 62 yards and pass for 114, including 101 to fellow senior Vinny DeGeorge. A 38-yard connection from Deaville to DeGeorge early in the second quarter gave Faith a 14-6 lead.
Chaparral (1-2) gained all of its 215 yards with a balanced running attack with 101 yards from Seitu Wyche, 45 from Justin Alpha and 43 from Richard Hernandez.
Faith Lutheran's defense, led by senior Ben Flandermeyer, who recovered a Cowboy fumble to start the second half, held Chaparral to one second-half first down.
Faith's Keenan Smith scored three times, twice on 1-yard runs and once on a 98-yard kickoff return to answer Chaparral's opening score.
— Neil Grepke
Clark 33, Eldorado 14 — At Eldorado, Kareem Warren threw for 248 yards and three touchdowns on 9 of 10 passing to lead the Chargers (2-1) over the Sundevils (0-2).
Clark broke open a scoreless tie with 21 unanswered second-quarter points. Ty'Rek Wells and Milan Dixon each rushed for a touchdown before Warren connected on a short pass to Clifton Smith, who outran the defense for a 90-yard TD. Warren added two more touchdown passes to Andre Turner, and Smith finished with 206 yards receiving on just four catches.
— Adam Berchin
Desert Oasis 53, Del Sol 0 — At Desert Oasis, Jaquez Kalili scored four first-half touchdowns on 234 yards as the Diamondbacks got their first win of the season.
Kalili opened the scoring with touchdown runs of 2 and 3 yards, then ended the first half with back-to-back scoring runs of 71 and 82 yards. Blake Kutz ran for 131 yards and two touchdowns on nine carries for Desert Oasis, including one of 57 yards in the first half. The Diamondbacks racked up 463 yards rushing.
Quarterback Richie Stammetti competed 5 of 7 passes for 81 yards, including a 26-yard touchdown to Gary Abdella during the first quarter.
Desert Oasis held Del Sol (0-2) to 152 yards of offense. Hunter Amos picked off Del Sol quarterback Aaron Williamson on the second play of the game. Running back Austin Higgins was the bright spot for Del Sol as he ran for 78 yards on 19 carries.
— Carlo Lamarca
Cimarron-Memorial 40, Sierra Vista 0 — At Sierra Vista, Michael Barnson battled for 169 yards and two touchdowns for the Spartans (1-0).
Derek Morefield completed 6 of 12 attempts for 178 yards and found Djon Watson twice for scores. Watson finished with four receptions for 132 yards.
Cimarron-Memorial's defense allowed just 102 yards of offense and shut down the opposing quarterbacks. Sierra Vista freshman Anders Benson ran for 56 yards but completed no passes and had an interception before leaving the game with injury.
Daniel Goddfrey racked up 15 tackles for the Mountain Lions (0-1).
— Zac Alexander
Virgin Valley 72 Rancho 6 — At Rancho, led by senior DeVonte Milligan, the Bulldogs (3-0) wasted little time in taking control of the contest.
Milligan caught touchdown passes of 30 and 32 yards from quarterback Garrett Leavitt and returned an interception 65 yards for a third touchdown, all during the first quarter. Leavitt, who threw four touchdown passes, also connected with senior Harold Caswell in the opening period as the Bulldogs took a quick 27-0 lead.
The Bulldogs turned to their running game in the second period as Caswell, senior Dee Bowler and senior Dillon Graves all rushed for scores, contributing to the Bulldogs 59-6 halftime lead. The Rams (0-3) had trouble moving the ball for most of the game, but sophomore Robert Howard did explode for a 65-yard touchdown dash in the second quarter. Howard led the Rams with 71 rushing yards.
— Ron Harris
Sunrise Mountain 25, Western 6 — At Western, the Miners spotted the Warriors an early lead before rolling to their first win of the season.
The story of the first half was the marked improvement of the Warriors offense as Kwan Carter took the controls and led Western (0-3) to an early 6-0 lead. Carter connected with Adrian Manon on a beautiful 32-yard scoring pass.
But Sunrise Mountain (1-2) came right back to tie the score at 6-6 on a 16 yard pass from Wanya Calahan to Daquwan Doyle, and the Miners took control from there.
The story for the Miners was their running game. Sherman Nash ran for 134 yards in the first half and finished with 226. Romello Tatum added 46 yards, including a 30-yard touchdown run late in the fourth quarter. The Miners compiled 333 yards and three touchdowns on the ground.
— Jim Higgins
Moapa Valley 35, Mojave 6 — At Overton, Zach Hymas threw two touchdowns and added a 1-yard scoring run as the ninth-ranked Pirates (3-0) routed the Rattlers (2-1).
Justin Hughes finished with 61 yards rushing and a touchdown for Moapa Valley.
Hymas connected with Lance Hilton for a 28-yard touchdown on the final play of the second quarter to give the Pirates a 21-0 halftime lead, and he hooked up with Cole Mulcock for a 26-yard score in the third quarter to make it 28-0. Hymas finished 8-for-16 for 142 yards.
Mojave finished with minus-15 yards rushing and 108 yards of total offense. Standout junior running back Ty Flanagan was held to 7 yards on 10 carries.
Mojave's lone touchdown came in the fourth quarter on a 43-yard pass from Zack Arave to Davion Fletcher. Arave was 5-for-13 for 123 yards and two interceptions.
Boulder City 14, Pahrump Valley 8 — At Boulder City, Sam Woodbury's interception in the end zone with 20 seconds left allowed the Eagles (2-1) to hold off the Trojans (1-2).
Pahrump Valley trailed 14-0 entering the fourth quarter, but A.J. Segura's 35-yard run and Keenan Harris' 2-point conversion cut the deficit to six. The Trojans faced a fourth-and-goal from the 9 in the final minute, but Woodbury came up with his second interception of the game to ice it.
Woodbury had a 20-yard touchdown run, and Xavier Steel added a 1-yard scoring run — both during the second quarter — to give the Eagles a 14-0 halftime lead.
The Meadows 36, Laughlin 6 — At Laughlin, Bryson Bickart ran for 105 yards and two touchdowns, and the Mustangs (2-1, 1-0 Division III Southern) routed the Cougars (0-3, 0-2).
Quarterback Jacob Gleason had two touchdown passes for The Meadows, both to Ethan Fridman. The duo connected from 31 yards in the first quarter to put The Meadows on top 13-0 and hooked up in the second quarter for a 23-yard strike.
Jack Berkley added 88 yards rushing for the Mustangs, including a late 75-yard touchdown burst.
Robert Osuna led Laughlin with a game-high 121 yards rushing and scored on a 28-yard run in the fourth quarter.
Box score: