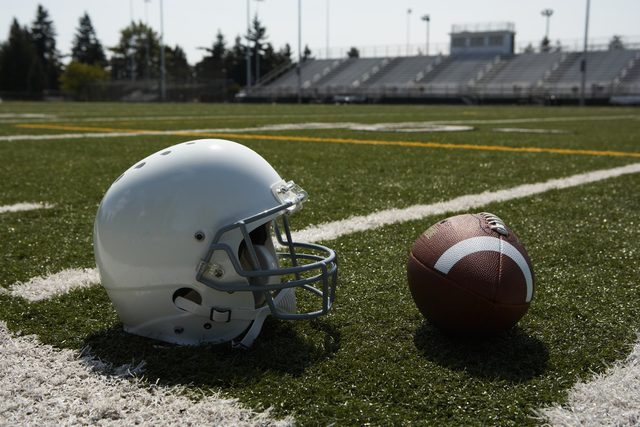 Spring Mountain coach Aaron Masden gathered his players before kickoff Friday afternoon and delivered one message.
"Each play is a battle," he said. "Win the battles and you'll win the war."
After uncharacteristically dropping a few battles in the first quarter, the Golden Eagles swiftly regrouped in all three phases of the game to roll past visiting Beatty 44-6 in the Class 1A state quarterfinals.
"At first, we started off bumpy," senior lineman Aaron Harry said. "But then we started to get together and say, 'Let's fix this up. The championship is ahead of us.' We just started to put everything together and put his words (to use)."
Spring Mountain (7-2) will play at Virginia City or Whittell in a state semifinal at noon next Friday.
The Golden Eagles, who entered Friday's game having outscored their last five opponents 289-12, had trouble finding a groove in their second matchup with the Hornets this season. Jacob Oseguera scored on a 1-yard plunge with 3 minutes, 21 seconds left in the first quarter to put Beatty up 6-0, and the score stood at the quarter's end.
But Spring Mountain countered with its stout defense, forcing six turnovers and limiting Beatty to 87 yards of total offense. The Golden Eagles then used a 30-point second quarter to take control of the game.
"Coach (Masden) bangs it in our heads every day, 'Defense. Defense. Defense,'" safety Eric Brooks said. "Every day. We do it first in practice every day."
Brooks, who finished with three interceptions, also did a number on the Hornets from behind center.
After starting 2-for-9 passing for 11 yards, Brooks led a four-play, 40-yard touchdown drive to open the second quarter to put the Golden Eagles on top for good. He threw a 28-yard pass to Da'Von Cater on the first play of the second quarter to set up Quavone Trotter's 3-yard plunge three plays later, and Tyriq McKinney's 2-point run propelled the team's 44 unanswered points.
"I don't like to lose," Brooks said. "Hate losing. Seeing the scoreboard (at the end of the first quarter), I just had to snap out of it and get out of my funk and just take care of business."
Brooks scored on an 8-yard quarterback keeper with 2:32 left in the second quarter and another McKinney 2-point run made it 16-6. Brooks then threw two touchdowns — a 14-yarder to Damariyae Royal and a 3-yarder to Randell Mosely — before the break to make it 30-6 at halftime.
"My confidence was low. I didn't have much confidence in my arm early," Brooks said. "But as the game went on, I started gaining more confidence and putting the ball where it had to be. I just needed to relax. I was so amped up to play. I had to calm down and settle in."
Brooks, who conceded he was nervous for a playoff game, completed 8 of 19 passes for 137 yards and three TDs. He also had 49 yards rushing on eight carries.
"Eric is great," Harry said. "He's phenomenal at practice. He's always the first one (saying), 'Let's go.' He's really good. In practice and on game days."
Oseguera had four receptions for 41 yards, and Isais Femat had three catches for 53 yards to lead Beatty (7-3).
"I'm just proud of these boys," Beatty coach Leo Verzilli said. "We played hard every game this season. These guys are tough every year, and so is Alamo. It's the same dragons you've got to face every year. But we had a great senior class. They all played four years and they're all good football players."
Pahranagat Valley 56, Tonopah 22 — At Alamo, Tabor Maxwell completed 13 of 18 passes for 233 yards and two touchdowns and ran for 139 yards and two scores to lead the Panthers by the Muckers in the Class 1A state quarterfinals.
Maxwell connected on TD passes to Cody Williams and Culen Highbe for Pahranagat Valley (10-0), which will host Whittell or Eureka at 6 p.m. next Thursday or Friday.
Williams finished with six catches for 139 yards, and Highbe had three catches for 71 yards. Teammate Christian Higbee had 14 carries for 83 yards and two TDs, and Ike Taylor and David Ingram each added a rushing score for the Panthers, who led 32-14 at halftime.
Vinny Bagarose scored three touchdowns to lead Tonopah (6-4). Bagarose had 12 catches for 208 yards and ran four times for 80 yards.
Tanner Otteson finished 20 of 25 passing for 285 yards and added 70 yards rushing for the Muckers.
CLASS 2A
Lincoln County 45, Lake Mead 0 — At Panaca, Landon Smith ran for 118 yards and two touchdowns on 10 carries and added a 34-yard TD catch from Cody Thornock as the Lynx routed the Eagles in the Class 2A state quarterfinals.
"Landon is a great all-purpose guy," Lincoln County coach Rich Ottley said. "Defensively, he's great in pass coverage. He's really fast — the fastest kid on our track team. And he's such a dual-threat with rushing and catching passes. He's led us in scoring and yards all year."
Thornock, who completed 4 of 6 passes for 81 yards, also had 95 yards rushing and two scores for Lincoln County (9-0), which will host Yerington (7-1) in a state semifinal at noon on Nov. 12.
Zachary Rowe had 103 yards rushing and two TDs for the Lynx, who rushed for 350 yards as a team.
"All of our running backs did a good job," Ottley said. "We had three guys with 100 yards rushing, so the balance was good. And our offensive line play was really good."
The outcome of Friday's game, however, wasn't always determined.
A 28-yard field goal by Aldo Tiberio was Lincoln County's only score of the first quarter.
But the Lynx used three rushing scores in the second to build a 28-0 halftime lead and put the game away.
"Lake Mead is a big, physical team," Ottley said. "Our kids just fought and weathered the storm. We had to stick with the game plan and grind away."
Lake Mead finished 4-6.
Needles 36, The Meadows 0 — At Needles, California, Derek Wagstaff ran for two touchdowns and had an interception on defense to help Needles rout The Meadows in the Class 2A state quarterfinals.
"Just lucky to be coaching him," Needles coach Matt Fromelt said of Wagstaff. "He's a gamer and the best player in our league."
Jayden Yeager ran for a touchdown and threw a 15-yard scoring strike to Gilman Jenkins, and Shane Gates added a rushing TD for Needles (9-1), which will play at Pershing County (10-0) in a state semifinal at 1 p.m. on Nov. 12.
"I just liked that we played both sides of the ball well," Fromelt said. "We executed on offense and the defense, obviously, pitched us the shutout. We played well."
The Meadows finished 5-4.
Box scores:
CLASS 1A
Pahranagat Valley 56, Tonopah 22
CLASS 2A
Lincoln County 45, Lake Mead 0