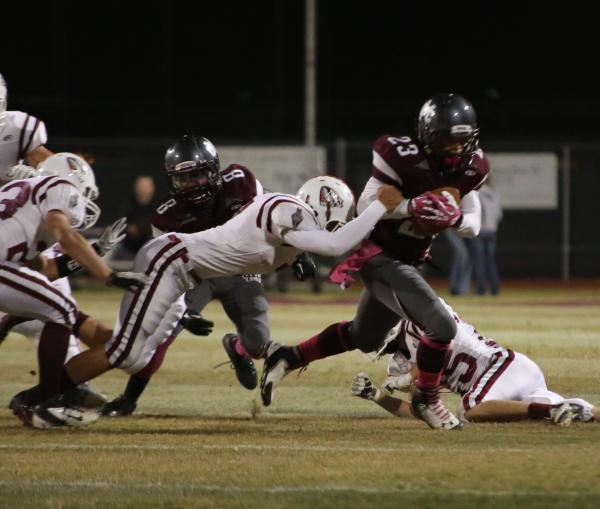 Derek Morefield wants to clear up a misconception about the Cimarron-Memorial football team.
That three-yards-and-a-cloud-of-dust offense the Spartans have been known for recently? It's a thing of the past.
Morefield completed 11 of 16 passes for 220 yards and five touchdowns, and host Cimarron used a balanced offense to pull out a 34-21 victory over Desert Oasis on Friday.
"We had a chip on our shoulder coming into this game because everyone had us as underdogs," Morefield said. "We wanted to prove we're not a one-dimensional team. We can win in all facets of the game."
The No. 10 Spartans (5-0, 1-0 Southwest League) put away the game with 21 fourth-quarter points. Morefield threw a 25-yard touchdown to Roy Gonzalez early in the fourth to put Cimarron up 20-6, and the left-hander connected with Maurice Bennett for two TDs in the final 4:35.
Bennett finished with four catches for 95 yards and three touchdowns, while running back Michael Barnson added 185 yards on 39 carries. David Cotterell also had an 11-yard touchdown in the second quarter for Cimarron, which travels to top-ranked Bishop Gorman next week.
"There was a lot of talk about this being our first real test, and a lot of guys on this team took that personal," Spartans coach John Parcells said. "Tuesday was the best passing practice we've had since I've been here, and it finally came together. Now guys are starting to believe. If they give us the pass, we'll take it."
Desert Oasis (3-2, 1-1) marched 81 yards in 13 plays on its opening drive as fullback Blake Kutz scored on a 4-yard run, but the Diamondbacks were held scoreless from that point until Jocquez Kalili's 4-yard touchdown run with 8:39 remaining in the fourth quarter cut Cimarron's lead to 20-13.
Kalili, who came in averaging 223 yards per game, was limited to 89 yards on 19 carries, while Kutz finished with 70 yards rushing for Desert Oasis.
"We knew going in they were going to try to control the ball with their running game, and we wanted to do the same with ours," Diamondbacks coach Scott Staudinger said. "It was a matter of third downs and big plays, and they were the team that made big plays and converted on third down over and over again."
The Diamondbacks fumbled twice in the first half and trailed only 13-6 at halftime before letting two golden opportunities slip away in the third quarter. On fourth-and-goal from the 1-yard line, Kalili was stuffed for no gain. Desert Oasis forced a punt and took over at the Spartans' 27, but Cimarron again held as Richie Stammetti's fourth-down pass sailed over the head of receiver Joey Poehling.
"We were getting gashed early, and we made adjustments," Parcells said. "After the shanked punt, I had no worries. When it was fourth-and-goal, I had no worries. I knew they could do it."
Stammetti threw for 134 yards, including a late 30-yard TD strike to Gary Abdella.
Centennial 16, Bonanza 14 — At Bonanza, Zach Mays hit three field goals and Coll Thomson threw a touchdown pass in the fourth quarter as the Bulldogs opened Southwest League play with a road win.
Mays hit field goals of 45, 44 and 29 yards for Centennial (2-3, 1-0 Southwest), which ran only 16 offensive plays in the first half. Thomson hit Josh Gray for an 11-yard score with just over nine minutes left, giving the Bulldogs a nine-point lead.
But Bonanza's Jayveon Taylor returned the ensuing kick 96 yards, cutting the margin to two points.
Bengals quarterback Tyler Penkalski threw for 218 yards, with Taylor grabbing four passes for 110.
Lantz Worthington led the Bulldogs with 97 yards on 15 carries. Centennial held Bonanza (3-2, 0-1) to 39 total yards in the second half.
— Sam Leeper
Liberty 62, Del Sol 12 — At Liberty, Tyler Newman tied a state record with nine touchdown passes for the Patriots (4-3, 2-0 Southeast).
Newman finished 18-of-21 passing for 477 yards, with the nine touchdown going to six receivers.
Chandler Ivester grabbed three touchdowns among his four catches for 165 yards for No. 2 Liberty, which exploded for 41 points in the first half.
Drew Hladek also caught four passes for 57 yards and two touchdowns for the Patriots.
Austin Higgens was the bell cow for Del Sol (0-6, 0-2), recording 31 carries for 117 yards and a touchdown.
— Ian Scott
Palo Verde 42, Shadow Ridge 14 — At Shadow Ridge, Parker Rost threw two first-quarter touchdowns, and Graeson Vereen returned two fourth-quarter interceptions for scores to seal the victory for No. 6 Palo Verde (4-1, 1-0 Northwest).
Rost hit Jamell Garcia-Williams for a 27-yard TD on the third play from scrimmage and threw a 29-yard touchdown pass to Calvin Beaulieu, who also ran for a 2-yard score late in the second quarter.
Melvin Johnson returned a kickoff 75 yards for a score with 45 seconds left in the first half for the Mustangs (2-3, 0-1), and Caio Gadanha kicked his second 36-yard field goal of the game to cut the Panther lead to seven early in the fourth quarter.
Palo Verde's Darrion returned the ensuing kickoff 83 yards for a score, and Vereen scored on interception returns of 96 and 50 yards to put the game out of reach.
— Adam Berchin
Mojave 22, Cheyenne 8 — At Mojave, in order to snap its 0-9 record against rival Cheyenne, Mojave (4-3, 2-1 Division I-A Sunset) decided to feed "The Beast."
Ty "The Beast" Flanagan ran for 119 yards and two touchdowns on eight carries to rally the Rattlers past the Desert Shield. He also caught a pass for 25 yards. The junior running back, who sat out the first half with a leg injury, did all his damage in the second half.
After a scoreless first half, Cheyenne (2-5, 2-1) took the lead midway through the third quarter on a 10-yard run by Jordan Johnson. Zavieh Harrell ran in the 2-point conversion to give the Desert Shields an 8-0 lead.
Mojave then turned to Flanagan for a spark, and he provided it with a 25-yard touchdown run with 13 seconds remaining in the third quarter. Deandre Armstrong ran in the 2-point conversion to tie the game.
With 6:25 remaining, Mojave drove 75 yards on five plays to take a 14-8 lead. Flanagan ran for 64 of those yards on two carries – including a 33-yard touchdown run with 4:20 remaining.
The Rattlers iced the game when junior quarterback Zack Arave scored on a 41-yard touchdown run with 1:05 remaining.
Johnson led the Desert Shields with 92 yards on 18 carries.
— Robert Horne
Arbor View 44, Spring Valley 0 — At Arbor View, Devon Turner rushed for 101 yards, caught two passes for 43 yards and ran for three touchdowns to lead the Aggies to a homecoming win.
Turner scored all of his touchdowns in the first half, including bursts of 46 and 32 yards.
No. 4 Arbor View (4-1, 1-0 Northwest) outgained the Grizzlies 372-65 for the game.
Anthony Smith added 79 yards rushing and two touchdowns, while Jacob Speaks rumbled for 71 yards and Herman Gray scored the team's fifth touchdown late in the game.
Spring Valley (1-4, 0-1) was led by quarterback Christian Tasi, who completed three passes for 19 yards and rushed for 14 on 10 attempts.
— W.G. Ramirez
Silverado 57, Valley 20 — At Silverado, Jarrett Alipio rushed for 122 yards and four touchdowns – all during the first half – as the Skyhawks built a 50-8 lead and cruised.
Alipio carried the ball just 11 times and scored on runs of 1, 5, 2, and 19, with his last two scores coming within 25 seconds of each other in the second quarter.
After his 2-yard TD run with 10:05 left in the quarter, Silverado (2-4, 1-1 Northeast) recovered a fumble on the ensuing kickoff. Alipio completed his first pass of the year for 14 yards on the next play and followed that up by scurrying on a 19-yard touchdown run to put the Skyhawks up 36-8 with 9:40 left in the first half.
Noah Osemwengie had a sack, recovered a fumble on a punt for a score and rushed for a touchdown for Silverado.
Jason Matthew had two sacks for the Skyhawks, who had six sacks and limited Valley (1-5, 0-2) to 77 yards in the first half. Rohan Walters also returned a fumble 23 yards for a TD for Silverado.
Tyrone Prewitt scored two touchdowns for the Vikings.
— Tim Guesman
Canyon Springs 65, Rancho 0 — At Canyon Springs, Bradley Alexander completed 8 of 15 attempts for 124 yards and two touchdowns for the Pioneers in a Homecoming win.
Michael Hicks scored on runs of 24 and 68 yards to lead No. 3 Canyon Springs (6-0, 2-0 Northeast) in rushing. Gregory Banks also scored twice, including a 50-yard run in the third quarter. Casey Allison caught three passes for 48 yards and a touchdown.
Canyon Springs' defense allowed the Rams just 58 yards of offense, forced two turnovers and recorded a safety. Raequan Bascombe intercepted a pass, and Ezekial Lopez recovered a fumble and returned it 10 yards for a touchdown.
Robert Howard compiled 31 yards on 14 carries for Rancho (0-6, 0-2).
— Zac Alexander
Coronado 62, Eldorado 7 — At Coronado, the Cougars (2-4, 1-1 Southeast) gashed the Sundevils for 412 total yards.
Coronado's high-tempo spread offense was led by Jackson Cofer, who only threw two passes. Both went for touchdowns, covering 49 and 37 yards. Cofer also hauled in a 30-yard touchdown pass from John Farella. Tanner Bellamy recorded touchdown catches of 49 and 47 yards.
Victor Abernathy added 110 rushing yards and two touchdowns. Dalton Simpson posted 81 yards on five carries, including a 59-yard touchdown run.
Coronado's defense limited Eldorado (1-5, 0-2) to 16 yards of offense. The Sundevils amassed just three first downs, all on their opening 11-play drive that ended with one of their nine punts. Eldorado's lone score came on a 13-yard fumble recovery by Benjamin Martinez on Coronado's first play on offense.
— Jesse Vineyard
Sierra Vista 35, Durango 12 — Maliek Broady ran for 98 yards and a touchdown and provided an interception as the Mountain Lions (2-3, 1-0 Northwest) celebrated Homecoming with an impressive win.
Sierra Vista led 14-0 at halftime with two option pitches: a 1-yarder to Daniel Godfrey to cap a nine-play, 75-yard drive in the first quarter and a 16-yarder to Andrew Peterson in the second quarter. The Mountain Lions capitalized on four interceptions in the first half, including three by Javion Hunt.
Broady provided an 8-yard rushing TD on a drive set up with good field position after a blocked punt by Peterson to push the lead to 21-0.
Durango (0-5, 0-1) found the end zone with a 3-yard rush by Artie Gallegos, on a drive keyed by a 27-yard scamper by Casey Smith to make it 21-6 at the end of the third quarter.
Despite keeping the Trailblazers in the game by racking up 120 yards on 14 penalties, the Mountain Lions added 14 points in the final quarter to put the game out of reach. Sierra Vista took advantage of a fumble recovery by Hunt, and Godfrey supplied an 11-yard TD run early in the fourth quarter. Mountain Lions quarterback Randal Grimes connected on an out-route to Octavius Payne, who outpaced Durango's Smith down the left sideline for a 56-yard score.
Trailblazers quarterback Ben Hayden scored on a 1-yard keeper to cap the scoring.
Grimes finished 6-for-11 for 114 yards, including 88 yards to Payne.
Smith finished with 68 yards rushing, and Hayden had 56 yards rushing for Durango, which got an interception from Isaac Markiet, and fumble recoveries from Daniel Medina and Jordan Favorite.
— Brennan Karle
Chaparral 34, Sunrise Mountain 13 — At Sunrise Mountain, Richard Hernandez ran for 144 yards and two scores, and James Dukes added two touchdowns for the Cowboys (3-4, 1-2 Division I-A Sunrise).
After Dukes scored on runs of 1 and 2 yards to stake the Cowboys to a 12-0 lead, Sunrise Mountain added consecutive touchdowns from Romello Tatum and Sherman Nash to take a 13-12 halftime lead. But Chaparral took over in the second half though, outscoring Sunrise Mountain 22-0.
Sunrise Mountain (1-6, 0-3) was led by Tatum's 116 yards and a score. Wanya Calahan also ran for 106 yards, while Nash ran for 86.
— Carlo Lamarca
Clark 54, Western 0 — At Clark, Milan Dixon had two first-half touchdowns to lead the Chargers over the Warriors.
Dixon rushed for 146 yards on four carries, including touchdowns of 41 and 48 yards. Ty'Rek Wells rushed for 59 yards on four carries, including touchdown runs of 1, 27 and 23 yards for the Chargers (3-4, 1-2 Division I-A Sunset).
Qwayjon Walker had six receptions for 70 yards to lead the Warriors (0-7, 0-3).
— Brian Danise
The Meadows 35, Calvary Chapel 12 — It was Homecoming at Calvary Chapel, and the Lions were fired up to deliver as they played tough and led 12-7 until midway through the second quarter. That's when The Meadows crashed the party and ran off 21 straight points on their way to a 35-12 win.
The story for The Meadows (5-2, 4-1 Division III Southern) was quarterback Jacob Gleason, who threw two long touchdowns in that second quarter of 53 and 40 yards, respectively. Gleason finished with 186 passing yards on five completions. Bryson Navallo led an equally strong rushing attack gaining 110 yards for the Mustangs.
Calvary (1-5, 1-4) quarterback Riley Clark threw for 303 yards, including a 43-yard scoring pass to Chris Basillo.
— Jim Higgins
Desert Pines 35, Virgin Valley 32 — At Mesquite, Iquan Corsey's 23-yard touchdown pass to Tim Hough with three seconds left in the game vaulted the Jaguars (7-0, 3-0 Sunrise) past the Bulldogs (6-1, 3-1).
Corsey completed 20 of 33 passes for 308 yards and five touchdowns and rushed for 56 yards on 11 carries.
Hough hauled in 10 passes for 213 yards and two scores. Andre Watts caught five passes for 70 yards and two scores for the Jaguars.
Moapa Valley 52, Boulder City 14 — At Moapa Valley, Zach Hymas completed 11 of 20 passes for 212 yards and three touchdowns to help the Pirates get past the Eagles.
Kaleb Bodily had 144 rushing yards and two touchdowns, and Jared Repp added 117 yards and a score for Moapa Valley.
Bunker Wimer hauled in three receptions for 40 yards and two scores for the Pirates.
Xavier Steel had 104 rushing yards, including a 80-yard run for Boulder City.
Faith Lutheran 38, Pahrump Valley 20 — At Pahrump, Jacob Deaville completed 12 of 18 passes for 192 yards and three touchdowns while adding 37 rushing yards to give the Crusaders (6-2, 3-0 Division I-A Sunset) a victory over the Trojans (2-5, 1-2).
Trent Dolby added 24 yards receiving and two touchdowns, and Keenan Smith contributed 84 yards rushing and a score for Faith Lutheran.
Agassi Prep 59, Lutheran (Calif.) 0 — At Rancho, junior running back Kobe Williams scored five touchdowns to lead Agassi Prep (5-2) to an easy victory.
Five of the Stars' nine touchdowns were for 50 yards or more.
Williams scored four times during the first quarter on runs of 46, 54, 10 and 68 yards, and his fifth touchdown of the night came on an 85-yard punt return just before halftime.
Stephan Laushaul returned an interception 82 yards for a score, and sophomore Jonas Patterson added a 34-yard punt return touchdown for Agassi Prep.
The Stars held the Knights to minus-1 yard rushing, while the Stars amassed 302 rushing yards.
— Ron Harris
Mountain View 52, White Pine 0 — At White Pine, Jacob Duldulao rushed 12 times for 170 yards and a touchdown, and Matthew Larson added 76 yards rushing, 33 yards receiving and two touchdowns to lead the Saints (5-1, 5-0 Division III Southern) past the Bobcats (0-7, 0-5).
Ian Locke completed 7 of 13 passes for 128 yards and a touchdown, including a 20-yard touchdown strike to Connor LeBoeuf.
Nick Jenkins returned an interception 26 yards for a touchdown for Mountain View.
Pahranagat Valley 58, Sandy Valley 14 — At Sandy Valley, Caleb Hansen rushed for three touchdowns, and Jordyn Crytes added three TDs as the Panthers (7-0, 4-0 Division IV Southern) routed the Sidewinders (3-3, 0-3).
Hansen totaled 91 yards on nine rushes. Crytes ran for 75 yards and two scores on eight carries and caught a touchdown pass for Pahranagat Valley, which collected its 64th consecutive win.
Tabor Maxwell was 12-for-20 passing for 179 yards and three touchdowns, tossing two touchdown passes to Jeremy Minick, as the Panthers built leads of 44-6 at the half and 58-6 after three quarters.
Spring Mountain 68, Indian Springs 20 — At Spring Mountain, Josh Banasiak tossed four touchdown passes to lead the Golden Eagles (2-2, 1-2 Division IV Southern) past the Thunderbirds (3-3, 1-2).
Valmir Bojku caught three of Banasiak's touchdown passes, and Isaiah Saromines hauled in the other for Spring Mountain, which led 28-14 at the half before pulling away.
Six players scored at least one touchdown for Spring Mountain.
Box score:
Cimarron-Memorial 34, Desert Oasis 21