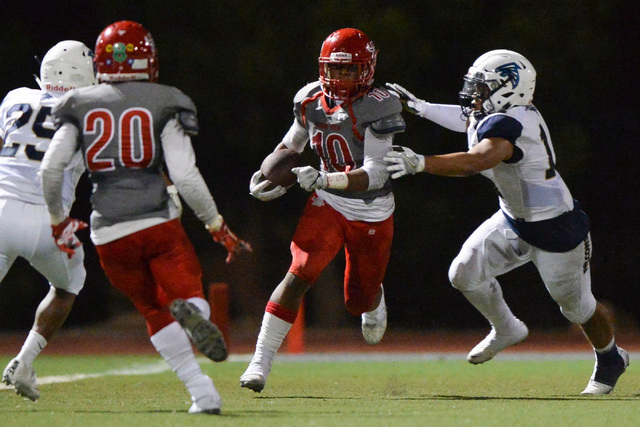 Arbor View thanked Foothill for making the trek out from Henderson by steam-rolling the Falcons in the first half.
The Aggies stampeded for 241 rushing yards before halftime, built a 30-point lead in the second quarter and defeated the Falcons 40-15 at home Friday.
Arbor View finished with 321 rushing yards, 151 of which came from junior running back Deago Stubbs on 11 first-half carries. Senior DeKarri Gunn added 54 yards on 15 carries behind Arbor View's compact double-wing formations, and all the runs surely left Foothill sore on its long bus drive back home.
"I thought we came out in the first half and really got after it," Aggies coach Dan Barnson said. "The kids were blocking. The edge was blocked in the first half pretty well."
Sound blocking helped Arbor View (2-1) get its ground game going from the outset, with two first-quarter scoring drives setting an early tone.
The Aggies started the game by covering 88 yards in seven plays, the first six of which were runs. On the seventh play quarterback Hayden Bollinger kept the ball and lofted a pass to senior Skyler Moses for a 15-yard touchdown.
When Arbor View got the ball back it went 81 yards in six rushes, including a fourth-and-2 conversion to the 5-yard-line. Stubbs got the Aggies most of the way to the end zone with a 66-yard run that started up the right sideline, before he made two nifty cutbacks towards the middle.
Stubbs also carried on the fourth-down conversion to ensure Arbor View took a quick 14-0 lead.
"We want to come out, prove a statement and end the game early," Stubbs said.
That lead stretched to 30-0 thanks to a touchdown run and pass by Bollinger and a safety before Foothill (1-2) was able to respond. The Falcons offense was held in check most of the game besides two big plays between quarterback Jordan Wilson and wide receiver Brandon Hargis.
The two connected on an 80-yard screen pass for a touchdown in the second quarter to make the score 30-8, but Foothill failed to recover a subsequent onside kick. Hargis took another short pass from Wilson 46 yards in the fourth quarter, before Jackson Reynolds' 1-yard rushing touchdown made it 37-15.
The Aggies' offense stopped moving as easily in the second half, scoring just 10 more points, and Barnson admitted his team looked complacent with a big lead at home. It gives the team something to work on for next week, when they open Northwest League play at Faith Lutheran.
"We'll fix that," Barnson said. "(What we did in the first half), that's what we want to do the whole game."
Desert Pines 41, Clark 7 — At Clark, senior running back Isaiah Morris rushed for 141 yards and two touchdowns on 11 carries to lead the Jaguars past the Chargers.
Morris had an 88-yard TD sprint up the middle to give the Jaguars a 14-0 lead in the first quarter, and added a 32-yard TD scamper down the left sideline with 4:12 left in the game.
Desert Pines' Jordan Diggs provided a 28-yard TD carry to cap a 78-yard opening drive for the third-ranked Jaguars (3-0), who won despite 125 yards in penalties.
Jordan Simon recovered a fumble by quarterback Randal Grimes for a touchdown early in the third quarter to put Desert Pines up 21-0.
Clark's Aquantay Morris returned the ensuing kickoff 80 yards for the Chargers' lone score.
Capri Uzan took a lateral 48 yards for a TD, and linebacker Brian Johnson returned a fumble 30 yards to cap the scoring in the fourth quarter for the Jaguars.
Clark (0-2) finished with 14 rushing yards on 30 carries.
Shadow Ridge 65, Valley 14 — At Shadow Ridge, Elisha Young, Aubrey Nellems and Malik Lindsey each scored twice for the Mustangs, who cruised to victory over the Vikings.
Eight Shadow Ridge rushers combined for 465 yards on just 26 carries for the game, led by Young, who rushed for 161 yards and scored on rushes of 77 and 67 yards.
Lindsey ran in for the first score from 12 yards out for the 10th-ranked Mustangs (2-0), but that score was answered by Valley's David Smith, who rushed in from four yards to cap a long drive. On the second play from scrimmage on the ensuing drive, however, Young scored from 67 yards out.
The next Shadow Ridge possession ended with Young's 77-yard score. Nellems then got into the scoring action, rushing in from 53 yards, and Lindsey broke through for a 72-yard score just before the half to put the Mustangs up 38-8.
Nellems then brought in the Mustangs lone pass of the day a 50-yard scoring strike from Kody Presser.
Brock Schombs, Travis Boston and Adrian Quibuyen each scored in the second half for the Mustangs after the starters were lifted.
Iyen Medlock hauled in a 35-yard pass from Sonny Gibson for Valley (0-3) to close the scoring.
Virgin Valley 12, Mojave 0 — Jayden Perkins ran for 160 yards and a touchdown as the Bulldogs defeated the Rattlers.
Cesar Zarate turned a fake punt into a 58-yard scoring run midway through the second quarter, the only score in the first half of the contest.
With penalties snuffing potential drives out for both teams, Virgin Valley (2-1) eventually simplified its offensive attack in the fourth quarter: hand the ball off to Perkins, a junior running back, and let him run downhill.
For three quarters the host Rattlers (0-3) managed to bottle up Perkins and the Virgin Valley offense. However, Perkins rushed 17 times in the final period alone, accounting for 112 yards on the ground during that time frame. Perkins finished 30 carries in the game.
Virgin Valley quarterback Hogan Fowles was 6-for-12 passing for 53 yards.
The Bulldogs defense managed to hold Mojave to 103 yards of total offense, including just 5 yards on the ground. Rattlers quarterback Taiwan Braden was 11-for-17 passing for 98 yards and one interception.
The Rattlers have scored only six points through three games so far in the 2016 season. Mojave's best scoring chance was wiped out by a holding play, negating a long pass play that would have given the Rattlers an first-and-goal situation at Bulldogs' 1-yard line.
Bonanza 42, Western 8 — At Bonanza, Ricardo Hill's four-touchdown performance helped the Bengals edge the Warriors.
Hill collected 238 yards and three touchdowns on 20 rushes and added a fourth quarter touchdown reception.
The Bengals (1-1) did most of their damage in the second quarter where they scored 21 points. An interception from Chilo Dore gave Bonanza an opportunity to score back-to-back touchdowns in just 38 seconds. The Bengals scored the first 28 points of the game which led to a 28-to-8 halftime score.
Rodger Harrison led the Western (0-3) with 90 yards and a touchdown on 15 carries.
Durango 46, Del Sol 16 — At Durango, the Trailblazers held Del Sol to just five yards passing for the first 46 minutes of play as the defense dominated in a victory over the Dragons.
Durango's Alhaji-Ibrahim Kamara rushed for 108 yards and a touchdown, and he caught two passes for 74 yards.
Kaden Renshaw was efficient passing for the Trailblazers (2-0) as he completed 5 of 9 passes for 133 yards. Renshaw added 40 yards rushing with two touchdowns. Durango struck quickly as they scored the first touchdown on a Renshaw bootleg from 7 yards out with 8:18 to go in the first quarter and never gave up the lead.
Renhaw added a 2-yard TD run in the second quarter to help the Trailblazers take a 20-0 halftime lead.
Del Sol (2-1) attempted to get on the scoreboard before halftime, but a sack of Dragons quarterback Maaliq Flowers on fourth down put a stop to the drive.
Jayson Johnson scored his second touchdown of the game on a 5-yard run with 8:38 to go in the third quarter to essentially put the game out of reach.
Taariq Flowers' 18-yard rushing TD with 6:22 to go in the third quarter put the Dragons on the board. Del Sol's Barry Williams caught an 18-yard TD pass from Devonte Anton Villarta with 10 seconds to play.
Sierra Vista 45 Rancho 8 — At Rancho, the Mountain Lions scored on their first four possessions and rolled to victory over the Rams.
Bryan Lagrange ran for 97 yards and two touchdowns, and Oscar Aliaga threw for 67 yards and two touchdowns for Sierra Vista (2-0).
Sierra Vista scored on the second play from scrimmage when Lagrange ran it in from 39 yards out. The Mountain Lions would score three more times in the first quarter with a 32-yard run from Lopaka Kolone, and 18 yard TD reception by Chevy Eliu, and an 8-yard run by Jazson Zibert.
Lagrange added a 42-yard TD run to start the second quarter, giving Sierra Vista a 35-0 lead and triggering the running clock.
Sierra Vista would add one more TD before the half when Aliaga connected with Jaxson Zibert for a 38-yard TD reception.
Rancho (0-2) showed signs of life in the third quarter when they faked a punt, and Derrick Jones ran the ball 11 yards to pick up the first down. That drive ended with Rancho's only score of the night when Noah Fuller connected with Jonathsan Gunter for a 51-yard touchdown pass.
Trevor Gentner added a 36-yard field goal for Sierra Vista to close the scoring.
Pahrump Valley 35, Boulder City 6 — At Boulder City, 10 ball carriers combined to rush for 197 yards and four touchdowns as the Trojans defeated the Eagles.
Jesse Dillon, who had a 1-yard TD run to open the scoring with 9:15 left in the first quarter, finished with 47 yards on five carries. He added a 23-yard TD run with 9:18 left in the fourth quarter.
Pahrump (2-1) led 14-0 at the half, but Boulder City (1-2) looked re-energized after the break. Thurston Balmer saw his first carry of night, and broke a 49-yard run to give the Eagles their best field position of the night. After failing to convert on their first three tries from the goal line, coach Chris Morelli pulled the field goal unit back and rolled the dice. Aaron Walker pushed through the line for Boulder's only points of the night on a 1-yard touchdown run with 8:14 left in the third quarter.
On the ensuing possession, Trojan's Case Murphy scored on a 2-yard run and then put the nail the coffin when he picked up a fumble to open the fourth quarter and returned it 55 yards for a touchdown.
Balmer led the Eagles with 79 yards on 12 carries.
Clayton Valley (Calif.) 35, Canyon Springs 7 — At Concord, California, the Ugly Eagles scored 35 unanswered points to roll past the Pioneers.
Canyon Springs quarterback Diamante Burton scored on a 45-yard touchdown run in the first quarter for the Pioneers' lone score.
West Wendover 30, Lake Mead 13 — At Lake Mead, Zade Elton threw two touchdown passes as the Wolverines beat the Eagles.
Lake Mead (1-2) had a promising start to open the game, when Daniel Percival scored on a 65-yard pass from Marcus Gonzales in the game's first minute.
But the Eagles couldn't contain Elton, who completed 8 of 18 passes for 78 yards, and also rushed for 86 yards on eight carries. He had a 42-yard TD pass to Bryan Flores, and a 10-yard scoring pass to Fabian Martinez.
The Wolverines (1-2) also got rushing TDs from Luis Esparza (10 yards), and David Sharp (15 yards).
Lake Mead's Mitch Molinar rushed for 136 yards on 14 carries, and Jared Regan had a 13-yard TD run for the Eagles.
Needles 40, Lake Havasu JV (Ariz.) 0 — At Lake Havasu, Arizona, Derek Wagstaff rushed for 217 yards and two touchdowns on eight carries as the Mustangs rolled past Lake Havasu's junior varsity.
Frankie Garcia ran for 154 yards and two scores for Needles, and Trey Tsosie had 13 tackles, including four sacks, for the Mustangs (3-0).
Box score: