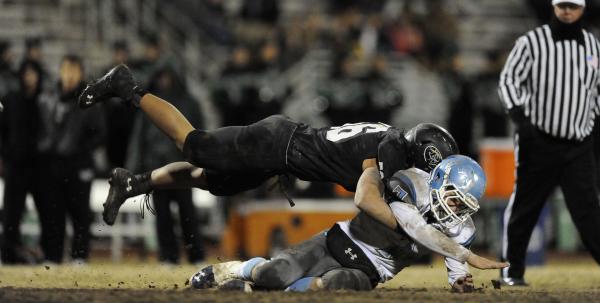 Palo Verde's Calvin Beaulieu was one broken tackle from returning the opening kickoff 99 yards for a touchdown Friday.
Twelve plays later, the Panthers were off to the races anyway.
Palo Verde used a dominant running game to build momentum early and never let go en route to a 42-14 win over visiting Centennial in a Sunset Region semifinal. The Panthers (10-1) will visit Bishop Gorman (11-2) at 1 p.m. on Nov. 30 for the Sunset title and a berth in the Division I state final.
"The kids really executed, and we just moved the ball," Palo Verde coach Darwin Rost said. "We told our kids we had to hang on to the football and play really physical, and we did both of those."
Beaulieu raced upfield with the opening kickoff but ran squarely into Centennial kicker Zach Mays at the 43-yard line. Mays was the last obstacle between Beaulieu and the end zone.
"Oh my God, I didn't look to the right. My vision was just so straightforward," Beaulieu said. "It was perfect to set the tempo right away. We didn't want to underestimate them."
Still, the Panthers drove 57 yards in 12 plays to take the lead on Jaren Campbell's 1-yard run with 7 minutes, 1 second left in the first quarter.
"We had some wrinkles this week," Rost said. "I thought we'd use it a little bit later on, but we used it on that first drive with a couple of formations."
After Palo Verde's defense forced a three-and-out, Beaulieu capped a five-play, 44-yard drive with a 3-yard run to give the Panthers a 14-0 lead.
And it was just the beginning.
Hykeem Massey tacked on a 35-yard touchdown run during the second quarter, and Massey and Parker Rost each ran for a score during a 90-second span of the third quarter as the Panthers built a 35-0 lead.
Palo Verde ran the ball on 50 of its 52 offensive plays, including each of its first 33, racking up 315 yards on the ground. Beaulieu finished with 92 yards on 15 carries. Parker Rost added 89 yards on eight carries, and Massey totaled 87 yards on seven carries.
"We just followed our linemen," Beaulieu said. "We have tremendous linemen."
Centennial (6-5), meanwhile, couldn't get out of its own way.
The Bulldogs' first first down came with 6:52 left in the second quarter. And after Massey's second touchdown, Palo Verde's kickoff hit the leg of one of Centennial's up men and ricocheted right to a Palo Verde player.
Lantz Worthington finally got Centennial untracked with a 99-yard touchdown run to begin the fourth quarter, but Palo Verde needed only two plays after the onside kick for Parker Rost to race 56 yards with another score.
Until Worthington's run, the Bulldogs had compiled only 47 yards of total offense. Worthington finished with 134 yards on 11 carries.
"We couldn't take these guys lightly," said Beaulieu, who also had one of Palo Verde's three interceptions. "It was a bump in the road to make it to state."
Coll Thomson added a 1-yard TD run in the final minute for Centennial.
Box score: