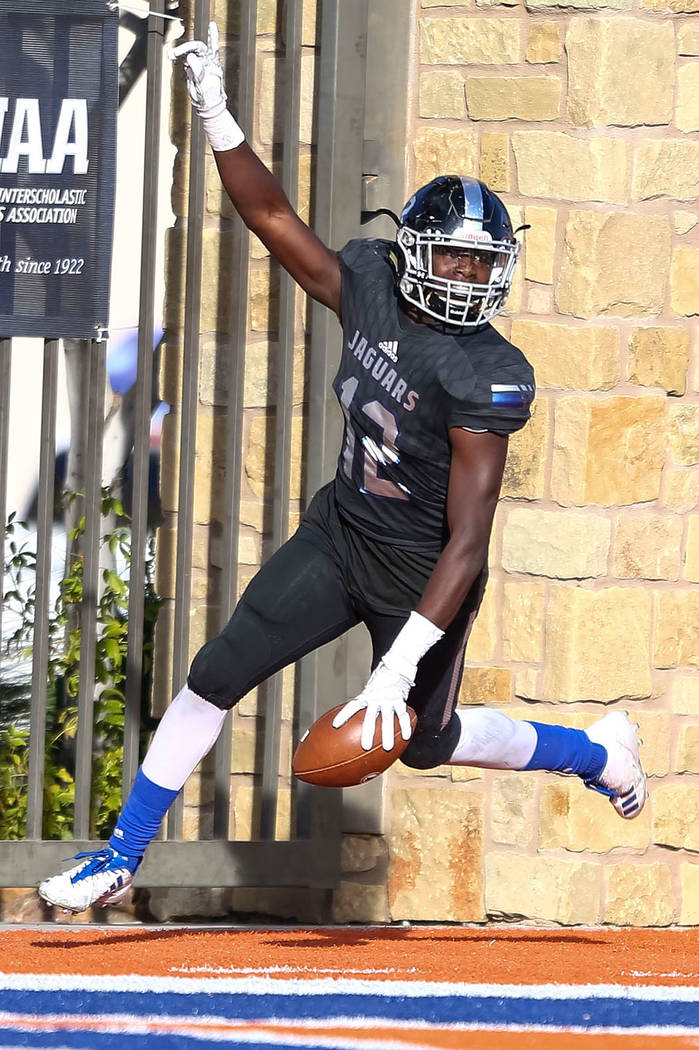 Desert Pines linebacker Dejon Pratt watched from the sideline as teammate Jyden King bounced a run to the outside and sprinted 39 yards toward the end zone two plays into the third quarter Saturday.
"Time to turn up," Pratt shouted. "It's a wrap now."
Yes, it was.
King scored on back-to-back possessions — on runs of 39 and 38 yards — to open the second half and spark the Jaguars to their second consecutive state title with a 54-24 victory over Mojave in the Class 3A championship at Bishop Gorman High School.
"It just energized us," Desert Pines coach Tico Rodriguez said. "It changed the momentum of the game."
Mojave led 6-0 after the first quarter following a 12-yard touchdown run by Noah Thompson eight minutes into the quarter. After Elijah Alvarez intercepted Desert Pines quarterback Tyler Williamson on the Jaguars' first possession, Thompson ran behind a convoy of blockers on fourth down to put the Jaguars on their heels — a position they haven't been accustomed to this season.
"We struggled, didn't play very sound and made a lot of mistakes early," said Rodriguez, whose team won the opening coin toss but deferred the kickoff. "I told the guys to take a deep breath in the second half and just execute what we were ready to do. We were able to establish our run game in the second half, and that pushed us through."
The Jaguars (10-2), who ran for 312 yards, scored on all four possessions of the third quarter to pull away.
No scores were more timely than King's two highlight-reel runs out of the locker room. On his second touch of the third quarter, the sophomore cut to the left side of the field, used a step-back juke to send a Mojave defensive back to the turf and raced 38 yards to the end zone to make the score 24-6 with 7:22 left.
"That little juke move — my game comes from Madden," said King, who finished with 110 yards rushing on 13 carries. "I play Madden a lot, so I tried to visualize my run."
Tye Moore caught a 6-yard slant pass from Williamson soon after, pushing the lead to 31-6 and essentially securing Desert Pines' repeat.
Pratt and King thought the game never was in jeopardy for the Jaguars, who led 10-6 at halftime.
"Absolutely not," Pratt said. "We stayed strong. We were shaky, but we figured out how to work it out. … Everybody just did their jobs."
The defense forced two second-half turnovers and didn't allow a pass completion until the 3:45 mark of the third quarter.
Michael Lofton ran for 90 yards and two touchdowns, Devin McGee had 87 yards and score, and Jesse Bravin caught an 11-yard touchdown pass to help Desert Pines' offense. Williamson finished 6-for-11 passing for 63 yards and two touchdowns.
"This is a phenomenal accomplishment," Rodriguez said. "Especially with what we lost last year. We lost 30 seniors, eight Division I players. … (This season) was a great experience. There were a lot of ups and downs with a young team and growing pains. But they finally fixed it, and we finished strong."
Tawee Walker led Mojave (10-3) with 149 yards rushing and two touchdowns on 29 carries, and senior lineman Dylan Mleynek finished with two sacks.
"I can't express how I feel. I'm so proud," Mojave coach Abraham Gonzalez. "To come out and do this, and have the accomplishments we had, it's just telling us we're headed the right way."
Contact reporter Ashton Ferguson at aferguson@reviewjournal.com or 702-383-0430. Follow @af_ferguson on Twitter.
Box score: