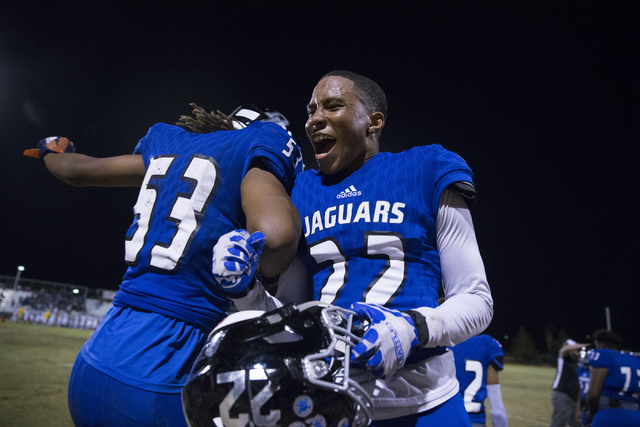 Isaiah Morris bobbled a handoff during the third quarter Friday, and a collective gasp went out from the Desert Pines football team's sideline as the ball hit the turf.
But instead of a game-turning fumble, the ball bounced straight up into Morris' hands, and the standout senior running back scooted in for a 7-yard touchdown.
It was that kind of night for the host Jaguars.
Morris ran for 209 yards and four touchdowns on 26 carries, including a spectacular 52-yard scoring run in the fourth quarter, and Desert Pines exorcised two years worth of postseason demons by defeating Moapa Valley 28-7 in the Class 3A state quarterfinals.
The Jaguars (10-1), who were eliminated from the playoffs by Moapa Valley each of the past two seasons, will host either Truckee (California) or South Tahoe (California) in the state semifinals Nov. 12.
"It was a barrier that we just haven't been able to cross, knock down," Desert Pines coach Tico Rodriguez said. "But today these kids just were so focused this week. We had great preparation. We've had some obstacles this year, and they held together and they've grown as a team."
Morris was injured and missed most of the Jaguars' 13-12 loss to Moapa Valley in last year's state quarterfinals, but carried his team in the second half Friday.
Morris had 149 yards and three scores after halftime to help the Jaguars build on an 8-0 halftime lead.
"In the second half, during the halftime we just all talked, adjusted and made a game plan," Morris said. "And we just came out and executed."
Moapa Valley (7-4) put together a 12-play, 68-yard drive in the third quarter to cut the Jaguars' lead to 14-7 with 1:28 left in the third quarter, as Jacob Leavitt broke two tackles and fought his way into the end zone for a 14-yard score.
Leavitt finished with 133 yards on 29 attempts for the Pirates, who were limited to 189 yards of total offense.
"There's always a concern when you see them getting their momentum," Rodriguez said. "We've been there before. We've had a 22-point lead in the fourth quarter (against Moapa Valley) and lost, so we just had to stay focused and we preached 'Finish the job' all week."
Morris responded midway through the final quarter with a YouTube-worthy play. Morris went to his left, and after a defender grabbed his facemask, Morris cut back all the way across the field and raced down the opposite sideline to put the Jaguars up 21-7 with 6:20 to play.
Morris added a 12-yard TD run to cap the scoring with 2:11 remaining.
"He's the heart of our team," Rodriguez said. "Last year he wasn't able to play in this game, and this year having him made the difference. We wanted to ride our guy. He's carried us all year with Marckell being out. We let him go, and he's just a great player, great person, and it's just great to see him do his thing."
Contact reporter David Schoen at dschoen@reviewjournal.com or 702-387-5203. Follow @DavidSchoenLVRJ on Twitter.
Box score:
Desert Pines 28, Moapa Valley 7