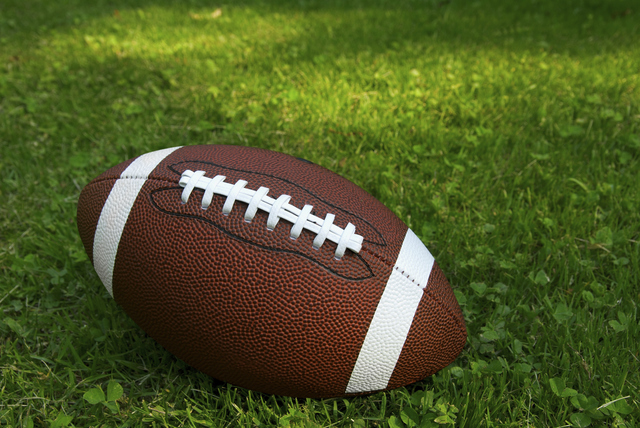 A pregame poll on Twitter revealed 65 percent of the voters believed Northwest Division contender Legacy would travel to perennial powerhouse Liberty and pull off an upset win Saturday night.
The host Patriots didn't get the memo.
After building a 22-0 lead, Liberty used a stalwart defense to thwart Legacy's effort in a 32-7 victory.
"I thought we came out really strong, and then just from there you could feel the energy on our sideline kind of go down a little bit, like they thought Legacy was going to roll over a little bit," Liberty coach Rich Muraco said. "They're a quality program that is well coached and I knew that was going to happen."
After gaining 108 yards in the first half, the Longhorns were stymied by Liberty's physical defense, and managed just 35 yards after halftime. The Longhorns came into the contest 3-0 after blowing out Silverado, Mojave, and Palo Verde by an average of 34.3 points.
Legacy (3-1) had scored in 11 of 12 quarters before Saturday night — including eight straight from its last two contests — but was limited to a second-quarter touchdown against Liberty (3-1).
After holding its first three opponents to 152.6 yards, Legacy allowed the Patriots to roll up 368 yards of offense.
After Treyveon Campbell's 4-yard touchdown run put Liberty on the board, the Patriots extended their lead with a 22-yard field goal by Dillon Fedor. Kenyon Oblad then hit Cervontes White with touchdown strikes of 40 and 33 yards for a 22-0 lead.
"It was big because we knew that they weren't going to let down and they weren't going to stop playing, so we had to get a big lead to make things keep going," White said. "I feel like when we came out in the second half we kind of toned it down, which made them stay in the game. But I'm proud of my team because we kept it going."
Amorey Foster's 60-yard kickoff return, and a pass interference call put the Longhorns inside the Patriots' 10-yard line, and Amere Foster plowed his way for a 3-yard touchdown run to make it 22-7.
Liberty also stalled in the second half, gaining just 122 yards, and failing to capitalize on two more drives into Legacy's red zone.
While he completed 52 percent of his attempts, Oblad struggled at times to deliver passes he routinely throws, or had receivers misreading defensive sets.
"It was just one of those nights, accuracy wasn't on point like it normally it is," Muraco said. "Some of it is not his fault, sometimes the receivers run the wrong routes. We drove the ball well all night, we just couldn't finish drives, so we gotta work on that, work on our red zone offense. Defense, though, I thought played really well tonight."
Oblad completed 21 of 40 pass attempts for 285 yards, including two touchdowns. Oblad has now thrown for 900 yards this season, and has 10,030 for his career. He is just 83 yards away from setting Nevada's all-time career passing mark, held by former Bishop Gorman quarterback Jarrett Solomon.
Under a heavy pass rush most of the game, Legacy quarterback Roberto Valenzuela wasn't as efficient as he's been all season, completing just 8 of 27 for 63 yards. Liberty's Alan Mwata intercepted Valenzuela twice in the first half.
Isaiah Whitehead led Legacy's rushing game with 54 yards on 12 carries.
Box score: