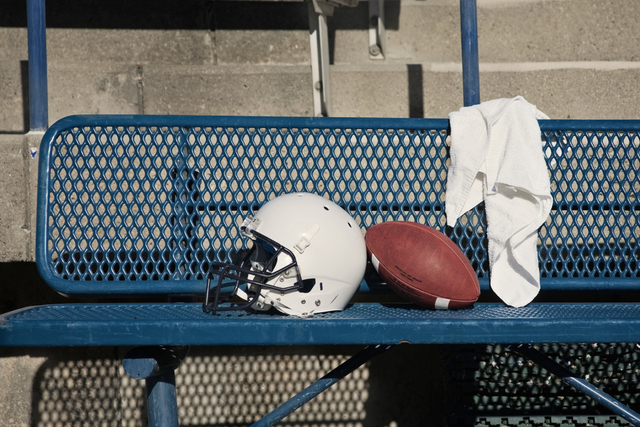 Diamonte Burton threw a 10-yard touchdown pass to Lazarus Kyle with 19 seconds left in the second quarter for only the score of the game Friday, as Canyon Springs' football team blanked host Coronado 6-0 in the season opener for both teams.
Playing under first-year coach Gus McNair, the Pioneers (1-0) turned back multiple Coronado drives deep into their territory. Four different times, the Cougars drove to at least the Canyon Springs' 25-yard line, but never could break through onto scoreboard.
Burton, who played at tailback as a sophomore, struggled early on but eventually settled down and completed 7 of 15 passes for 84 yards and an interception. Burton also rushed 12 times for 40 yards, accounting for most of Canyon Springs' 155 yards of total offense.
Coronado (0-1) dominated time of possession, particularly in the first half. The Cougars ran nearly twice as many plays as Canyon Springs before halftime but couldn't break off a big play in its single-wing, shotgun offense over the opening two quarters.
The opening drive of the game was a forebearer of what was to come for the Cougars. Behind the pounding of running back of La'Avionce Richard, Coronado went on a 15-play, nine-minute drive that got as far as the Pioneers' 23-yard line.
However, a false start penalty and an offensive pass interference call forced Coronado into a third-and-25 situation. Cougars senior quarterback Landon Rowland was then picked off by Canyon Springs defensive back Johnathan Bailey to end that threat.
Meanwhile, the Pioneers' struggled in adjusting to McNair's new spread offense.
However, one part Canyon Springs had down was its two-minute offense. Canyon Springs called a series of bubble-screen pass plays to get Burton going, and the result was a 51-yard drive over six plays in a little over a minute.
A defensive pass interference call put the ball at the Coronado 10. Burton then noticed that Kyle, who was in the left slot, was uncovered and audibled to a quick throw to him, resulting in the only score of the game.
"It was a hot read," McNair said. "Our quarterback saw that either our slot guy was uncovered or the safety was back. He made a check at the line and quickly got the ball to your receiver."
The Canyon Springs defense then stiffened in the second half. Richard ran for 50 yards in the first half, but finished with 66 rushing yards on 20 carries. Rowland was only 5-for-18 for 94 yards and was picked off twice.
Rowland finally connected with tight end Dominic Cartagena on a 40-yard pass play early in the fourth quarter. Another 17-yard completion between the pair gave Cornado the ball on the Pioneers' 21 with eight minutes left in the game. However, Canyon Springs twice knocked the ball away on passes to end zone to get ball back on downs.
Rowland was picked off by Knylen Miller-Levi with 2:18 left before a Canyon Springs fumble gave the ball back to the Cougars on the 21 with 1:20 remaining. But two incompletions and a run for no gain set up a 4th-and-10 situation for the Cougars. Rowland tried to hit Dillon Stewart out into the flat, but Stewart was driven out of bounds at the 15 with 45 seconds left, ending the Cougars' last chance.