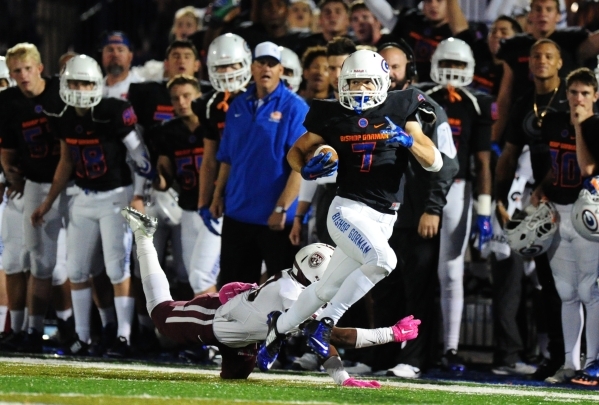 The final opportunity to impress computer polls and human polls and any other entity that claims to know which are the nation's finest high school football teams each season came for Bishop Gorman on Friday night, when the Gaels hosted a perennial power from New Jersey, complete with tough kids and one of those quintessential East Coast booster/hanger-on/Jersey Guys strolling the sidelines.
"Light these (bleeps) up!" bellowed the faithful fan of Don Bosco Prep.
Yeah. That lunatic.
There is always one.
The Ironmen of Ramsey, N.J., aren't ranked, but have an earlier victory against a Top 25 opponent and pushed Bishop Gorman into the fourth quarter before the Gaels prevailed 30-16. It was 17-10 at halftime, and Don Bosco Prep rallied to within 23-16 in the final 12 minutes.
It was hardly your typical Bishop Gorman rout.
Those should now commence yet again for the Gaels, who return to playing local teams next week against Palo Verde and then into a playoff tournament in which Bishop Gorman will be expected to win a seventh straight state championship with its traditional ease.
How much those expected blowouts in the coming weeks might influence polls is anyone's guess. Bishop Gorman beat Legacy 63-7 on the road last week and dropped from No. 1 to 2 nationally in the Super 25 Computer rankings, even though the model is said to favor road wins while factoring in margin of victory.
The Gaels, now perfect through nine games while trying to defend their national championship, remained No. 1 in the human poll.
Which means a dude in his basement somewhere in the middle of the country is still a big fan.
"You know, with social media today and all the polls that are out there now, you just can't hide from it," Bishop Gorman head coach Kenny Sanchez said. "You can't pretend not to care or worry about it. You need to embrace it.
"We're going on seven years having been ranked in the Top 25 nationally. That's hard to do. It's a constant battle, a constant grind. You can't coast through the spring or the summer and expect to just show up in the fall and have everything go perfectly. But when you play enough games like this one against (Don Bosco Prep), your kids get battle-tested. You have to adopt the mindset of, 'What can we do better?' "
It's true that transitions can be made smoother when you annually own the hoard of talent that wears Bishop Gorman colors, but the Gaels under Sanchez haven't missed a yard of progress since he assumed leadership of the program from his brother, Tony, now head coach at UNLV.
Reason: Think of the fountain pen. Sure, things were sort of crazy a gazillion years ago with all those rocks being beaten against stone to create hieroglyphics, but from such modest beginnings emerged a writing utensil that, for the most part, hasn't changed all that much in nearly 400 years.
That's the Gaels during this reign of dominance.
They prepare the same for Durango High as they would Don Bosco Prep or St. John Bosco or a George Costanza's Bosco All-Stars or any of the other nationally recognized programs Bishop Gorman has contested since anyone named Sanchez was making decisions for the program.
Bishop Gorman never changes its approach to preparation.
There is also no hiding the fact it hasn't lost to a team from Nevada since 2008, and the margin of talent between the Gaels and everyone else throughout the state has grown to a colossal level.
Take this season. Bishop Gorman has played three local opponents.
Average score: 67-7.
Things might get a little closer in the playoffs, but likely not much.
"Sports have produced much bigger upsets than if we would lose to a Legacy or a Durango or any in-state team," Kenny Sanchez said. "You have to be afraid each week to a point. There has to be that sense of fear. That's healthy. I don't think you can use as motivation the idea of telling a certain team it doesn't want to be remembered as the one that finally lost to an in-state team. That's too big a burden to put on a high school kid.
"We understand upsets happen all the time. As I said earlier this season, Mike Tyson should never in a million years have lost to Buster Douglas. But he did. We just tell the kids to keep training hard, keep working hard, continue to focus and we'll be fine."
The last chance to make an impression on those who decide these — let's be honest — mythical and somewhat silly polls came Friday. The Gaels passed, perhaps not with flying colors but certainly with better players than Don Bosco Prep.
Not that the lunatic on the sidelines agreed after the Ironmen took a 7-0 lead.
"You're going to out-tempo these (bleeping) guys all night!" he yelled at one Don Bosco Prep coach.
Then the lunatic booster/hanger-on/Jersey Guy really got caught up in things and started screaming about bubble screens and someone having to get some mojo and that the officials were homers.
Then he began sending in defensive hand signals between plays.
Which, of course, was a beautiful sight.
Ed Graney can be reached at egraney@reviewjournal.com or 702-383-4618. He can be a heard on "Seat and Ed" on Fox Sports 1340 from 2 p.m. to 4 p.m. Monday through Friday. On Twitter: @edgraney
Complete coverage of high school sports.