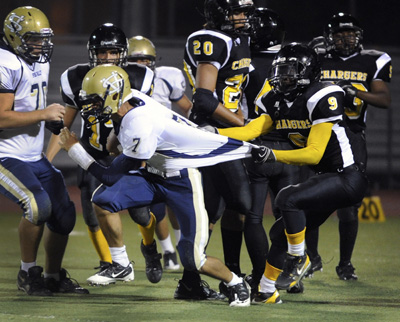 Sometimes a trick play can be the perfect spark to get your team going.
And sometimes that trick play blows up in your face.
Clark High learned a bit about the latter outcome Friday night.
The Chargers led 15-10 in the final minute of the third quarter and faced a fourth-and-18 at their 7-yard line.
Instead of kicking the ball away, Clark went for a fake punt, and punter Marquise McKinney's pass attempt was batted down.
Two plays later, Spring Valley quarterback Gerardo Castillo scored on a 1-yard run to give the Grizzlies the lead on the way to a 23-15 road win.
"(We were) just trying to make something happen and it went south on us," Clark coach Don Willis said. "Big risk, big reward and sometimes a big loss."
It was the second key miscue of the second half for Clark, and Spring Valley was able to take advantage of both.
The Chargers (1-1, 1-1 Southwest League) mishandled the second-half kick, and Spring Valley's Anthony Martinez pounced on the loose ball at the Clark 19.
The Chargers were able to keep the Grizzlies (1-1, 1-1) out of the end zone, but Spring Valley's Landon LeBlue hit a 25-yard field goal to cut the Clark lead to 15-10.
Clark held onto the lead until the fake punt set up Castillo's 1-yard scramble, and LeBlue's extra point made it 17-15 with 5.8 seconds to go in the third quarter.
"Our team, we're pretty resilient," Spring Valley coach Marcus Teal said. "We just had a couple bounces in the second half that went our way, and we were able to do what we came here to do."
Castillo later added a 44-yard touchdown run on a quarterback keeper to make it 23-15. The junior finished with 113 yards on 18 carries.
"He stuck with it and really came through in the second half," Teal said. "In the first half, I was a little nervous at first, but in the second half, he really beared down and got the job done."
Castillo also had a 23-yard TD strike to Nick Santos with 1:17 to go in the first half.
Santos made a leaping catch just outside the end zone and backed across the goal line to help the Grizzlies tie the game, 7-7.
Clark jumped out to a first-quarter lead as Shane McLin rushed for a 2-yard score with 2:15 to go in the quarter.
That TD was set up by a successful fake punt, where McKinney ran 17 yards for a first down on fourth-and-2 from the Clark 48.
The Chargers retook the lead with 32 seconds left in the half when Cooper Platt hit McLin with a 17-yard touchdown pass.
McLin added the 2-point conversion run to make it 15-7 at the half.
"It was a lot tougher than we thought it was going to be," Teal said. "We thought we had a good game plan in place to really take control of the game from the start. It was tough at first. They put together a good drive in the beginning, and they had us on our heels."
Teal said the win was especially important after a 21-6 home loss to Durango last week.
"We were really banking on getting a win last week, and it didn't happen for us," Teal said. "So it took a lot out of our team. I told them before we got here, 'We have to win this game. There's not an option.' I think they really bought into that."
Clark fumbled six times, with Spring Valley recovering three.
Freshman Deyon McKinney rushed for 51 yards to lead Clark, which was held to 24 yards of offense in the second half.