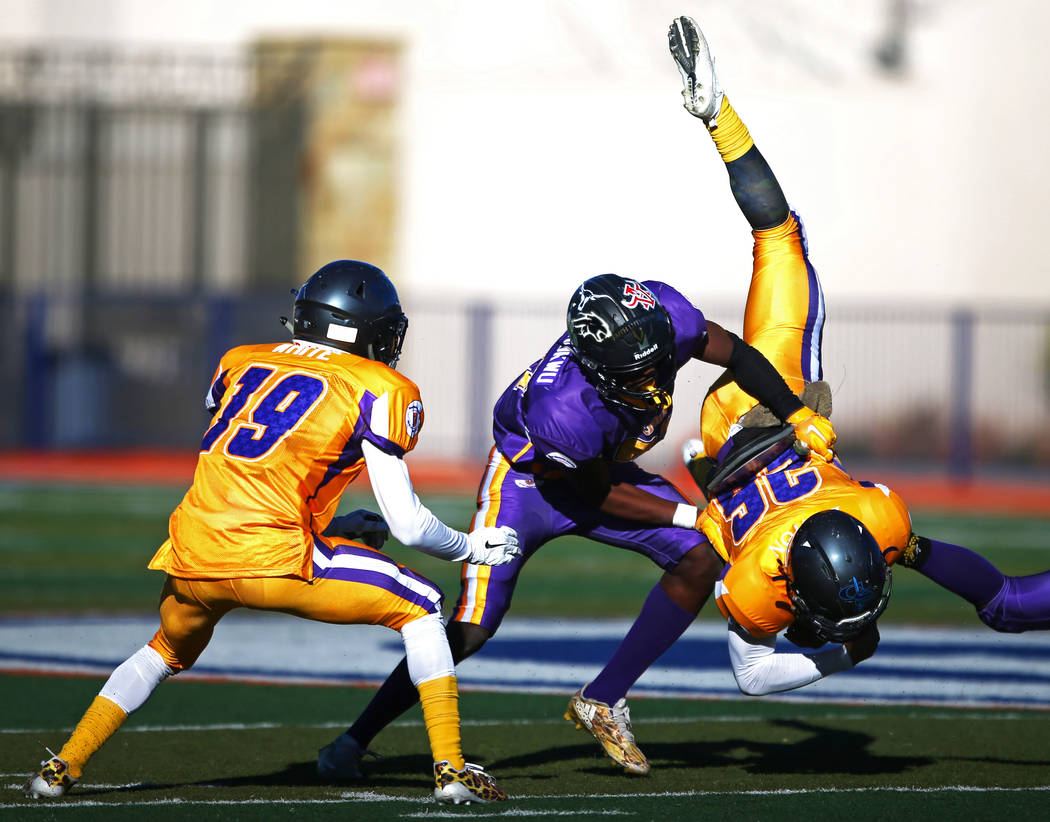 Marcus Phillips made it to only two all-star football practices because of his commitment to Cimarron-Memorial's basketball team.
And even when the 6-foot-3-inch standout was there, his catching wasn't exactly up to par.
"He was dropping a lot of balls," said Sunset Region coach John Isola, recognizing Phillips' football season ended Oct. 26. "So I told him before the game, 'You've got those catching hands?' He was like, 'Yes, sir. I got it.'
"He sure did."
Phillips caught two touchdown passes and had an interception Saturday to lead the Sunset Region to a 21-6 victory over the Sunrise Region in the 46th West Charleston Lions Club Charity All-Star Game at Bishop Gorman.
The win snapped Sunset's six-game losing streak.
"Coming from Cimarron, I don't get a lot of exposure. I don't get a lot of love," said Phillips, a wide receiver/defensive back who is receiving interest from several Division II schools. "I have no D-I offers. So in this game, it meant a lot for me to come out and showcase my talent and what I had to prove."
He did so against a slew of college talent and was named the game's MVP over 76 other all-stars.
After UNLV-bound quarterback Kenyon Oblad threw a 25-yard touchdown pass to Liberty teammate Marquez Powell for the Sunrise on the first play of the second quarter, the Sunset scored 21 consecutive points.
Phillips caught the tying 23-yard touchdown from Legacy's Roberto Valenzuela with 8:16 left in the second quarter. He also hauled in a 59-yard bomb in the fourth quarter and intercepted Oblad late in the game.
"My expectations were to score and just get the ball," Phillips said. "I didn't start on either side of the ball, so I just wanted to get in and play."
Valenzuela was 6-for-12 for 119 yards and three touchdowns, including one to Centennial's Isiaha Conner.
"Roberto is the real deal," said Isola, who coached Valenzuela at Legacy. "He's smart. He's got great mechanics, a great arm. He's the package."
The Sunset defense finished with six sacks — two from Palo Verde's Daniel Bellinger, a San Diego State signee.
Legacy's Aubrey Washington ran for 93 yards on 14 carries for the Sunset, and Shadow Ridge's Aubrey Nellems, a Southern Utah signee, finished with 54 yards rushing on 10 carries.
Oblad, the state's all-time leader in career passing yardsleading passer, finished 8-for-14 for 110 yards, and teammate Elijah Hicks of Las Vegas High ran for 67 yards on 13 carries.
Contact reporter Ashton Ferguson at aferguson@reviewjournal.com or 702-383-0430. Follow @af_ferguson on Twitter.
Sunset Region 21, Sunrise Region 6
Sunrise Region 0 6 0 0 —6
Sunset Region 0 7 7 7 —21
Second quarter
SRR- Powell 25 pass from Oblad (Failed pass)
SSR- Phillips 23 pass from Valenzuela (Ng kick)
Third quarter
SSR- Conner 9 pass from Valenzuela (Greene kick)
Fourth quarter
SSR- Phillips 59 pass from Valenzuela (Greene kick)
INDIVIDUAL STATISTICS
Rushing: Sunrise, Hicks 13-67, Lappin 3-6, Lathers 4-6, Oliva 4-1, Edwards 2-(-5), Oblad 6-(-18); Sunset, Washington 14-96, Nellems 10-54, Morris 4-21, Conner 1-8, Valenzuela 3-4, Tribble 1-2.
Passing: Sunrise, Oblad 8-14-1-110, Edwards 1-4-0-14; Sunset, Valenzuela 6-12-0-119.
Receiving: Sunrise, Powell 3-59, Burton 3-32, Lopez 2-20, Hunt 1-13; Sunset, Phillips 3-98, Pitts 1-15, Conner 1-9, Tribble 1-(-3).