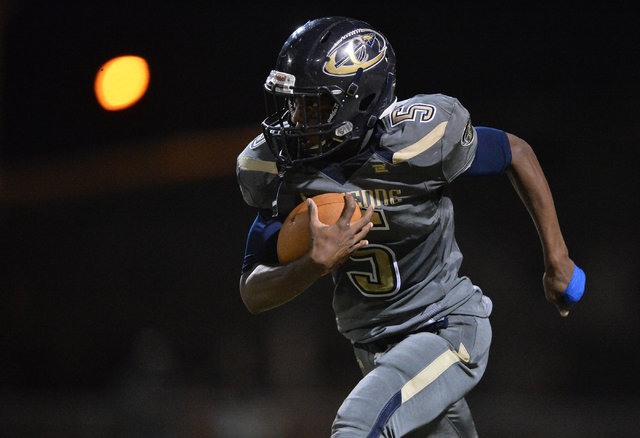 Cheyenne's Deriontae Green and Sunrise Mountain's Stephen Wright are two of the more explosive offensive weapons in Southern Nevada. They're also longtime friends and played football with one another long before they started playing for their respective high schools. It seemed inevitable something special could take place Friday night at Cheyenne.
And while both put on an impressive display, it was Green and the Desert Shields who won the marathon, 52-49, and wrapped up the second seed in the Class 3A Sunset League.
Green accounted for 312 all-purpose yards, including 151 rushing yards to lead Cheyenne (5-4, 4-1) in its season finale.
"This game was very important to us tonight," said Green, who added 81 yards on special teams and 80 via an interception return. "I just felt as if I needed to put my team on my back tonight. Being a captain on this team I can't let nobody down. And my offensive line, they worked hard throughout the week and carried it into the game. They played their hearts out for us."
While Green only found the end zone one time, his blue-collar work that helped move the chains, and several big plays that ignited the Desert Shields at key points in the game. A 38-yard run on third down in the second quarter eventually led to his 1-yard touchdown plunge that gave Cheyenne a 16-13 lead.
On Sunrise Mountain's next possession, with the Miners driving, Green leaped in front of wideout Te'andre Love at the 2-yard line to intercept his good friend Wright. He returned it 80 yards to put the Desert Shields in great field position. Two plays later, Cajuin Jackson ran it in from three yards out to extend Cheyenne's lead.
Green also had a pair of big returns — a 37-yard kickoff return and later a 37-yard punt return — giving the Desert Shields fantastic field position.
"He's really been stepping his game up the past couple of weeks," Cheyenne coach David Cochran said of Green. "I put a lot of pressure on the seniors to provide senior leadership, and he's been doing that. He had a sub-par game last week and that bothered him, so I think he had something to prove this week."
Senior quarterback Matthew LaBonte completed 6 of 16 pass attempts for 104 yards and threw two touchdowns, while senior running back Corwin Bush ran for 91 yards and a touchdown on 11 carries.
"We knew this team threw the ball around, and has an athletic quarterback," Cochran said. "We wanted to play physical and fast. I think for the most part we did that. We just made big plays and we stressed to them about the easier path if we could get the No. 2 seed."
While Cheyenne finished with 407 yards of offense, Sunrise Mountain racked up 502 yards on the strength of Wright, who completed 28 of 39 pass attempts for 310 yards and five touchdowns for Sunrise Mountain (3-6, 2-3).
Wright has thrown for 2,099 yards and 22 touchdowns this season. The Miners, meanwhile, continue to have one of the most potent offenses in the So. Nevada, having now tallied 3,703 yards.
And it was their offense that almost brought them back into the game, as the Miners shook off an 11-point deficit in the waning moments to pull within three when Wright found Love for a 19-yard touchdown strike with 22 seconds left.
The Miners were called for a false start twice on the ensuing kickoff, while attempting an onside kick, and Cheyenne secured their third attempt and ran out the clock to seal the win.
Since opening the season 0-3, Cheyenne has won five of its last six games.
Box Score:
Cheyenne 52, Sunrise Mountain 49