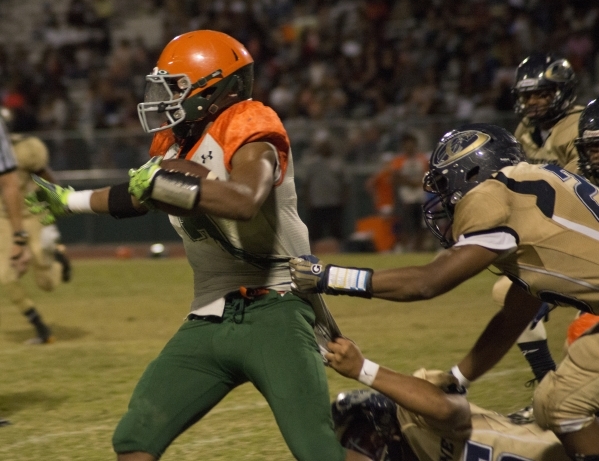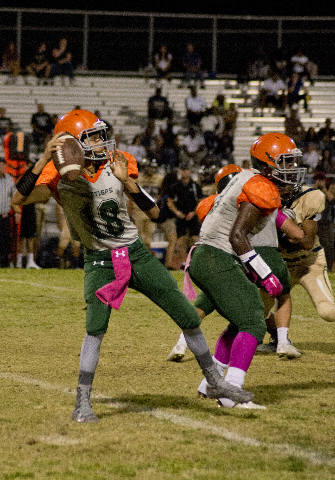 Cheyenne football coach David Cochran knew he was going to have to lean on his defense early in the season until the offense caught up.
After seven games, the Desert Shields are still relying on their defense.
Deriontae Green intercepted two passes, and visiting Cheyenne shut down injury-riddled Mojave on Friday to secure a 28-0 victory.
The win puts Cheyenne (5-2, 4-1 Sunset League) alone in second place with games remaining against Western and Clark to close out the regular season. The second-place finisher in the Sunset League not only earns a home game in the first round of the Division I-A Southern Region tournament but avoids Desert Pines and Moapa Valley in the opener.
"When we took the (loss) with Faith Lutheran, we kind of knew it would be tough for them to lose two," Cochran said. "We knew coming in that this was going to determine a big place for us to get the No. 2 seed so we can get that first playoff game at home."
David Walker rushed for 205 yards on 22 carries for the Desert Shields, and quarterback Anthony McConnico went 14-for-20 for 148 yards and two fourth-quarter touchdown passes to help Cheyenne pull away.
The Desert Shields, who are allowing 9.3 points per game, limited Mojave to 92 total yards, and the Rattlers (4-3, 3-2) struggled to generate any offense after running back Elijah Smoot suffered a serious injury to his lower-left leg with 57.4 seconds remaining in the first quarter.
The game was delayed for 25 minutes while paramedics attended to Smoot (seven carries, 44 yards) on the field.
The Rattlers also lost starting quarterback Kyle McMillan to injury late in the third quarter. Mojave gained only 47 total yards after Smoot went down, and its longest play of the game was a 27-yard pass from backup quarterback Taiwan Braden to wide receiver Deshone Wilson in the fourth quarter.
"We came out and executed and did what the coaches asked us to do," Green said. "We didn't overthink it and we came out and competed."
Cheyenne led only 7-0 heading into the fourth quarter before scoring 21 points to pull away. Walker, who had 124 yards after halftime, broke off a 55-yard run to help set up McConnico's 12-yard touchdown pass to George Carmona that made it 13-0 early in the fourth.
Green's second interception led to a 33-yard touchdown pass from McConnico to Corwin Bush, who finished with six catches for 95 yards. Green hauled in the 2-point conversion from McConnico to put the Desert Shields on top 21-0 with 4:18 remaining in the fourth.
Kamareeon Counts added a 7-yard touchdown run with 28.3 seconds left for Cheyenne, which also had two long touchdowns called back due to penalties.
"We wanted to come in and establish that (running game)," Cochran said. "That was the whole plan, just make some adjustments. We wanted to come out and just continue to be physical and pound the football."
Contact reporter David Schoen at dschoen@reviewjournal.com or 702-387-5203. Follow him on Twitter: @DavidSchoenLVRJ.
Box score: