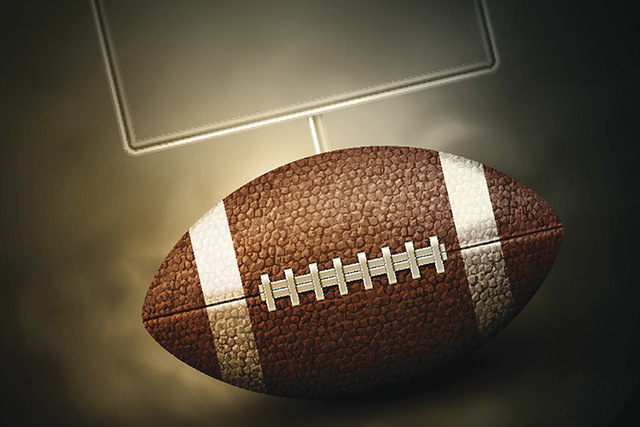 Cannon Reid threw for three touchdowns as Bonzana beat host Desert Oasis 33-7 on Friday, securing the Bengals' first trip to the postseason since 2011.
Despite missing standout running back Ricardo Hill with a knee injury, Bonzana wasn't going to be denied in claiming in its postseason berth. Even though both teams were fighting for a playoff berth, it was the visiting Bengals (5-4, 3-3 Southwest League) who jumped out of the gate early with a pair of touchdown grabs by R.J. McCarter.
Hill's replacement, Chilo Dore, broke things open with an 82-yard scoring run early in the second quarter. By halftime, Bonanza was up 26-0 and the Diamondbacks (1-8, 1-5) didn't get on the scoreboard until the fourth quarter when the game was already well in hand.
Despite the victory, Bonanza came in needing some help. Either Durango needed to beat Spring Valley, or Spring Valley needed a win by 11 points or less.
Once Spring Valley rallied for a 34-31 double-overtime victory over Durango, Bonanza grabbed the No. 3 seed from its league while Spring Valley earned the No. 4 seed.
"It feels so good to make the postseason," senior Ammon Montenegro said. "Our school hasn't made it in years, so it was nice to be on the team to finally end the drought."
In addition to the chance at a playoff game, Bonanza wanted to win the game for Hill, who went down with a left knee injury in last week's 36-19 win over Clark.
Bonanza showed its motivation right away in reaching the end zone on its opening drive when McCarter hauled in a 21-yard touchdown pass from Reid in acrobatic fashion. McCarter managed to get past a defender and got the ball trapped between one hand and the side of the body before completing the catch while rolling in the end zone.
"Coaches always told me to go fight and make a play," McCarter said. "When I saw the ball was in the air, I knew I had to catch it.
"We had to do it for him (Hill). He's been doing it for us all season and now it was our turn."
With Hill out, Bonanza struck through the air more as Reid went 8 of 17 for 171 yards. Late in the first quarter, Reid found McCarter down the right sideline for a 55-yard scoring play and an early 14-0 lead.
"We just came out really well tonight," Bengals coach Dion Lee said. "We have struggled to score early. When we do, we are in it for the whole game. So getting those early scores was huge for us."
Then it was Dore's turn as he burst up the middle, pin-balled off multiple Desert Oasis defenders and took off for his long scoring run. He finished with seven carries for 92 yards.
Box score: