Palaie Gaoteote said he didn't call, text or say anything to Bishop Gorman teammate Dorian Thompson-Robinson after Southern California took home the Victory Bell against UCLA.
"I already knew who was going to win," Gaoteote said. "I didn't need to do all that."
Next year the two will be on opposite sides of one of college football's best rivalries, with Gaoteote heading to USC and Thompson-Robinson committed to UCLA. But they still have one more game together, when the Gaels travel to Reno in search of their ninth consecutive state title against Reed at 12:10 p.m. Saturday at Mackay Stadium.
"We've been thinking about this for a long time," said the first-year quarterback Thompson-Robinson of the state title game. "Just to get to play each other, I know how he plays and he knows how I play, we'll be playing for fun."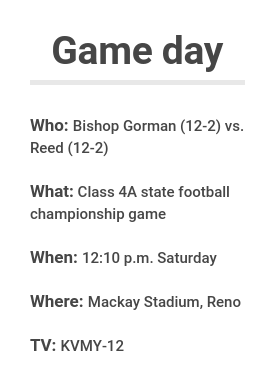 Gaoteote and Thompson-Robinson are two of the best players in the state. Gaoteote is the top-rated linebacker in the nation, and Thompson-Robinson leads Southern Nevada in passing yards (3,015), touchdown passes (35) and completion percentage (68.8).
"Right now we try to keep the bond between us and try to keep the peace," Gaoteote said. "Next year is go go go, and we'll have fun for sure."
The Gaels (12-2) are stacked with Division I talent, including tight end Brevin Jordan (Miami), offensive lineman Jacob Isaia (Michigan State), defensive lineman Adam Plant (Arizona) and wide receiver Jalen Nailor, who recently decommitted from Arizona State.
While Reed (12-2) doesn't have the same high-end talent the Gaels possess, the Raiders won a competitive Northern Region for the sixth time in seven seasons to reach the Class 4A title game.
The Raiders' defense has been its strong point. It has 50 sacks, with defensive end Eric Schmitz collecting a team-high 11. Linebacker Matt Johnson and lineman Randy Nemedez each has 10. The Raiders are allowing 16.7 points per game.
But it's not as if the offense let the defense steal the show. Reed is scoring 36.9 points per game and had two players — guard John Keeley and tackle Vehekite Afu — on the All-Northern Region first team. They protected quarterback Cameron Emerson, whose 1,936 passing yards and 22 passing TDs earned him the High Desert League's Offensive Player of the Year honor.
"They're in the state title game, so they've earned the right to be there," Gorman coach Kenny Sanchez said. "I just assume that they're going to give us their best and that they're the best opponent we'll face all year."
The two last met in 2015, with the Gaels claiming a 41-13 victory in the state semifinals. They also met for the 2014, 2013 and 2011 state championships, with Gorman winning them all.
Thompson-Robinson was on the 2015 team and caught a pass for 17 yards. He was a receiver then, and he is one win from his first season at quarterback ending with a state championship.
"It's going to be a very special time," Thompson-Robinson said. "I might shed a tear or two."
Contact Justin Emerson at jemerson@reviewjournal.com or (702) 387-2944. Follow @J15Emerson on Twitter.