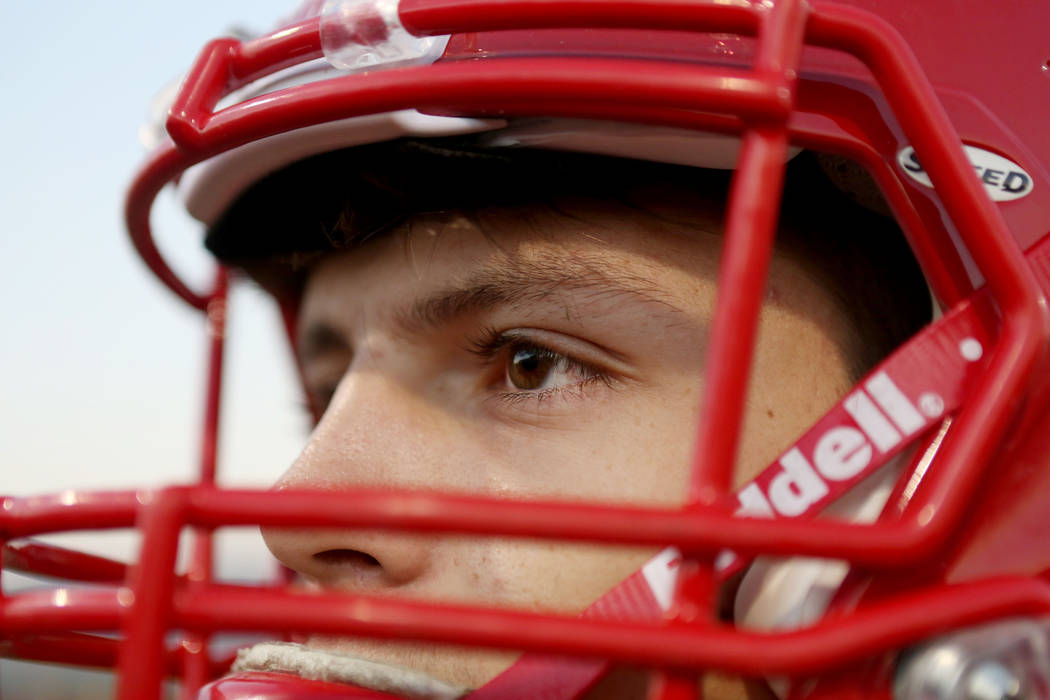 Arbor View senior Deago Stubbs began his football career as an offensive lineman in the Nevada Youth Football League.
He's going to finish it — at least his prep career — as a jack-of-all trades, position-less polymorph with one of the most unique skill sets in Nevada history.
"Someone's going to get a diamond in the rough," Aggies coach Dan Barnson said.
The 6-foot-2-inch, 177-pound Stubbs, who is committed to Southern Utah, has amassed 3,742 total yards and 47 touchdowns in three varsity seasons while garnering attention from Division-I schools and leading the Aggies to a 30-4 record.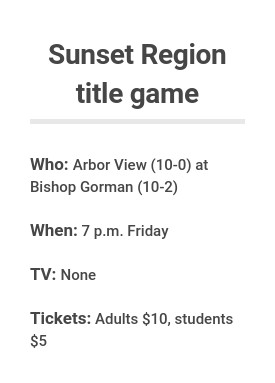 All while splitting time on special teams and at running back, fullback, wide receiver and defensive back.
"I try my best to fit in wherever I can," Stubbs said. "I'll play wherever just to help us get the win."
A "throwback" football player, as Legacy coach John Isola glowingly described him in the preseason.
"He's always pushing everyone else," senior teammate Greg Welchman said. "He's the captain on the field and is always trying to bump everyone up and influence the whole team. He works for the win. Not for his own stats."
Stubbs will have at least one more game to showcase that talent when Arbor View (10-0) travels to Bishop Gorman (10-2) for the Sunset Region title game Friday at 7 p.m. The Gaels have outscored Arbor View 140-33 in the last three region finals.
"The seniors used to tell me it's going to fly by fast," Stubbs said. "And I was like, 'I'm only a sophomore.' Now that it's here, it really did fly by. … It's been a blessing, being able to play high school football, learning new stuff, becoming friends with all these cool people. It's been fun."
Stubbs proved he was a special talent as a sophomore, when he broke out for 177 yards and a touchdown in a 21-14 victory over Sunrise Region power Basic on Sept. 25, 2015. Coaches now often call him a "Swiss Army knife."
Stubbs said he's mostly being recruited as a defensive player, but some schools are projecting him as a slot receiver. An issue, though, is that he doesn't have the prototypical size of a Division-I athlete, and isn't the fastest, shiftiest or burliest athlete.
He just "gets the jobs done" and "proves everybody wrong," Barnson said. And he's a big reason Arbor View has become a top Sunset Region team the past three years.
This season, Stubbs leads the Aggies with 18 touchdowns and 1,170 total yards — 920 rushing, 250 receiving — and has 39 tackles with one pick-six. The 18 touchdowns rank third among Class 4A players, behind Palo Verde's Chamere Thomas and Legacy's Aubrey Washington with 21 apiece.
Barnson, who met Stubbs when he was in the seventh grade and playing on the Junior Aggies' team, said he made a ton of plays then under current Arbor View assistant Brett Ridenour.
He noted, "nothing has changed."
"Every position coach at the next level is going to go into a coach's meeting and go, 'I want him to play for me,'" Barnson said. "And another coach is going to go, 'No, no, no. I want him to play here.' They're all going to be fighting for him. He can play a lot of different positions. The kid just makes plays. You can't teach that."
Contact reporter Ashton Ferguson at aferguson@reviewjournal.com or 702-383-0430. Follow @af_ferguson on Twitter.