Playing for a region championship is nothing new for Arbor View's football team.
Not facing Bishop Gorman in the title game will be something entirely different.
The Aggies (11-1) host Faith Lutheran (8-4) at 7 p.m. on Friday in the Class 4A Mountain Region championship game. It's the fifth consecutive region title appearance for Arbor View, but the first where the Aggies won't play the nine-time defending state champs.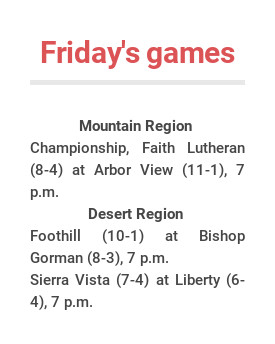 "We're just excited," said senior linebacker J.J. Tuinei, who is playing in his third region title game. "It's not like it's our first time we can actually win this, but we can actually win this now."
Gorman outscored the Aggies 182-40 over the past four region title games, but realignment put the teams in different regions this fall. The Mountain Region champion will play the Northern Region winner in a state semifinal on Nov. 24.
"It's very different," senior quarterback Logan Bollinger said of not facing Gorman. "It's more exciting. The guys are more excited that it's a new schedule, and I think that we'll be ready for anyone that steps in front of us."
Arbor View coach Dan Barnson downplayed the idea that this season's championship game was different because of the opponent.
"This isn't really different from any other region game we've been in, because it's not," Barnson said. "We're not approaching it any differently, it's jut a different opponent than it's been for the last few years."
A different opponent that doesn't figure to be a pushover, either.
Arbor View has won the last two meetings with Faith Lutheran, but both by just three points. The Aggies beat the Crusaders 10-7 on Oct. 5.
"Faith's a really disciplined team," Tuinei said. "They run their offense really efficiently. Our defense is excited to go against an offense like that. And our offense is excited to go against a really good defense like they have."
The game will offer a contrast in styles. Arbor View will look to grind things out with its double-wing attack, while Faith Lutheran features an up-tempo spread offense.
"They have a complete 100 percent opposite system than we have in a sense," Barnson said. "Their's is pretty much based off the pass; ours is based off the run. We believe in ours and they believe in theirs."
Faith Lutheran rushed for a season-high 318 yards in a 48-35 region semifinal win over Canyon Springs last week. Yet Barnson still expects the Crusaders to come out throwing the ball with senior quarterback Sagan Gronauer, who has passed for 2,396 yards and 24 touchdowns.
"This could be one of those games that could come down to a turnover," Barnson said. "It could come down to one big play. It could come down to one big penalty. It really could. That's what everybody in the city expects, too. This should be fun. This is an exciting game."
Contact prep sports editor Damon Seiters at dseiters@reviewjournal.com or 702-380-4587. Follow @DamonSeiters on Twitter.