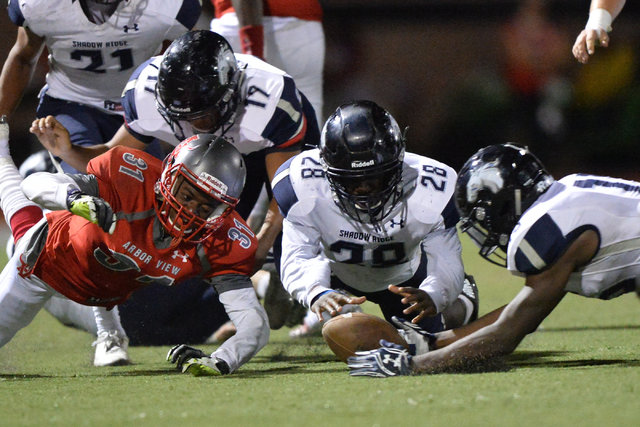 Arbor View senior fullback Andrew Wagner only touched the ball four times on Friday night against Shadow Ridge.
Safe to say, he made the most of his opportunities.
Wagner had 115 rushing yards and two touchdowns, including a game-breaking 82-yard scamper in the third quarter, and the No. 3 Aggies waltzed to a 45-6 homecoming victory on Friday night.
Arbor View running back Deago Stubbs added three touchdowns — two rushing and one receiving — and Jaquari Hannie rushed for 136 yards and a score for the Aggies (4-1, 2-0 Northwest League).
But it was Wagner's long touchdown run in the third quarter that ignited the Aggies' offensive explosion and turned a 17-6 game into a blowout.
"Green grass, I'm just going to run as hard as I can," Wagner said with a smile. "I'm not going to stop until I get a touchdown."
Both programs run similar offenses: old-school option football, with several counters, reverses and some trickery. But on Friday night, Arbor View's was more effective.
Stubbs broke through on the first drive of the game with a 41-yard touchdown run, and Wagner scored early in the second quarter from 18 yards out.
Quarterback Kody Presser took advantage of a short field after an Arbor View fumble and scored on a 1-yard run midway through the second quarter for No. 9 Shadow Ridge (3-1, 0-1).
But the Aggies tacked on a 43-yard field goal by Carter Andrade before halftime, and Arbor View coach Dan Barnson said that particular score helped key the offense in the second half.
"One of the biggest things of the game was driving down and kicking that field goal," Barnson said. "That was big. You go up two scores instead of one."
Two soon turned to three, and three soon turned to four, as Arbor View's offense set the stage for its menacing defense.
Aggies defensive tackle Greg Rogers, one of the premier recruits in the country, used his 6-foot-3-inch, 310-pound frame to manhandle Shadow Ridge ball carriers.
Presser was forced into several poor option pitches, and Rogers played his own personal game of Red Rover with the Mustangs' offensive line as Southern California defensive assistant Kenechi Udeze watched from the sideline.
"They played (Rogers) inside. That made it kind of hard," Shadow Ridge coach Travis Foster said. "The game plan was to read him and hopefully be in a situation where we wouldn't have to block him nearly as much. By playing him inside, they took it to us."
Rogers punctuated a dominant performance with a body-slam sack and strip of Presser midway through the fourth quarter. Senior quarterback and homecoming king Hayden Bollinger threw a 17-yard touchdown pass to Stubbs on the next play to send Arbor View's rabid student section into a frenzy.
Hannie tacked on a late score, and Aggies fans joined players on the field a few minutes after the game to wrap up what, for Barnson, was a very satisfying homecoming victory.
Box score: