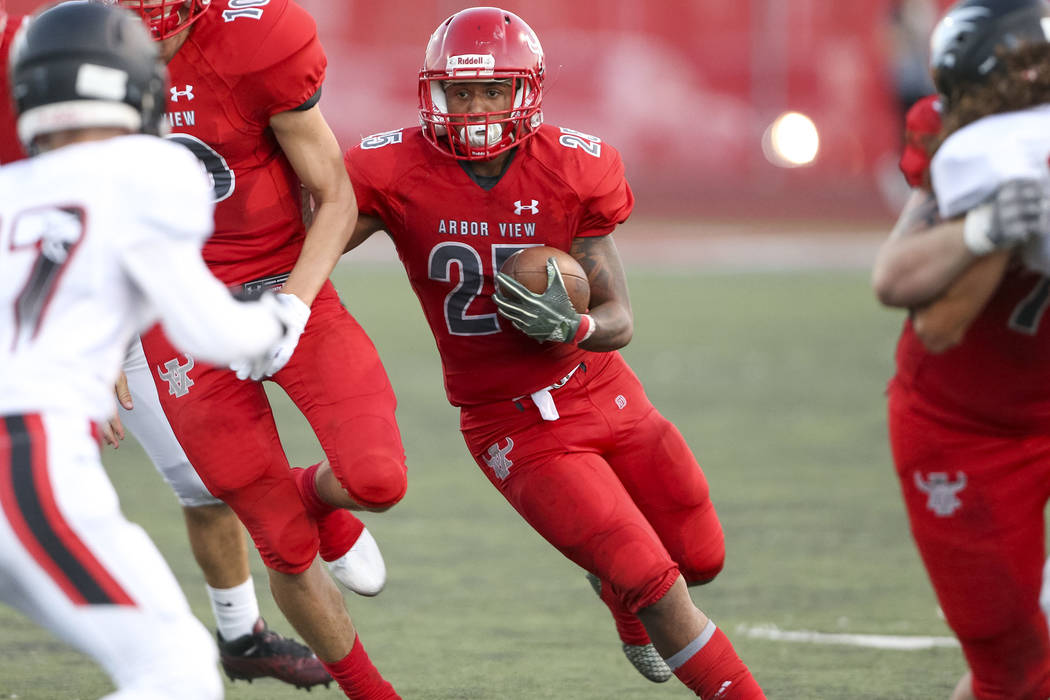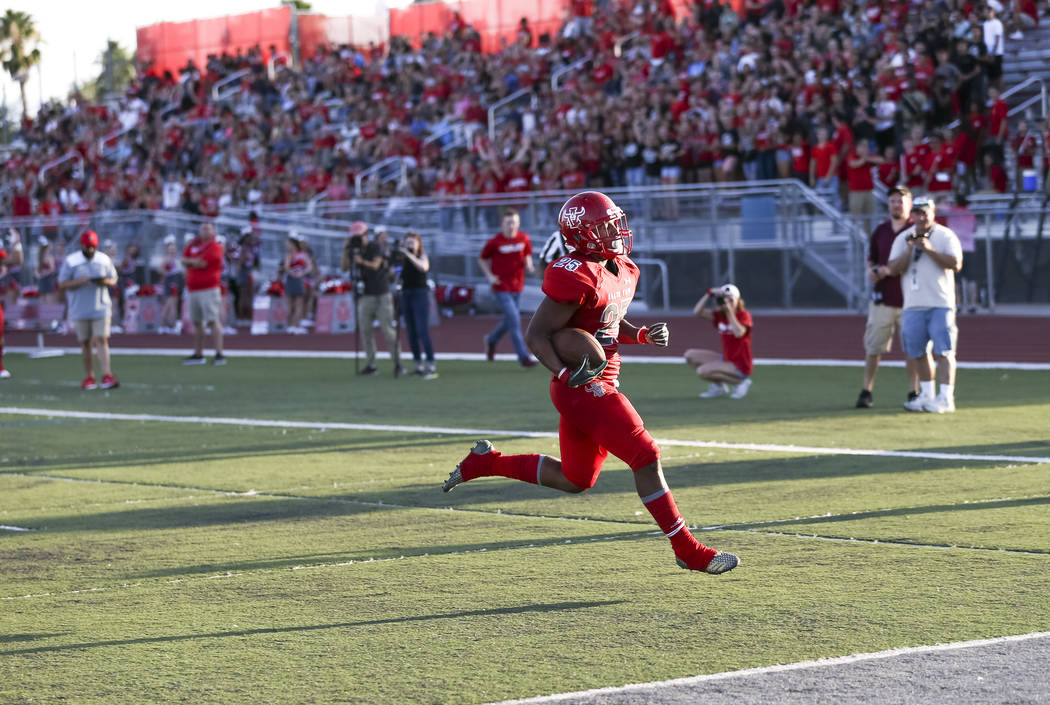 Arbor View senior Kyle Graham is lean and chiseled now, with hair like Odell Beckham Jr., a handful of allegorical tattoos and an unmistakable swagger that stops just sort of saying, "I'm the best football player in the state."
But he was once a pudgy offensive lineman nicknamed Boods because of a resemblance to a short, doughy Buddha statue. Somewhere along the line, though, he outgrew Boods and became Bubba to family, friends, coaches and teachers.
And Bubba outgrew that pudgy physique to become the most productive running back in Southern Nevada.
Graham, at 5 feet 9 inches tall and a sturdy 185 pounds, has flourished as a feature back and accumulated an area-best 1,282 rushing yards and 11 touchdowns in the double-wing offense for the No. 2 Aggies. He intends on finishing his senior year with more than 2,000 yards and a 4.0 grade-point average.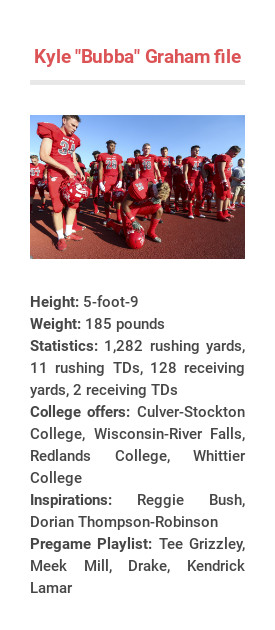 Even then, he'll say there's room for improvement.
"That's who Bubba is," said his mother, Amanda Robinson. "He wants to be the best at everything that he does."
Graham idolized former Southern California football star Reggie Bush, but lacked the speed and strength to play running back. He instead played across the offensive line in youth leagues around Las Vegas, before experiencing a growth spurt as a sixth-grader.
At that point, he decided to pattern his football career after close friend Dorian Thompson-Robinson, the former Bishop Gorman quarterback and now UCLA freshman.
"At that point I started taking it a lot more serious," he said. "After seeing how (he) worked, I wanted to follow in (his) footsteps and just keep getting better and better."
Graham started strength training with his father, who works as a personal trainer, and tailored his lifestyle around his athletic and scholastic goals. He transferred from Shadow Ridge to Arbor View and enrolled in its bio-medical program during his sophomore year of 2016-17 while sitting out the football season.
He excelled academically with straight A's, and played a complimentary role last year, totalling 634 rushing yards alongside former standouts Jaquari Hannie and Deago Stubbs. They graduated, and Aggies coach Dan Barnson knew he had to turn Graham loose this season.
"We've definitely made him the focal, or the spotlight runner, or whatever you want to call him," Barnson said. "He runs hard. He gives you everything that he's got. I don't care if he's hurt, banged up. It doesn't matter."
Graham studies game film several times a week independently of the team and still trains on his own. His confidence is a byproduct of his work ethic, and he says his success is a byproduct of his teammates.
Although his speed and strength might have something to do with it, too.
"No matter what, if there's a flaw, I'm always trying to fix it," he said. "Even if I'm not training or anything, I'm always thinking about how I can better myself."
It shows.
Contact reporter Sam Gordon at sgordon@reviewjournal.com. Follow @BySamGordon on Twitter.