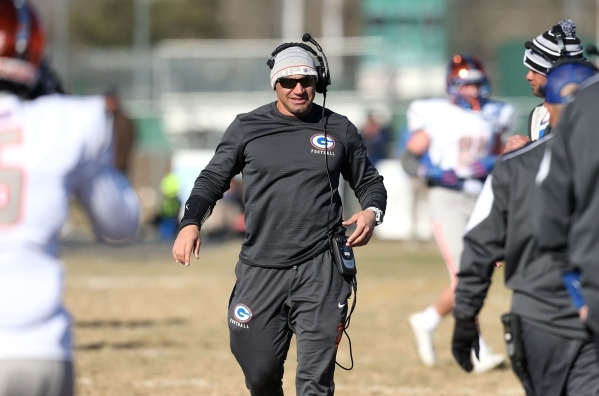 SPARKS — A temperature in the low 30s, a frozen, muddy field and an unbeaten Reed team were nothing more than minor obstacles for Bishop Gorman on Saturday afternoon.
Biaggio Ali Walsh ran for three touchdowns and caught a pass for another to carry the Gaels to a 41-13 victory at Reed in a Division I state semifinal. Gorman reached its eighth consecutive state championship game and will face Liberty next Saturday at Sam Boyd Stadium.
"I still feel like I did the first time we came down here seven years ago and we played at this high school and it was pretty cold that day too and we went on to win," Gorman coach Kenny Sanchez said. "We're excited to play for a state championship."
Alex Perry returned an interception 73 yards for a touchdown with 15.9 seconds left in the second quarter to give the Gaels a firm grasp on the game with a 27-6 lead. Perry was all alone for the pick after a Reed receiver slipped in the mud, then Perry followed Damuzhea Bolden through traffic to the end zone.
"I think he tried to pull me down with him, because when he fell down he kind of chattered on my ankles but then I caught the ball, followed my man over here Bubba, and he led me to the promised land," Perry said.
The play loomed especially big after Reed went 60 yards in three plays for a touchdown to open the third quarter and cut the lead to 27-13.
"That's huge because it was still a tight ballgame there and it was huge momentum going into halftime with that, and on the other side it's a little bit of a downer, too," Sanchez said.
The Gaels answered quickly, driving 66 yards in five plays, with Ali Walsh punching it in from 2 yards, then put the game away on Ali Walsh's 47-yard run with 3:12 left in the third quarter.
With both teams struggling with poor footing, Ali Walsh finished with 171 yards on 20 carries, and Gorman quarterback Tate Martell added 91 on 14 carries, making some key scrambles.
"It feels good that we have a victory especially on a hard field to play on," Ali Walsh said. "Last night when we went out here to practice it was really cold and the field was very slick and it's something we're not used to, but coach tells us to push through things like that. Today was more of a game like who's the toughest."
Martell scrambled for 20 yards on Gorman's second scoring drive that culminated in an 8-yard TD pass to Ali Walsh. After Reed got on the board with a 40-yard pass from Matt Denn to Robert Ferrel, Martell had 22- and 33-yard runs on Gorman's next drive, setting up his 15-yard TD pass to Brevin Jordan that made it 21-6.
"Early on they were covering really good and our offensive line was pass (protecting) really well and then Tate was able to get out and extend a lot of drives," Sanchez said.
Martell completed 9 of 15 passes for 144 yards and two touchdowns.
Jorden Carter led Reed with 130 yards on 20 carries. Denn completed 10 of 17 passes for 133 yards and two touchdowns, both to Ferrel, who caught five passes for 105 yards.
"We were a bit nervous for this game," Sanchez said. "Any time you play a team that's undefeated, and averaging 58 points per game, it puts a little life in your butt during the week because you know you got to get ready for a good football game, and for our defense to hold them to 13 points is pretty impressive."
Sanchez said he allowed the Gaels to talk about the weather only once during the week leading up to the game.
"Monday we came in and met with the whole team and I read out the weather report, what it was going to be like, the conditions," he said. "I made them a little bit worse than what they thought they were going to be, and I told them and the coaches that was the last time we were going to talk about cold or the weather or whatever."
Box score: