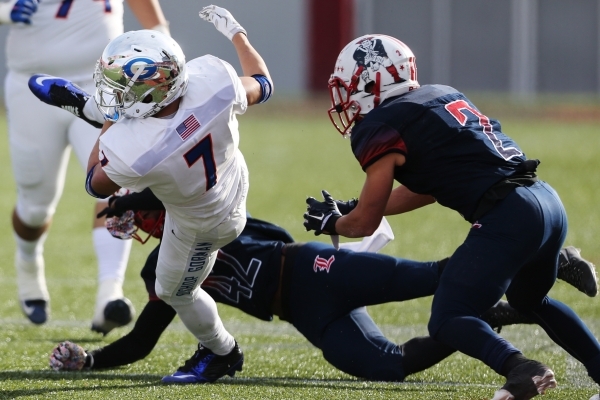 As Bishop Gorman's football team lined up for a postgame photo in the north end zone at Sam Boyd Stadium on Saturday, junior running back Biaggio Ali Walsh came bounding down the field on one leg, hollering "Wait!"
Nothing kept Ali Walsh from reaching the goal line on Saturday, even after the game was over.
Ali Walsh rushed for 255 yards and three touchdowns on 21 carries, and Gorman rolled to a 62-21 win over Liberty for the Division I state championship.
"I feel like no other team works as hard as we do," said Ali Walsh, who had a bag of ice on what he called a bone bruise on his lower left leg. "I just feel like it's paid off. It's overwhelming, this whole thing."
The win gave the Gaels (15-0) a seventh consecutive state championship. Gorman has won 39 consecutive games and hasn't lost to a Nevada team since 2008.
Gorman's offense was too much for Liberty (11-2) from the start. The Gaels didn't punt Saturday, and scored on nine of their first 10 drives. The other ended when the snap went over the head of quarterback Tate Martell, and Liberty's Nick Moniz recovered at the Gorman 36. But by then, the Gaels had a 34-7 lead, and the outcome was no longer in doubt.
"I would have never thought that we'd lose by 40," Liberty coach Rich Muraco said. "I thought we'd kind of closed the gap a little. But they're a great program, they have great coaches and they have special players. And when you don't play your best, that's kind of what happens. They can pull away and score quick. We were just outmatched today."
The Gaels went 70 yards on eight plays to score on their opening drive, capped when defensive tackle turned fullback Haskell Garrett powered in from 2 yards for a 7-0 advantage.
Ali Walsh took over from there, finding a gap in the middle, then splitting two defenders in the secondary to complete a 41-yard TD run with 2:20 to go in the first quarter.
On Gorman's next drive, Biaggio Walsh found another huge hole in the middle and went untouched for a 26-yard TD run with 44 seconds left in the first quarter.
"He's got elite speed," Gorman coach Kenny Sanchez said. "And if the O-line just gives him about 18 inches of daylight, that's usually all he needs."
Liberty showed a flash of getting back into the game when Kenyon Oblad found a wide-open Ethan Dedeaux in the front corner of the end zone for a 20-yard TD pass that cut the lead to 20-7 with 10:18 to go in the first half.
The Patriots then recovered the onside kick and appeared poised to get back into the game. But on the second play of the drive, Damuzhea Bolden picked off Oblad to snatch the momentum.
Liberty tried to get tricky on that play, lining up receiver Darion Acohido at fullback. He snuck out of the backfield and Oblad tried to make a big play down field, but the Gorman safety was there to end the drive.
"It was kind of a little bit of an errant throw, and their (defensive back) made a good play on it," Muraco said. "I thought for sure we'd be able to sneak that in and maybe catch a quick touchdown on them, and they got us."
Martell hit wide-open Brevin Jordan with a 31-yard scoring strike on the ensuing drive after a Liberty defender fell down, and it was pretty much all Gorman from there.
Ali Walsh added a 58-yard TD run to make the score 34-7 with 3:11 to go in the half. He wasn't touched on any of his scoring runs.
"We've played in huge games this year, big games," Sanchez said. "And every game, we've rushed for a lot of yards. So that means our O-line has been doing a great job."
Martell tossed two more TD passes in the second half, connecting with Tyjon Lindsey on a 31-yard strike, then throwing a beautiful ball to Brandon Gahagan down the left sideline for a 45-yard catch-and-run score that put Gorman up 55-14.
"The way they play defense is a little bit unorthodox, so for us to come out and establish that run game early was huge for us," Gahagan said. "It definitely opened up the passing game in the second half and we made some big plays. That's just what we have. We have playmakers all around. I thought it was awesome how I saw everyone get involved today."
Martell completed 7 of 9 passes for 166 yards for the Gaels.
Ethan Dedeaux added TD catches of 6 and 27 yards, both from Oblad, to round out the scoring for Liberty.
Gorman now must wait to see if it did enough to earn a second consecutive mythical national title. The Gaels remained No. 1 in this week's USA Today Super 25 rankings, but have dropped from the top spot in the Maxpreps rankings.
"Ultimately, this is always the goal," Gahagan said of the state title. "So to finish out with a state championship, an undefeated record — we always hope for that national poll to put us No. 1 as well, but that's out of our control. We've just got to do our part, and we definitely did that. I thought we came out and played awesome today."
Contact prep sports editor Damon Seiters at 702-380-4587 or dseiters@reviewjournal.com. Follow him on Twitter: @DamonSeiters
Box score: