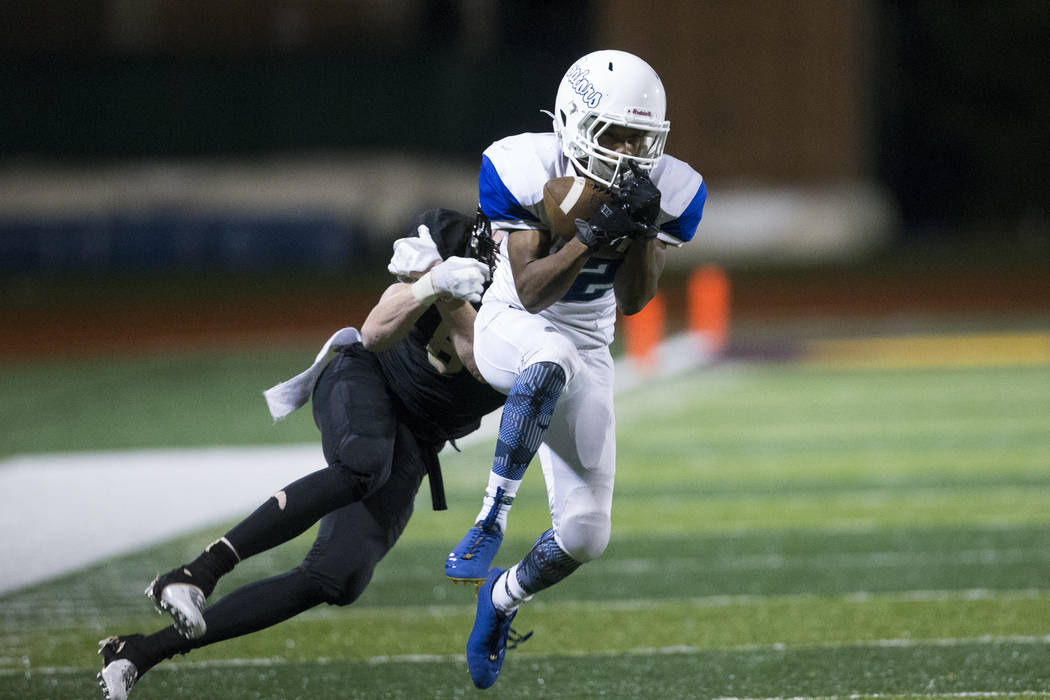 Green Valley football coach Brian Castro should be used to heart-stopping comebacks. After all, his team seems to supply them every week.
A.J. Barilla completed a 10-yard touchdown pass to Reydin Morett on the team's first play in overtime Friday to lift the Gators to a 33-27 road win over Faith Lutheran in one of the wildest games of the year.
"I wish it wasn't so hard on my heart," Castro said. "But it's what makes it fun. I just think these guys get more and more confident that they can come through in the end."
The Gators (3-0) have rallied in the fourth quarter or later every game this season. And this time the team had to wait much longer than anticipated. The start of the game was delayed two hours and 26 minutes by lightning and the game ended at 12:03 a.m. on Saturday morning.
But the outcome made it more than worth it for Barilla and his teammates.
"That was a hell of a game," Barilla said. "That was one of the greatest games I've ever played in my life."
Faith Lutheran (0-2) got the ball first in overtime, but turned the ball over on its first play. The snap bounced to quarterback Sagan Gronauer, he scooped it up, but was surrounded by Green Valley defenders and the ball was stripped. Mitch Jacobs came up with the fumble, ending the Crusaders' possession.
Barilla then found Morett on the right sideline after a play-action fake, and the receiver powered his way to the goal line for the win.
"We'd been setting up for that the whole game," Barilla said. "We have a great receiver in Reyden Morett. I knew he was going to make the play. Luckily coach called a great play and we were able to execute."
Barilla threw five touchdown passes, including two in the fourth quarter to help force the extra period.
He hit Kalyja Waialae with a 24-yard touchdown pass on fourth-and-3 with 3:53 to go in the fourth quarter to tie the game at 27.
"Probably what's most impressive there is he moved his feet in the pocket and kept his eyes down field and found guys that were open," Castro said. "And he kind of put the ball where they could go get it and they went and got it. They were beautiful plays."
Keegan Touchstone blocked the attempted extra point after the Waialae touchdown catch to keep the game tied, and the Crusaders had a final chance after getting the ball back with 1:11 to play in regulation.
Faith Lutheran moved the ball all the way to the Green Valley 7, but Gronaeur's pass to Elijah Kothe fell incomplete in the end zone on the final play of regulation.
Barilla completed 14 of 26 passes for 293 yards. Waialae had five catches for 164 yards and two scores, and Israel Robinson intercepted two passes for the Gators.
Gronauer completed 21 of 39 passes for 230 yards and two TDs. Saundre Spiller rushed for 113 yards and two scores on 14 carries, and Kothe caught 10 passes for 101 yards and a touchdown.
"We're having so much fun out there as a unit," Barilla said. "This is a real brotherhood. Just having a great time and getting the win is one of the greatest experiences I've had in my career."
Contact prep sports editor Damon Seiters at dseiters@reviewjournal.com or 702-380-4587. Follow @DamonSeiters on Twitter.
Box score:
Green Valley 33, Faith Lutheran 27