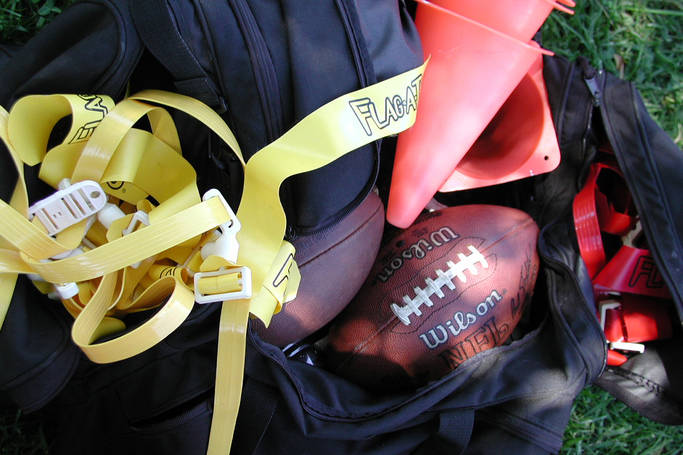 Aaliyah Medina threw for 285 yards and five touchdowns as Sierra Vista's flag football team routed visiting Desert Oasis 47-7 on Thursday.
Sierra Vista's Courtney O'Neal caught two touchdown passes, and ran for a score.
Jamie Kalaau-Sunia had a rushing touchdown and an interception for the Mountain Lions.
Makayla Rickard had a rushing TD for the Diamondbacks.
Durango 20, Clark 14 — At Durango, Destiny Malili threw for 154 yards and a touchdown and ran for a score as the Trailblazers downed the Chargers.
Gabriela Corchado caught seven passes for 128 yards and a touchdown and had an interception for the Trailblazers. Teammate Tattiana Baes ran for 73 yards and a touchdown on 12 carries.
Arlynne Contreras and Melissa Castillo each had seven tackles for Durango.
Jagayra Gomes completed 11 of 20 passes for 191 yards and two TDs for Clark. Gomes also rushed for 93 yards.
Virgin Valley 33, Del Sol 20 — At Mesquite, Katie Zuniga ran for 143 yards and two touchdowns, and Nikita Eskelsen ran for 107 yards and two scores as the Bulldogs took down the Dragons.
Kallie Graves also had a rushing TD for Virgin Valley, which led 27-7 at halftime.
Madison Cheney had 10 tackles and two sacks for the Bulldogs.
Stephanie Stewart completed 8 of 15 passes for 164 yards, including touchdowns of 20 and 40 yards to Saleena Quichocho for Del Sol.
Stewart also provided 40 yards rushing and a score for the Dragons, who got two interceptions from Leila Canete.
Boulder City 25, Chaparral 12 — At Chaparral, Kamry Bailey caught three passes for 131 yards and two touchdowns as the Eagles beat the Cowboys.
Nicole Valle threw for 183 yards and three touchdowns for the Eagles, who led 19-0 at halftime.
Bonanza 26, Spring Valley 0 — At Spring Valley, Cindylou Rasiang threw three touchdown passes and ran for a score as the Bengals blanked the Grizzlies.
Alicia Kestner, Alexis Marquez and Shayne Dunn each caught a touchdown pass for the Bengals, who led 20-0 at halftime.
Charlene Beck ran for 140 yards for Bonanza.
Tech 19, Moapa Valley 0 — At Overton, Gabrielle DeGuzman and Adriana Carrillo each had an interception as the Roadrunners stymied the Pirates.
DeGuzman and teammate Berniz Calacsan each scored a rushing touchdown, and Taylor Ritayik threw a touchdown pass to Angela Camarea for the Roadrunners.
Las Vegas 1, Canyon Springs 0 — At Canyon Springs, the Wildcats defeated the Pioneers by forfeit.
Eldorado 1, Rancho 0 — At Eldorado, the Sundevils defeated the Rams by forfeit.
Box scores:
Sierra Vista 47, Desert Oasis 7