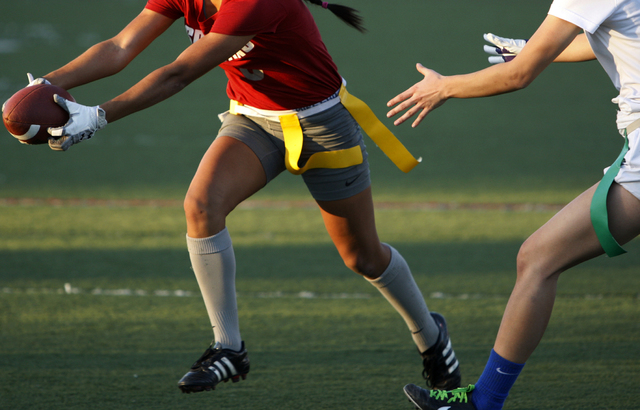 Kaitlyn Horstdaniel threw two touchdown passes to Natalie Gennuso, including the go-ahead score in the second half, helping Las Vegas' flag football team pull out a 12-7 victory over visiting Canyon Springs on Wednesday.
Kiura Shipman had 97 yards rushing on 12 carries for Las Vegas, which trailed 7-6 at halftime.
Durango 33, Clark 13 — At Clark, Deszarai Bellender ran for 215 yards and two touchdowns on 20 carries, and Kiana-Capri Wilcox and had two receiving TDs to power the Trailblazers by the Chargers.
Bellender scored on runs of 52 and 53 yards. Wilcox added 148 yards on 14 carries, and Marina Bacon had a receiving TD for Durango, which raced out to a 18-0 halftime advantage.
Clark's T'Keyah Bannister supplied a 1-yard rushing score and connected with receiver Lauren Marcus for a 33-yard TD for the Chargers.
Tech 18, Moapa Valley 13 — At Tech, Avery Rayos accounted for three touchdowns and added two interceptions on defense to lead the Roadrunners past the Pirates.
Rayos caught four passes for 85 yards and two touchdowns and also threw a TD pass to Angela Camarena in the second half.
Katy Orellana went 7-for-15 for 105 yards and two TDs passing along with 40 yards on six carries for Tech, which led 12-7 at halftime.
Bonanza 33, Spring Valley 6 — At Bonanza, quarterback Brianna Hernandez-Silva tossed four touchdown passes to Alicia Kestner and also ran for a score, as the Bengals blitzed the Grizzlies.
Virgin Valley 26, Del Sol 24 — At Del Sol, the Bulldogs scored a touchdown with 40 seconds left to steal a victory from the Dragons.
Xolani Frazier threw four TDs, including three to Saleena Quichocho, for Del Sol, which rallied from a 20-12 halftime deficit.
Boulder City 26, Chaparral 6 — At Boulder City, Taylor Tenney threw two touchdowns and added a team-high 79 yards on 11 carries to help the Eagles beat the Cowboys.
Aimee Finn and Emily Mull had receiving touchdowns for Boulder City, while teammate Daisy Hodgkin added 71 yards and a score on 11 carries.
Valeria Ortolani also had a rushing TD for the Eagles.
Tenney had two of Boulder City's four interceptions on defense.
Rancho 29, Eldorado 6 — At Rancho, the Rams defeated the Sundevils.
Box scores:
Las Vegas 12, Canyon Springs 7