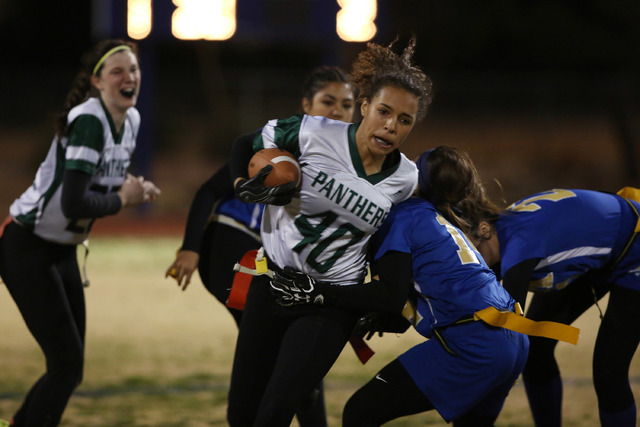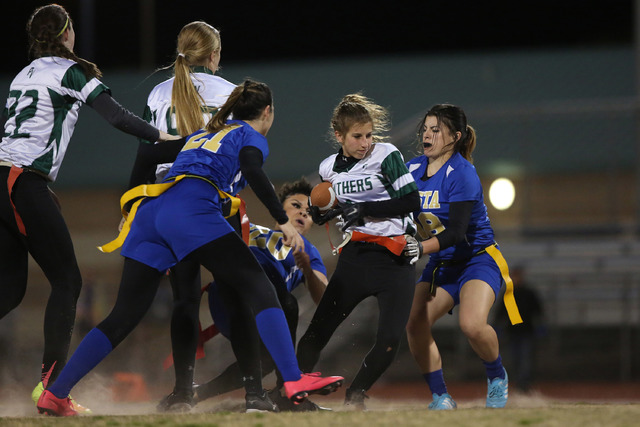 After closing the season with two straight losses, Palo Verde vowed to come out swinging in the playoffs. And if the Panthers wanted to reach their third consecutive Sunset Region championship game, they would need to tighten up their defense.
After thwarting Sierra Vista's dual-threat offense on its home field Thursday in a 26-19 victory in the semifinals, the Panthers (14-5) are back in the final.
Palo Verde's defense focused on shutting down Kalei Watkins, the senior quarterback for Sierra Vista (15-4) who completed just 9 of 29 attempts.
"They stepped up today," Palo Verde coach Rick Eurich. "Big kudos go to the linebackers getting to their job taking away the slant. They like to go deep and hit the slant underneath. And everybody worked together, they were talking. It was a great defensive effort tonight."
Palo Verde sophomore Mya Boykin gained 95 yards on 14 carries, including a 60-yard run in the first half, and one touchdown.
Midway through the second half, Palo Verde senior Gianni Terrana made a 27-yard fingertip catch from Alyssa Tygh in front of two defenders on third-and-23. The Panthers scored two plays later to extend their lead to 26-13.
"When I saw the ball, I thought, 'Oh, no, I'm gonna drop it,' " Terrana said. "And then it went in my hands, and I said, 'I got this, we're going to win.' "
Palo Verde will meet Cimarron-Memorial in the Sunset championship at 4 p.m. Tuesday at Green Valley.
Cimarron-Memorial 26, Centennial 24 — At Cimarron, Haylei Hughes had 122 receiving yards and a touchdown, and Alyssa Karpinski had 118 reciving yards and a touchdown as the Spartans edged the Bulldogs in the Sunset Region semifinals.
Quarterback Tiarra Del Rosario threw for 269 yards and three touchdowns for the Spartans (19-1), who held Centennial (14-5) to six points in the second half.
That touchdown pulled the Bulldogs within two, and appeared to complete the tying 2-point coversion, but Talia Logan stepped out of bounds. Cimarron was able to get a first down and run out the clock.
Logan had a 5-yard TD run and intercepted a pass, and Halli Erickson passed for a touchdown and rushed for a TD for Centennial.
Foothill 20, Las Vegas 19 — At Las Vegas, the Falcons stuffed a 2-point conversion attempt late in the game and sneaked by the Wildcats in the Sunrise Region semifinals.
Whitley Brow had 137 receiving yards and two touchdowns to lead the Falcons (18-5). Foothill's Morgan Melton had the other of Madisyn McArthur's three TD tosses.
Mariah Coleman led the defense, with eight tackles.
Foothill will play Coronado (12-8) in the region final at 6 p.m. Tuesday at Green Valley.
Las Vegas finished 14-6.
Coronado 34, Green Valley 22 — At Green Valley, Caitlin Shannon had a hand in five touchdowns as the Cougars downed the Gators in the Sunrise Region semifinals.
Shannon threw for 200 yards and two touchdowns, and rushed for 59 yards and three more scores. Jensen Boman and Sydnee Hansen each caught a TD pass for Coronado (12-8).
Deborah Grant led the Gators (19-4) with 94 rushing yards and a touchdown. Green Valley's Bella Cipili had 37 rushing yards and two touchdowns.
Cheyenne 35, Boulder City 13 — At Cheyenne, Angela Hammond rushed for 202 yards on 10 carries to help the Desert Shields top the Eagles in the Class 3A state quarterfinals.
E'leseana Patterson rushed 10 times for 155 yards for the Desert Shields (10-5).
Cheyenne's Kiantera Neal led the defense with 13 tackles and two sacks against the Eagles (13-6).
The Desert Shields will host Tech (13-6) in the semifinals at 6 p.m. Tuesday.
Virgin Valley 47, Desert Pines 18 — At Mesquite, Kallie Graves threw four touchdown passes and ran for two scores as the Bulldogs rolled over the Jaguars in a Class 3A state quarterfinal.
Elizabeth DeLeon ran for 88 yards and a touchdown, and Makenzie Leishman caught two touchdown passes for the Bulldogs (17-3).
Shalee Hafen had a sack for Virgin Valley.
Virgin Valley will host Del Sol (9-10) in a semifinal at 6 p.m. on Tuesday.
Desert Pines finsihed 3-9.
Tech 38, Mojave 0 — At Cheyenne, Katy Orellana threw three touchdown passes and ran for two scores as the Roadrunners blanked the Rattlers in a Class 3A state quarterfinal.
Orellana completed 7 of 10 passes for 155 yards, including three TD strikes to Avery Rayos, and rushed for 50 yards and two TDs on eight carries. Rayos caught five passes for 100 yards, and ran for 35 yards on five carries.
Aylin Silva ran for 75 yards and one touchdown on 10 carries for Tech.
The Roadrunners intercepted four Mojave (4-15) passes.
Del Sol 26, Western 0 — At Mesquite, Angel Hodges rushed for 88 yards and a touchdown as the Dragons blanked the Warriors (7-10) in the Class 3A state quarterfinals.
Hodges' TD run was for 45 yards, and Del Sol teammate Johana Galvin had a 45-yard touchdown receptions.
Box scores:
Palo Verde 26, Sierra Vista 19
Cimarron-Memorial 26, Centennial 24
Virgin Valley 47, Desert Pines 18