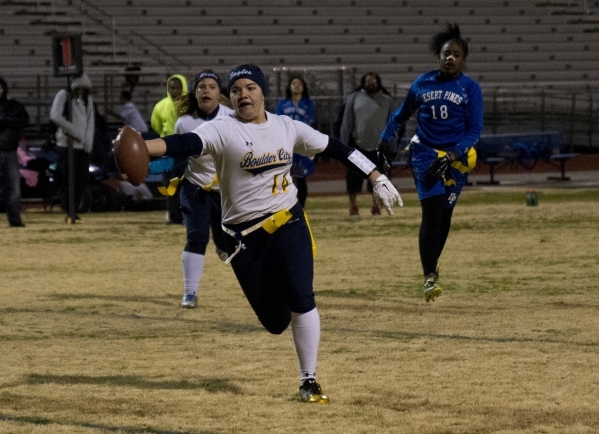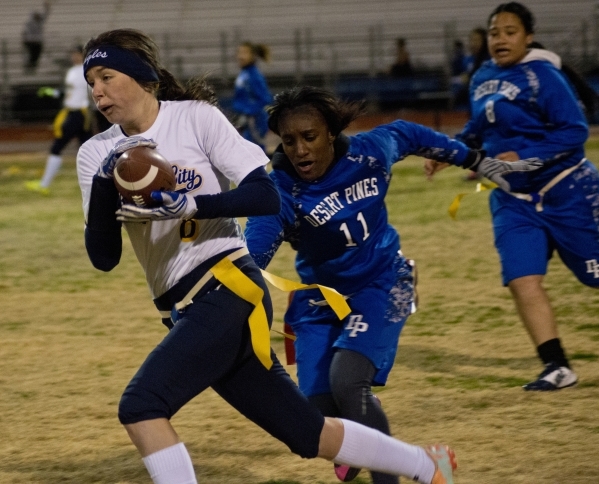 Chris Morelli has been involved with and coached a number of sports at Boulder City High, including football and baseball.
He would be the first to say none of them compares to his current flag football team.
"This is the best team I've ever coached in any sport," Morelli said. "For a school with 600 kids, and to have 13 girls of this caliber, I'll never see it again in my lifetime."
Top-seeded Boulder City (18-0), which has won 40 consecutive games dating to 2014, will get an opportunity to showcase its talents to everyone else when it hosts No. 4 seed Desert Pines (9-10) at 4 p.m. Tuesday in the Division I-A Sunrise League tournament to open the flag football playoffs. All other games will simultaneously take place at host sites around Southern Nevada.
"I hope people understand what they've done," said Morelli, in his fourth year. "Our biggest knock is because we're in I-A. But the last two years in (Division) I, we were 42-1. Somehow that's getting pushed around. I just want these girls to get the respect they've earned. …
"This is my third year with the same girls. People think it's a new crop of girls, but I returned five two-way starters this year. There's not much I have to tell them. And the two girls that had to fill in are seniors, and they've played multiple sports here at Boulder City."
Led by senior quarterback Jeanne Carmell — who arguably is Southern Nevada's top player — the defending-champion Eagles have gone 60-1 the past three seasons and have finished the past two regular seasons undefeated.
Their last lost came on Feb. 24, 2014, to Green Valley in the Clark County School District semifinals, back when there was just one big division.
"There is honestly a chip on their shoulders for the lack of respect they've received after winning (7-6 over Centennial in the CCSD final) last year," Morelli said. "They wish they could play all Division I schools. They want to play all the big schools."
But with the new realignment, Boulder City won't get that opportunity in these playoffs. They will, however, get the chance to repeat as undefeated champions.
"We're feeling good," Morelli said. "The girls know these will be the last three games they're ever going to play at this level. I've got nine seniors on this team. They're going to put everything out there and leave it on the field. I wouldn't feel good (if we lost), but it is what it is. If we're not prepared, we deserve to lose."
All eyes will be on Carmell, who has been the driving force behind the team's success over the past four seasons. This season, she has completed 340 of 486 passes for 4,760 yards and 61 touchdowns and just three interceptions. She has rushed 109 times for 1,210 yards and 20 TDs.
"She is hands-down the best quarterback this league has seen and will ever see for a long time," Morelli said. "I tell her what to do, and she just does it. I don't even have to second-guess her.
"As a collective organization, we'll never see a quarterback with the arm strength, touch or speed she has. As a freshman, she started at wide receiver and cornerback because no one could catch her passes."
But it's not just Carmell that has turned the Eagles into a flag football powerhouse. Boulder City's defense has given up only 3.8 points per game this season and has recorded 10 shutouts.
Kenadee Bailey, a junior linebacker, leads the group with 119 tackles and nine interceptions, including one that was returned for a touchdown.
The offense, despite regularly pumping its brakes in the second half, also does its part by scoring 37.9 points a game.
Senior Oshanna Remy is another dynamic playmaker. She has 92 receptions for 1,357 yards and 15 touchdowns for the Eagles, who also have gotten 57 catches, 894 yards and 17 TDs from Bailey. Both players will have key roles should Boulder City make another run.
Morelli admits it's going to be hard to say goodbye to this group of girls. He already got a little emotional last Thursday on senior night.
But if everything goes accordingly, he will have his players one more week. And three more games.
"I've been spoiled," he said. "Losing this group of seniors is going to break my heart."
— Contact reporter Ashton Ferguson at aferguson@reviewjournal.com or 702-383-0430. Follow him on Twitter: @af_ferguson