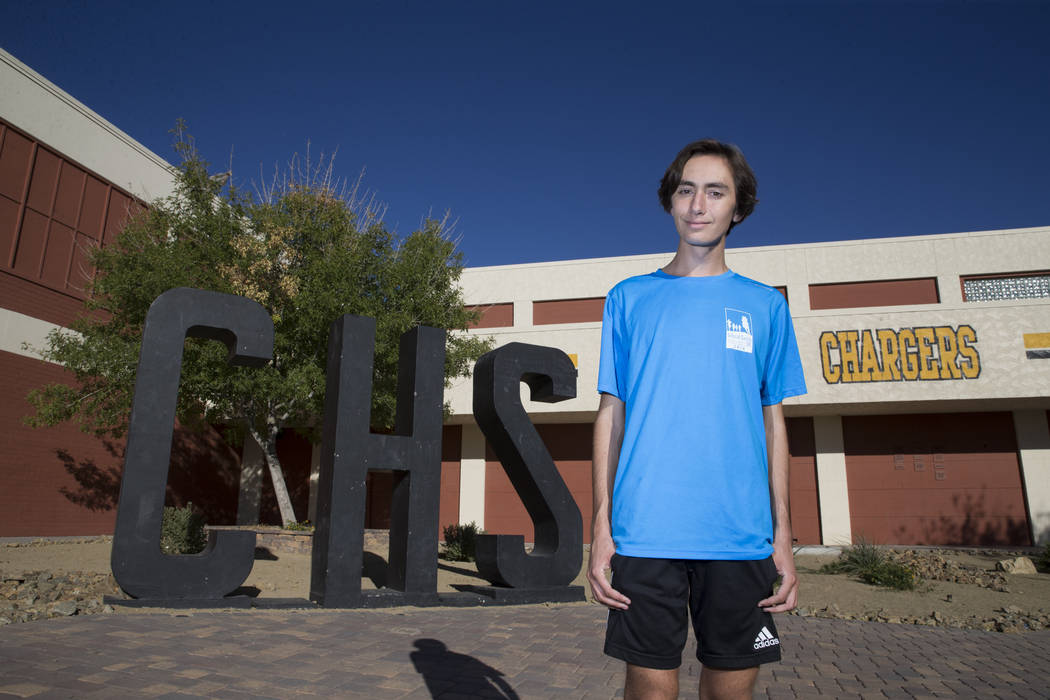 Liam and Donovan Jones love to train together. They do it in the offseason, on family vacations, and when their dad took them on genealogy trips, they ran in far-away places like Ireland and Jamaica.
When the two brothers don't run together is during the high school cross country season. Liam, a senior, attends Clark High School and sophomore Donovan runs for Valley, and both will be looking to qualify for the same state meet at their respective region races Friday at Veterans Memorial Park.
"I wouldn't say I'm super competitive with the other runners in the state, but I'm competitive with him," Donovan said. "It gets frustrating in practice sometimes because he's a lot better right now."
Both are zoned for Valley, but neither attend the school. They take advantage of magnet programs, so Liam goes to Clark for its focus in math and science, and Donovan attends Las Vegas Academy for its theater and performance programs. Because Donovan's school does not have any sports programs, he is permitted to compete with the school he's zoned for.
"We both oftentimes tell each other that we should have joined each others' teams," Liam said.
That would make comparing the two less apples and oranges. Donovan won the Northeast League meet last week with a time of 17 minutes, 31 seconds, and Liam finished second in the Southwest League race in 16:52. So Liam had the better time, but Donovan has the league title.
"He's got either around or faster than my times as a sophomore," Liam said. "He's as good a runner as I am, he's just not developed yet."
As their academic interests suggests, the two are very different, and that includes their running styles. When the family trains together, Donovan likes to run ahead and listen to basketball podcasts while Liam likes to talk strategy and philosophy with their dad Todd, a philosophy professor at UNLV. Clark coach Chuck Bennion described Donovan has having more "swagger" than his brother, and Todd called Liam a lot more laid-back.
One thing they have in common is a love of running passed down from their dad. Todd was a champion runner in the late 1970s, and as Liam and Donovan got older, they wanted to run too. Todd quickly saw they had a knack for it.
"When Liam started running with me, I thought 'He looks pretty good, maybe in about two years he'll be better than me,' " Todd said. "It was about two weeks."
Clark's team has a strong chance of qualifying for the state meet in Reno next week, and even it the Chargers don't make it, Liam could make it as an individual. Valley's depth may not be enough to top the other Sunrise Region teams, but Donovan is confident of making it on his own.
And as Liam said, they both better make qualify for the state meet.
"My dad says he has to because he bought tickets for both of us to go to Reno," Liam said with a chuckle.
Contact Justin Emerson at jemerson@reviewjournal.com or (702) 387-2944. Follow @J15Emerson on Twitter.
High school cross country meets at Veterans Memorial Park
— Class 4A Sunrise Region boys, 9 a.m.
— Class 4A Sunset Region boys, 9:30 a.m.
— Class 4A Sunrise Region girls, 10 a.m.
— Class 4A Sunset Region girls, 10:35 a.m.
— Class 3A Southern Region boys, 11:40 a.m.
— Class 2A/1A Southern Region boys, 12:10 p.m.
— Class 3A Southern Region girls, 12:40 p.m.
— Class 2A/1A Southern Region girls, 1:15 p.m.