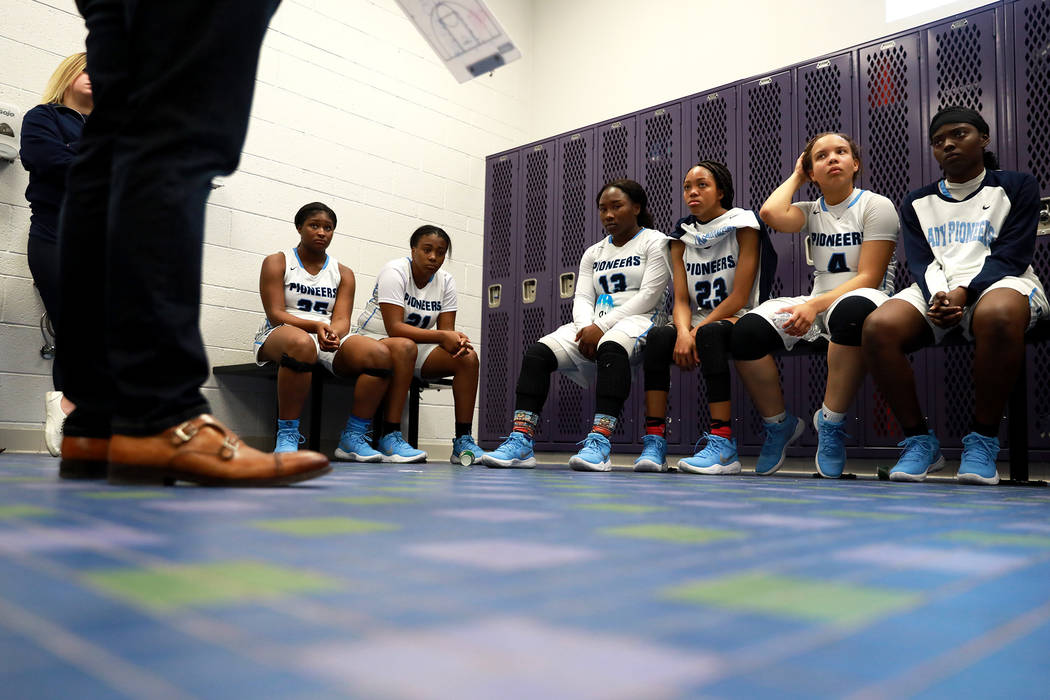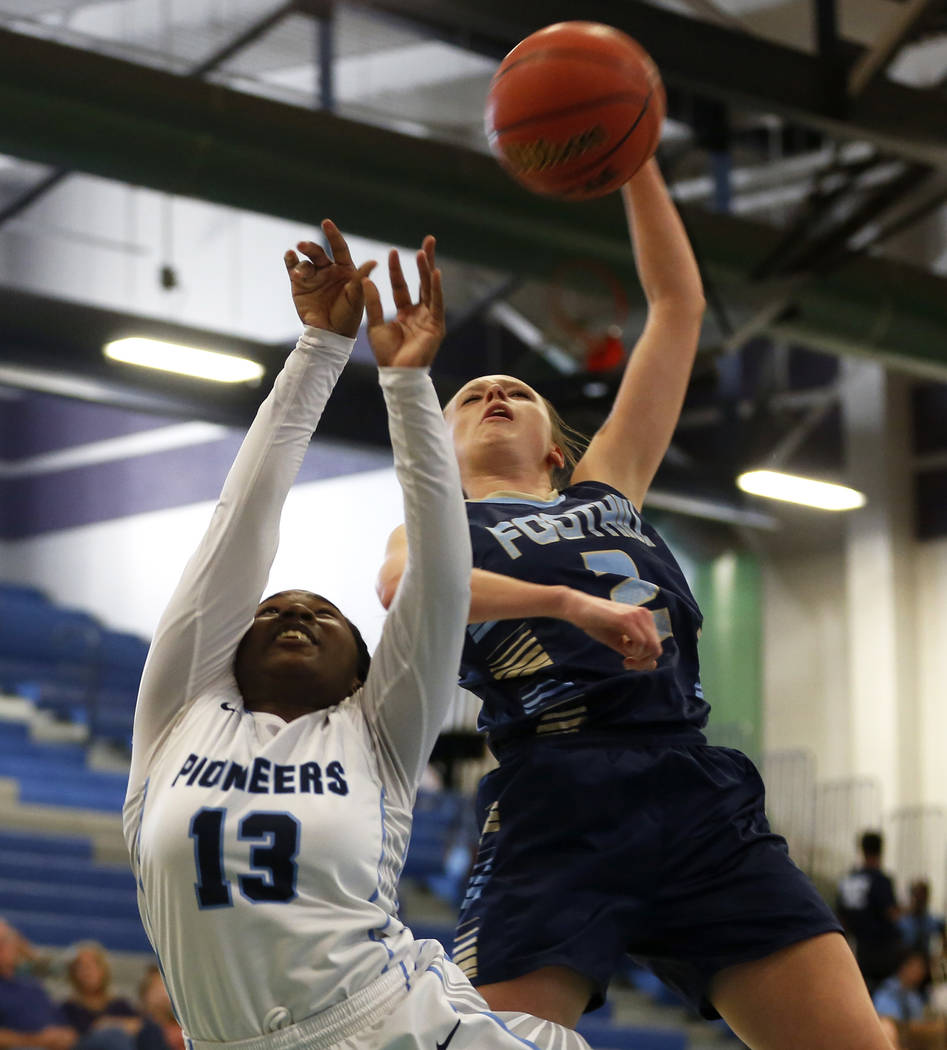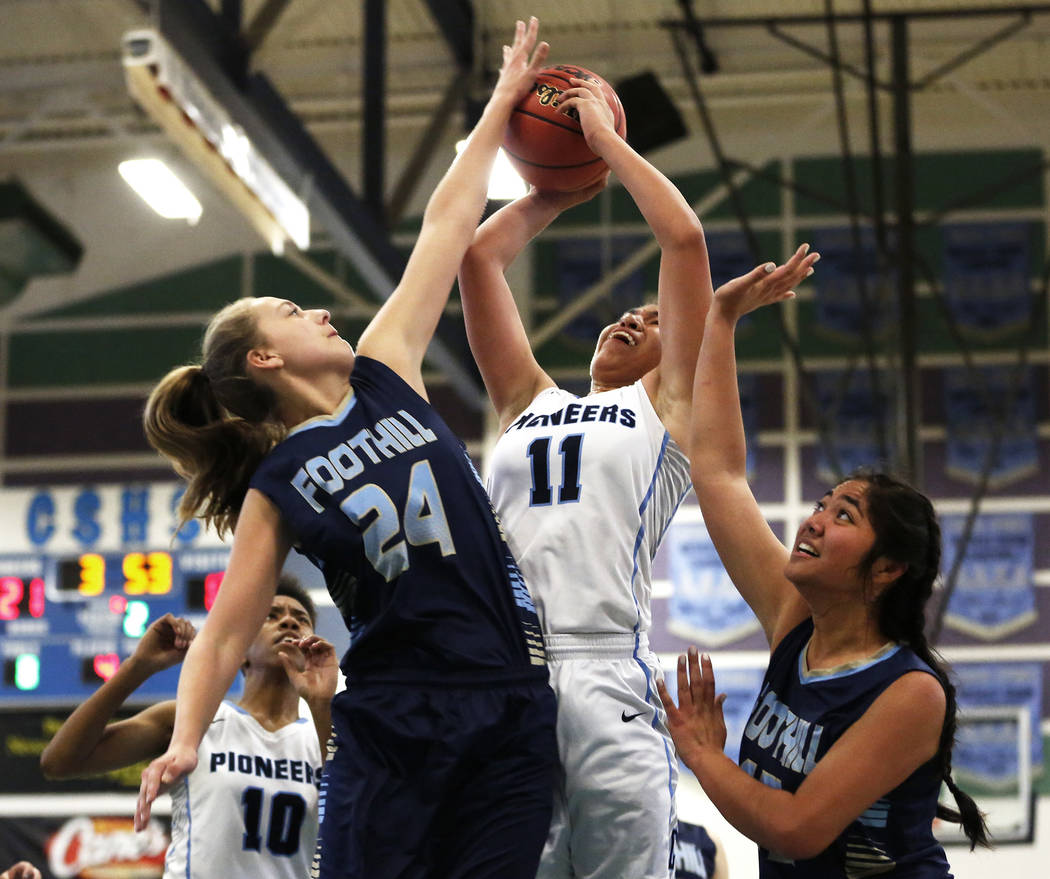 Foothill girls basketball coach Laura Allen screamed commands to her players during the waning seconds of their Class 4A Sunrise Region semifinal game against Canyon Springs.
The Falcons couldn't hear them amid the band and the fans.
But they executed anyway.
Foothill overcame an early double-figure deficit and a rambunctious home crowd to steal a 54-53 road win against the Pioneers on Thursday evening.
Falcons senior guard Keilani Brown scored a game-high 18 point, including the go-ahead layup with 15 seconds left. Bri Rosales added 17 points and two late free throws to render Canyon Springs' buzzer-beating 3-pointer useless.
Foothill will play Liberty in the region championship game Saturday at 4 p.m at Canyon Springs.
"It's fun for them to feel they can accomplish that," Allen said, hoarsely. "It's good for kids to experience that to know that they can handle pressure situations and that they can stay composed."
The Pioneers, perhaps fueled by their fans, jumped to an early 22-10 lead and dictated tempo with their pressure defense. But the Falcons chipped away — one stop and one bucket at a time.
Their 12-point deficit eventually grew into a four-point lead before withering into a 50-50 deadlock in the final minute. The Falcons pushed the ball in transition, and Brown converted an uncontested layup to quell the chaos.
"I love (playing on a stage like this)," she said. "It keeps my energy up. It keeps my teammates up. It's just great."
The Pioneers missed a floater on the other end before promptly fouling Rosales, who sank two free throws with five seconds left. The Falcons celebrated as some of the home fans were leaving.
Iyani Hayden had a team-high 14 points for Canyon Springs, which finishes with a 17-7 record.
Liberty 67, Coronado 28 — At Canyon Springs, London Pavlica had 13 points, 10 rebounds and six assists to help the Patriots knock off the Cougars in the other semifinal.
The Patriots (29-12) led 32-19, and pushed the pace in the second half after collecting defensive rebounds and started the third quarter with a 15-3 run to cement the win.
Tennessee pledge Rae Burrell had 19 points, 16 rebounds and seven assists for the Patriots, and Utah commit Dre'una Edwards added 12 points, 13 rebounds and four steals.
"Both of them can do everything," Liberty coach Chad Kapanui said of his star senior forwards. "They can post, they can shoot the ball, they can defend and go grab rebounds."
Haley Tyrell led Coronado (18-11) with 11 points.
Contact reporter Sam Gordon at sgordon@reviewjournal.com. Follow @BySamGordon on Twitter.
Box Scores:
Foothill 54, Canyon Springs 53