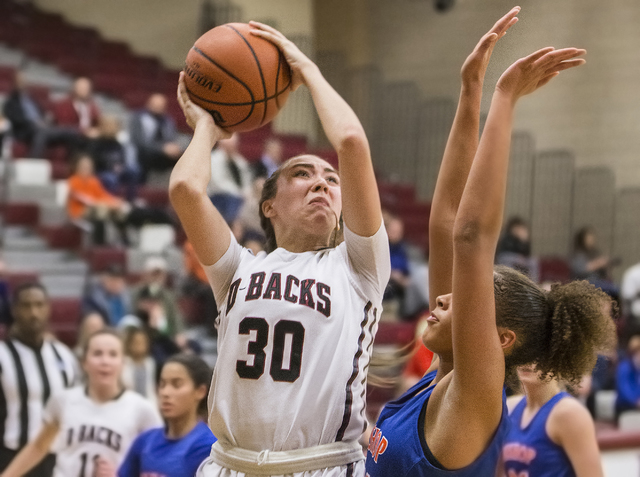 The hip-hop duo OutKast once posed the question, "What's cooler than being cool? (Ice cold!)"
With the pressure on in the fourth quarter, Skylar Jackson was "ice cold" for Bishop Gorman's girls basketball team.
Jackson scored her team's final seven points and had an answer for every Desert Oasis run Tuesday to help third-ranked Gorman to a 57-47 road victory in a battle for first place in the Southwest League.
Jackson, a Sacramento State signee, finished with 20 points and nine rebounds, and Shaira Young added 14 points for the Gaels (15-3, 5-0 Southwest).
"That's a good win for us," Gorman coach Kevin Nixon said. "This is what we wanted to do. We wanted to make a statement that, hey, we're a force, and we're going to bring it every game.We know the importance of these games."
Gorman led 40-36 late in the third quarter after a 3-pointer by Desert Oasis' Eliyjah Pricebrooks before Jackson sparked an 8-0 run to close the quarter.
In the fourth, the Diamondbacks (11-5, 4-1) were within 50-43 until Jackson drove the lane and scored midway through the quarter. She then hit a 15-foot jumper to put Gorman ahead 55-45 with 1:14 remaining.
"We tried to get the ball in her hands, first half and second half, when they made runs," Nixon said. "We have some looks and sets for Skylar, so that's what we did, and the girls found her. She played really good."
Samantha Coleman added nine points for the Gaels, and teammate Georgia Ohiaeri had eight points and nine rebounds.
Dajaah Lightfoot and Ashlynn Sharp each had 12 points for Desert Oasis, which led 11-10 after the first quarter before the Gaels heated up from the floor.
Gorman opened the second quarter on a 12-3 run and went on to make eight of its 11 shots in the quarter. Jackson hit a baseline jumper from a tough angle and turned it into a 3-point play for a 30-19 lead, and the Gaels led 33-23 at halftime.
"I think we played a little jittery in the first quarter," Nixon said. "But once we got settled down, then we got into our style, got into our rhythm and tempo and flow."
Contact reporter David Schoen at dschoen@reviewjournal.com or 702-387-5203. Follow @DavidSchoenLVRJ on Twitter.
Box score:
Bishop Gorman 57, Desert Oasis 47