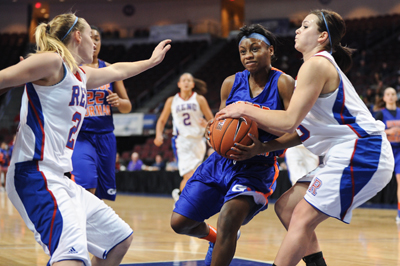 Perimeter shooting wasn't working.
And forget about posting up against Reno's 6-foot-4-inch and 6-1 McGwire sisters.
Bishop Gorman's girls basketball team simply ran out of options Friday.
The Gaels shot poorly all game and were forced out of any offensive rhythm by Reno's zone defense, falling to the Huskies, 52-39 in the Division I girls state championship game at Orleans Arena.
Reno (27-3) won a girls basketball state title for the first time since 2001. Gorman, bidding for its first crown since 2009, finished 21-10.
"Unfortunately, sometimes you're on and sometimes you're off," said Gorman coach Sheryl Krmpotich. "We were telling them to penetrate and get in the middle and make something happen, but we just didn't do it effectively."
The Gaels made just one of their first 18 shots from the field, and though they battled back to take a brief lead early in the third quarter, they never got untracked, finishing the game 13 of 55 from the field, inclduing 6 of 24 on 3-pointers.
Gorman starting senior guards April Rivers and Tonishia Childress, both among the best players in Southern Nevada, were a combined 2 of 18 at the half and finished a combined 8 of 34 from the field.
"I hate seeing April and 'T' go out like that because they're such great kids and leaders and done so much for this program," Krmpotich said. "They played amazing throughout the whole year."
With their two perimeter weapons hampered, the Gaels couldn't develop an inside game, either.
Freshman Raychel Stanley racked up 16 rebounds, but only three points on just five shots.
"We were trying to focus on their two guards and on Stanley, and I think we did a really good job on her," Reno coach Shane Foster said. "They didn't really get into the paint, and they didn't get into transition."
What the Huskies didn't do on defense, their senior leader Gigi Hascheff was doing everywhere else.
Hascheff scored 10 of her 20 points in the third quarter as the Huskies wiped out Gorman's 20-19 lead.
Hascheff and 6-0 junior guard Shalen Shaw put together their own 12-0 run in the third quarter and combined to score all of Reno's 17 points in the quarter.
"She is our emotional leader," Foster said of Hascheff. "She gets all of our kids to play together and play hard."
Hascheff added four rebounds, but more than anything was a calming influence for Reno.
"She was on," Krmpotich said. "Yesterday, she wasn't on. We took away their inside game, and she was on."
Mallory McGwire, a 6-4 freshman, had 10 points and 15 rebounds, and older sister Morgan, a 6-1 junior, had five points and nine rebounds for Reno, which used a 9-3 run in the fourth quarter to put the game out of reach.
"We're young, and this is only going to help us down the line," Krmpotich said. "I'm proud of these kids. I'm proud to be their coach."